Sherwani Suits for Women
A Sherwani is a long, coat like shirt that is worn over a pair of churridar pants. This ensemble is a popular choice for men looking for an interesting outfit for a formal event, however, jacket style or sherwani suits for women are widely admired as well, though less known.
Origin
Like many other lauded ethnic garments, the sherwani was born during the Mughal Era. Worn mostly by nobles of the court, the fashion then filtered into the rest of India's aristocracy and eventually, the common folk. Over time , this outfit also became a symbol of status amongst rich Muslim families. Sherwanis for women are a contemporary take on this stately garment.
Sources of inspiration
Not unlike other garments inspired by the Mughal Era, Sherwanis are mostly available with scores of motifs and prints that adhere to images motivated by nature. Vines, creepers, leaves, flowers, trees, birds and animals are usually the prints that are seen the most on this outfit. There are no bars on the fabrics or colors that are used to create them.
Style and variety
Sherwani suits for women are available in an array of fabrics. They can be created with silk, cotton, cotton silk, chanderi, net, chiffon, georgette, tussar, velvet and many other fabrics. This is because they can easily fall into the shape that is needed to create the typical column like look that is a main characteristic of this outfit.
Although this outfit is usually worn with churridar pants and a dupatta, some women also choose to wear it with salwar pants to add a bit more volume at the bottom half of the ensemble. However, the former is a more traditional way to wear this while the latter is a freer interpretation.
Wearing the outfit
Sherwanis are essentially formal outfits. This means that occasions or events such as weddings, ceremonies and festivals are ideal for this ensemble. When worn by women, it can be styled in many different ways, inspiring a unique look each time.
Choosing the right bottom wear:
One of the most common and popular ways to do so is to pair tight churridars that form wrinkles at the ankles.
This creates a tapered look, which highly complements the column-like shape of the top. Furthermore, as most Sherwanis end below the knee, churridars are better in terms of tying the outfit together in a more synergized manner.
Choosing the right jewelry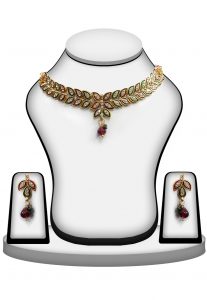 When wearing a Sherwani, women can choose from an array of accessories to create different looks. Indian ethnic jewelry is a popular option. Of this, Kundan sets and Meenakaris sets are worn the most often. They add just the right element of panache to the garment for it to be appropriate for a formal event.
However, while Indian ethnic jewelry is certainly a popular option, women also can wear western jewelry with this outfit. Diamond or gold necklaces or earrings go very well with it.
Choosing the right footwear:
In order to really highlight the overall silhouette that is created by this outfit, high heeled shoes are considered the most appropriate type of footwear. However, wearing ethnic flat footwear such as juttis or V shaped slippers is also quite common.
Innovations
A popular variant of the Sherwani was the Nehru Jacket, which is essentially the same top albeit with a collared neck. This is sometimes accompanied by a breast pocket; however, that isn't always the case. This variant became, over the course of time, a highly iconic ensemble that is associated not only with Jawaharlal Nehru but also with the swinging 60s.
Global presence
Apart from the Nehru Jacket, the archetype of this ensemble is vastly popular across the world. Often seen as a popular garment that can be worn during weddings, Sherwanis for men and women have been featured in various films within the Hindi film industry as well as Hollywood.
This outfit is iconic and therefore, easily remembered when people are looking to buy Indian ethnic clothing. Due to its versatility in terms of the fabrics that can be used to create it, it is also apt for countries with varying weather conditions as well.
Interesting facts and trivia:
The cabin crew for British Airways wears Sherwanis that are designed by Rohit Bal
When receiving an Academy Award, A.R. Rahman wore a black Sherwani
This garment is considered popular  ethnic wear not just in India but all across the Indian subcontinent
References
Categories: Attires, Clothing Styles & Drapes