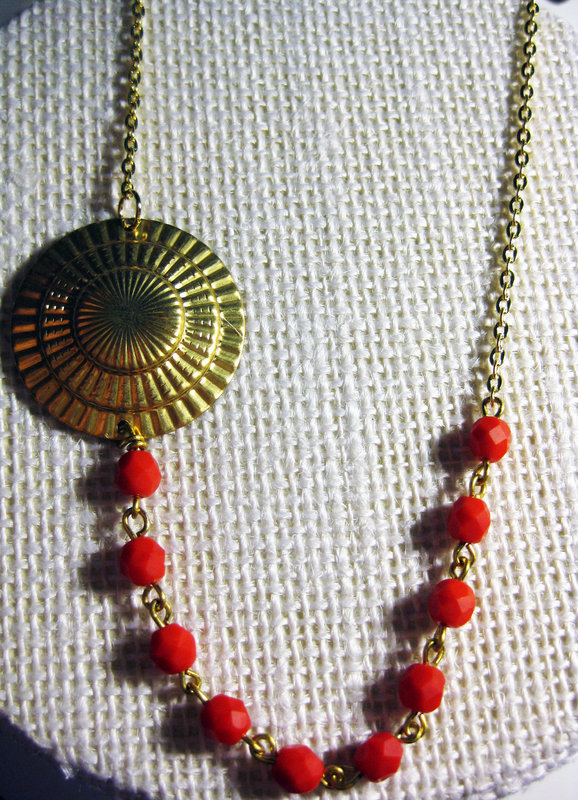 Brass Jewelry
More subtle in appearance than gold, yet with a unique appeal of its own, brass is a classic jewelry piece. An alloy of copper and zinc, brass can be dated back to the Neolithic times, and was called 'calamine brass'. Brass is flexible, soft and malleable for making jewelry.
Background
Ancient works like the Bible mention the word 'brass', which could have referred to the bronze alloy or copper. Initially, brass was made by smelting zinc-rich copper ores. The Romans were the ones to melt copper and zinc minerals to make brass using the cementation process, which continued till the mid-19th century.
There is a mention in the 8th-7th century BC, to cuneiform tablets of the 'copper of the mountains', which is probably a reference to natural brass. During the latter part of the first millennium BC, the use of brass spread widely across Britain and Spain, and also to Iran and India in the east. Exports from Middle-East were a strong influence and the Eastern Mediterranean introduced the deliberate production of brass from metallic copper and zinc ores. The use of brass for making coins and military equipment was prevalent in Rome.
The disruption in trade due to the unavailability of tin for the making of bronze may have led to the increase in the demand for brass in the East by the 6th and 7th centuries. Brass was used to pay tribute to the dead from the 13th to the 17th century in Europe. Engraved and embellished brass plates were set on the surface of tombs.
For long, it was a prestigious article for the rich, decorative showpieces in their homes was a common sight. This was till silver from the New World invaded Europe. The making of chandeliers, candlesticks, sundials and clocks involved the use of brass; so did the fine instruments for astronomy, surveying, navigation and other scientific activities.
Brass has been in use since 1st century BC in India, as archeology findings of circular brass coins of Arya Varma and Dhanadeva of Ayodhya indicate. Coins of Kings belonging to other dynasties from around the same time also suggest the use of brass during that period. Brass is mentioned as 'Rit' in the Ayurvedic book Charak-Samhita along with gold, silver, and copper.
The Making
There are several variations available in antique brass. The process of creating a brass article starts with putting the raw materials such as copper, zinc and scrap the of brass ingots in a furnace. The material used in the furnace is generally coke or coal. Once the materials are melted they are poured into the required mold that is made from sand and then lastly once the artifact is cooled it is polished. The entire process requires skilled craftsmen such as engravers and enamelers.
Variety
As is known, brass is used to make not only accessories but artifacts and utensils too. Then again, brass boxes and cases are made too, which can be of various shapes.
Brass rings, are also called 'jump rings'. These rings are often embellished with precious, semi-precious stones and beads. The boxes have patterns on swirling vines and flowers, made out of wood from the mango tree, and covered with brass. The top portion of the box is usually sloped with latches or locks.
Present Day Scenario
There is an enormous variety of brass objects that are sold; handmade brass lamps, candle holders, incense stands, engraved plates used for interior décor and religious purposes. Brass products are a top choice as a home décor item at homes and corporate spaces alike. They are appropriate as gifts for clients as well as friends and family on festive occasions. These can be procured in the local jewelry emporiums, shops or online.
Innovations
Though worn as accessories earlier too, with time, a much wider variety of brass items has come up. It is used to fashion delicate designs in the form of brass cuffs which are one of the popular export items. But then, brass items are no longer limited to just accessories. From figurines chandeliers, cigarette lighters, pocket watches, designer belt buckles and a lot more.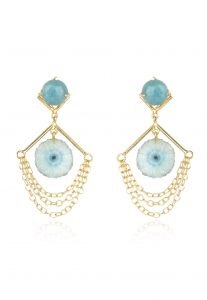 Brass bangles in a matte finish with subtle engraving is a piece of jewelry that goes with ethnic wear as well as western. Anklets, beaded fringes, Kadas (convex shaped broad bangles), Meenakari brass sets with semi-precious stones, braided brass necklaces and many other enchanting assortments of designs keep the spotlight on brass. It is also used to make appealing bathroom fittings.
Personalization
Appropriate for all occasions thanks to the matte finish mingled with the gold sheen, brass accessories make for a great accessory choice. Rings and simple neck-pieces go great with formal wear. On the other hand, with ethnic wear, one can go for bangles, jhumkis or danglers, anklets, toe -rings and more. Western wear and Indowesterns can be teamed with bracelets, fancy rings and chains with pendants. The subtle charm of brass mixed with the allure of a metal makes it perfect to be worn with all kinds of apparel. can be worn with warm hues such as red, maroon, violet, black or white colored apparel. The golden hues of brass have been worn to mimic gold for a very long time.
Accessorizing
Brass is ideal for wearing with ethnic wear such as sarees, lehengas, salwar suits. However, they are globally wearable thanks to the universal appeal it carries. Rings, earrings, neckpieces and more- options are aplenty. This versatile metal has been reinvented over the ages and carries a contemporary appeal appeals to all ages, but is a favorite with the young crowd.
Suitability
Brass can leave pigmentation spots on the skin if worn over a long period, especially in the summers. It must not be considered an option for piercing because of the reaction it can cause to sensitive skin. For winters, however, brass makes for a great choice in terms of comfort and teaming up with dull shades of woolens, cotton, and more.
Maintenance
Upkeep and maintenance of brass items can be done by one by purchasing products offered in the local market. Natural cleaners available at home do the trick as well. For instance, lemon juice can be applied directly and then the accessory, utensil or artifact can be wiped with a damp cloth; after which it has to be polished till dry. Dirty spots on a brass object can be removed by soaking it in a mild soapy solution. The spots can be gently scrubbed with a toothbrush till the dirt comes off. Lastly, it is to be dried and cleaned with a soft cloth. Antique brass objects, however, should be inspected before cleaning and if possible given to a jeweler who deals with the same. Lacquered brass can be cleaned by wiping with a soft cloth.
For antiques, caustic acids or ammonia should be avoided as they erode the metal and destroy the etching. Commercial cleaners can be used but one must be careful about not polishing too hard, or the copper may leach out of the top layer.
References