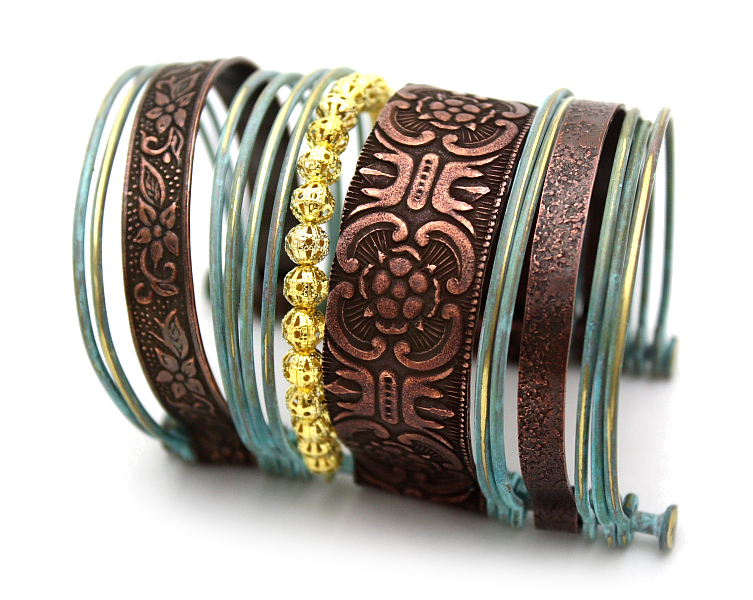 Copper Jewelry
The warm earthy tones of copper have long fascinated people. The metal offers a pocket-friendly, different choice to those who make a style statement with accessories.
Background
The exact date about when copper was discovered isn't known, though estimates place the time between 8000-9000 BC, in the Middle-East. Historians are of the view that the Romans used copper to a great extent and considered it one of the most important commodities. They extracted copper from the island of Cyprus which led to it being called 'Cyprium' and this name was modified to Cuprum.
Copper was the first metal to be found in its natural state and used by primitive man. One of the qualities of copper is that it is malleable and therefore prized by jewelers and designers alike. This quality though was disadvantageous too, as it wasn't effective as a metal to make weapons or tools with. Later on, copper was fused with zinc and tin to make weapons and various domestic appliances as well.
Copper pendants dating back to 8700 BC, belonging to Incan and Aztec warriors have been found, as they believed it enhanced their agility and skill in battles. Since ancient times copper has also believed to have curative properties. The Egyptians used to use it to purify drinking water. Some cultures even used it to treat sore throats, sore eyes, besides skin and lung conditions. It was woven on to the fabric surfaces to prevent bacterial infections and its spread. In Ancient Egypt, copper was used as jewelry and ornaments worn on the body to ward off evil. It also worked as a metal symbolizing social status.
Evidence of mines and smelters dealing in copper dating back to thousands of years back, has been found. The Romans used copper pieces as currency and to make weaponry. Ancient Ayurveda also recommends the use of copper as surgical tools. Copper has been found to have active antimicrobial properties as well. An excellent conductor of heat and electricity, its deposits are found in Canada, Peru, Zambia, United States and Zaire in vast quantities.
Many believe that wearing a copper bracelet can alleviate the pain of arthritis in wrists and hands. Dietary copper aids the cardiovascular system as well as the immune system and healthy bones.
A favorite with contemporary designers and jewelers, this metal maintains its finish and is slow to tarnish if kept away from moisture and water. Being inexpensive, it is available in a variety of coated colors and develops shades of green to blue patina if allowed to age. From about 1560 to about 1775, thin sheets of copper were commonly used as a canvas for paintings.
The Making
In order to make copper jewelry, the metallurgist heats the copper to a certain temperature and then forms it into a slab of specific thickness. The copper slab can then be pounded, rough-edged or extruded through a machine to make a bracelet, chain or other types of jewelry base.
Variety
Copper jewelry has been molded into an eclectic mix of geometric shapes and organic metals by contemporary designers. The jewelry pieces available in copper today combine semi-precious and precious gemstones, sterling silver, gold and even ivory. Costume jewelry pieces for performing arts such as Kuchipudi, Bharatnatyam, Oddisi, and Kathak use copper as a base. Idols for deities with traditional designs are made with copper and plated with gold.
Present Day Scenario
Copper has a widespread use in the making of jewelry. Copper jewelry such as carved rings, magnetic bracelets, brooches, amulets, toe rings, waist bands, mang tikas, (for the hair) cuffs and chokers are accented with enamel, beads, gold, precious gemstones, brass and nickel or silver plating. Copper is used for creating articles of home décor, photo frames, sculptures and even utensils. Bridal sets in copper are available in numerous styles such as Meenakari, Jadau and temple style, amongst several other designs.
Innovations
Nowadays, leather cords with copper beads, creates a very trendy look that can be worn with solid colored kurtis or Western wear. Jewelry boxes with copper engraving on the top make delightful articles for gifting to clients and dear ones. These jewelry boxes are made using brass and copper embossing too. Armbands, rings, earrings and pendants in contemporary designs have flooded the markets with studded semi-precious and precious stone designs. In recent Hindi movies too, one notices the subtle yet significant shift to alternate forms of jewelry that includes copper too.
Copper jewelry is admired by women across the globe for its versatility in transforming itself and complimenting other metals like gold and silver. Lightweight accessories like studs and pendants, sound classy and just right for formal wear, while the more ornate traditional sets are ideal for festive or special occasions. A filigreed copper cuff can enhance the beauty of a churidar kurta in chikankari work.
Accessorizing
Copper jewelry designs like antique, vintage, chunky, ethnic, flashy, under toned and muted are hot favorites with lovers of jewelry today. Copper tones enrich all kinds of outfits both ethnic and casual.
Suitability
Copper is reactive to skin salts, sweat, moisture, acidic levels in the human skin, and atmosphere, developing a green patina. Each individual's body reacts differently according to one's body chemical composition. The more acidic a person's body is the more green the copper bracelet will become.
Maintenance
Copper should be stored in a cool dry place and if possible stored in an anti- tarnish pouch, box or cloth separately from other metals.
Copper jewelry is relatively easy to clean and can be polished using a liquid metal polish or jewelry cleaner and a soft cloth. Intricate pieces of jewelry can be cleaned using a toothbrush or a soft-bristled brush dipped in cleaning solution. If stored carefully in a separate jewelry box compartment or cloth bag, and away from moisture, copper jewelry retains its shine.
Copper has been a major name in nearly all aspects of history, technology, medicine, and culture. It remains essential in a variety of technologies we are all familiar with today, such as the chips in Pentium processors. Its importance continues with the rapid growth of the computer industry, relying on copper chips and copper-based solar power collectors, and with the massive quantities of copper used in the Space Shuttle (approximately 10,000 pounds!). Copper can also be recycled almost indefinitely without losing its form. In myriad shapes and for innumerable uses, it will always be in use, and only for newer purposes with time.