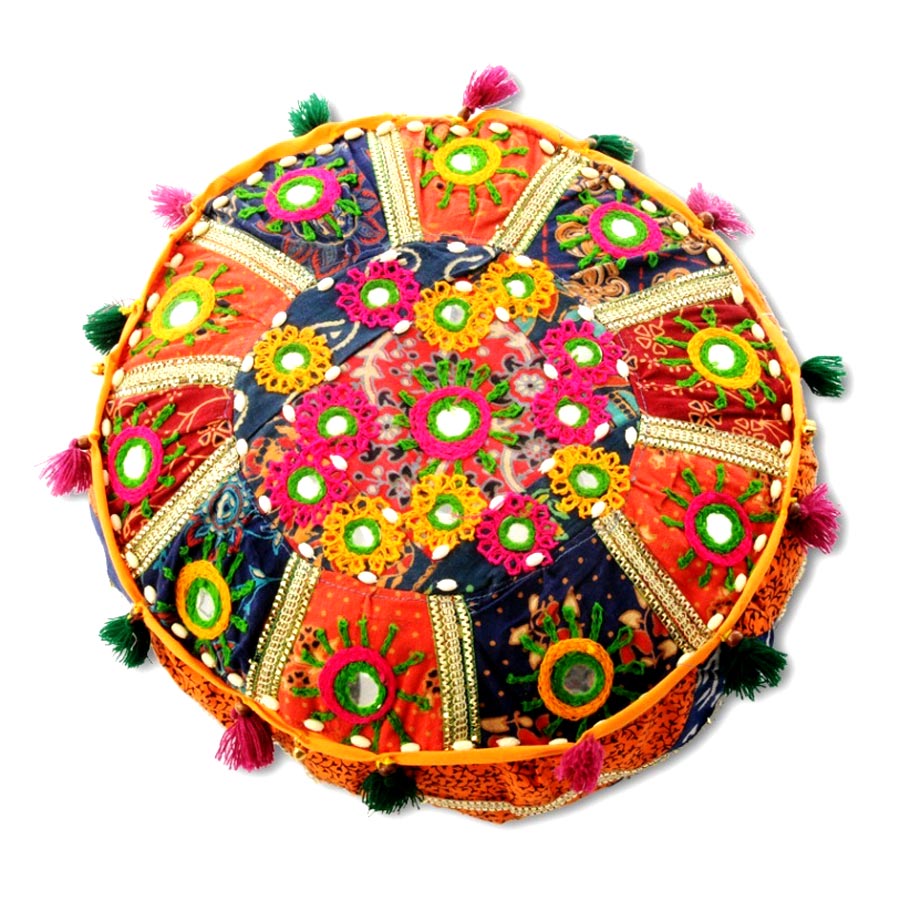 Mirror Work
Mirror work has been in vogue for centuries and is popularly known as "Sheesha" or "Abhala Bharat" embroidery. This is an art form in which mirrors of various shapes are fixed on to the fabric through embroidery. In recent times however, mirrors have been replaced by reflective luminescent metal pieces of different shapes and sizes, particularly on apparel. Mirror work is used on various fabrics such as georgette, crepe, cotton, silk, chiffon and many more which are then turned into attractive apparel and accessories ranging from sarees, to cushion covers and belts.
Origin and History
Mirror work can brighten up a dull mono-colored fabric by producing a shimmering design that makes it more appealing. Sheesha or mirror embroidery is traced back to 17th century in Iran and it is said to have been brought to Indian through various travelers during the Mughal era. The mirrors are affixed on to the fabric by special cross stitch embroidery that encloses the mirror, and provides it a casing. This cross stitch embroidery is not only relegated to affixing the mirrors, but they are also used on the garment as well to enhance the overall appeal of it. Although the most popular shape of the mirror that is used commonly is circular, there are other geometrical shapes such as square, triangular, hexagonal and polygonal that are used for embroidery.
Mirror or Shisha embroidery as we find it today actually originated in the 17th century and was originally done by using Mica. It which was later replaced by glass. The use of these decorative embellishments was inherited from Iran during the Mughal reign. However, surprisingly, the Mughal rulers did not wear clothes embellished with mirrors.
Influences over the Years
Mirror work was patronized by the states of Rajasthan, Gujarat and Haryana, hence these three states form the major hubs for mirror work. However, this embroidery can be found in various other parts of the country as well. The people in these states wear bright colored clothes that are embellished with Sheesha work.
For instance, the Jats of Banni make use of mirrors of varying sizes and shapes to embellish their fabric. The Garari Jat community on the other hand, make use of tiny mirrors embroidered on to the yoke of the dress with multicolored threads. The Kathi embroidery of Gujarat makes use of mirrors for by stitching mirrors on to the portion of the eyes in print of animal faces or the center of a flower. Hence, each state and each community has evolved their own specific style of mirror work. Mirror or Sheesha is one of the most attractive heritages of India in terms of embroidery.
Mirror work is used to embellish and decorate a variety of items such as sarees, dresses, skirts, bags, cushion covers, bedspreads, wall hangings and many such items. The products not only have a great demand within India, but globally as well. Sheesha work products are always in vogue regardless of the occasion or the type of décor.
Sources of Inspiration
Women residing in the Southern parts of Asia began this artwork with pairs of scissors that were consistently made wet with an objective to avert flying shards, after which they were delicately trimmed and cut into different forms and shapes.
Present Day Scenario
Mirror work or embroidery is a significant local craft in the state of Gujarat and is known as 'Abhala Bharat' and different variations of this craft can be seen in varying shades across the various regions of the state. Gujarat is particularly famous for its mirror-embellished chaniya-cholis, torans, tapestries, accessories, apparel and bags and other exquisite mirror work handicrafts from the state.
Sheesha or mirror embroidery can also be commonly found in various other states like Bihar, Karnataka, Madhya Pradesh and Manipur where each state has specialized in certain mirror work items. Deepika Padukone flaunts vibrant Rajasthani outfits in the movie Ram Leela with mirror work embroidery.
Interesting Facts and Comparisons
Originally coins, beetle, tins and silver were used as elements to give that reflective effect on the fabric.
The great Italian merchant traveler, Marco Polo was one of the secret admirers of mirror work embroidery.
References
Categories: Motifs & Embroideries