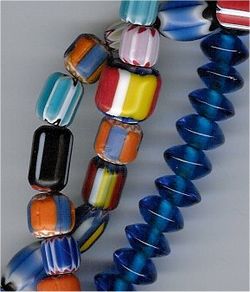 Plastic Beads Jewelry
Plastic beaded accessories are pretty, pocket-friendly, and a comfortable choice for all seasons unlike traditional heavy pieces. Easy to maintain, plastic beads jewelry is available in a plethora of colors, shapes, designs and combinations. They impersonate real gems superbly and hence are a favorite of women of all ages. Frosted, transparent, inlaid with designs and in intriguing shapes; plastic beads hold an appeal that make them perfect to be worn with all kinds of outfits.
Background
Plastic was invented in 1909, in the form of Bakelite. Plastic mimicked real gems. Suddenly the lovely jewelry that was worn by the rich was accessible to the common man too. Bakelite was used to make buttons and jewelry. Catalin, also a Bakelite product, came in the 1930's, and suddenly there were more colors for choices. Besides, it was affordable and therefore suitable for bold geometric designs of the Art Deco period. The DuPont Company, created Lucite in the 1930's, that helped make windshields and nose cones for World War II. Once the war was over, other companies began making Lucite as an alternative to Bakelite as it was clearer in quality and had more variety in terms of colors. Objects such as lamps, hairbrushes, stylish beads and more accessories started being produced soon after.
Lucite beads of various types were produced in the early 1940's, and were available in bright sparkling colors. The older Lucite beads had been a favorite with jewelry designers for their shapes and rich colors, although they were more expensive. Another plus was the absence of seams as they were lathe turned. The vintage Lucite beads are no longer in production and instead newer versions are being made.
A lot of kids' accessories like bracelets, hair clips, neckpieces and more are a favorite for plastic beads. This is because not only are they durable, but can also be more easily replaced should they be damaged. There are hundreds of shapes available in plastic beads to suit almost any occasion or need.
The Making
Material like unused plastic material is sometimes used to make plastic beads. They are in the form of resin and are called pellets. The process begins with extrusion wherein the pellets are fed into the extruder and additives are added. The beads are directed to a heated barrel where the shape of the beads is altered to a molten state. This plastic is then passed through a screen to remove impurities. The next step is where the plastic is given the desired shape. The final stage is the cooling for the unfinished product.
Variety
New Lucite and vintage beads along with Lucite flower beads are a favorite with designers. There's the Moonglow Lucite which seems to glow from the inside and the Mosaic Lucite that has a light sparkle with a mottled look. These are preferred to go as accessories for party wear. Lucite lends itself to carving and is inlaid with radiant colors and is therefore used for chunky costume jewelry.
There is a multitude of beads in the market to suit all purposes and preferences alike. The appearance varies from frosted, alphabet shaped, pony beads that are shaped in flowers, hearts, stars, and more; stick on acrylic ones, shaped in the form of gemstones.

Present Day Scenario
Plastic beads are embroidered onto dupattas, lehengas, skirts and kurtis, for instance, be if for festive occasions or daily wear. Often, along with plastic beads, other materials too like sequins or threads are embroidered on an outfit, to create a different look altogether. Fashion houses invest on plastic beads in innumerable ways, be it for outfits, accessories, props for various shows. Some performing arts like Belly dancing use plastic beads as an element for their dance accessories. After much evolving, anklets made with plastic beads have thronged the markets, and are quite a trend.
Innovations
The trend of applying tiny, colored plastic beads onto Nail art has picked on quite fast, globally. The use of plastic beads resembling gem stones on clothes and as jewelry has forever been a cost effective option. Plastic beads are used in designing interesting games for children. Rosary beads in subtle colored plastic cater to religious requirements. A huge volume of colored plastic beads are used in designing tassels for apparel, and even accessories like dupattas, stoles and scarves. Beads are also a great accompaniment as decoration on footwear, especially for children.
Among the younger crowds, charm bracelets, friendship bands, hair accessories, shoes and bags are very popular and have plastic beads in a million colors and shapes.
Personalization
Plastic beads on costume jewelry, apparel, shoes and handbags are stylish. Available in classic settings the plastic beads are excellent replicas of precious jewelry and can be worn with formal and casual wear. The fashion wear for children also has a vast extent of clothes and accessories and is an important segment for designers. Plastic beads make curtains and table cloth look pretty and are used on other furnishings too.
Accessorizing
Plastic beads make for a great choice for adorning accessories like belts, add-ons on shoes, gift boxes, furnishings. Some times, the bead work is combined with zari work embellishments used for sarees, lehengas and other ethnic wear, thereby accentuating the beauty of the bead embroidery. Worn as earrings, be it studs, or danglers, bracelets, neck-pieces, pendants, hair accessories and more, the choices are unending.
Suitability
Plastic beads applied on jewelry suits most skin types, unless there is a metal like nickel on the accessory or outfit. In such cases, care should be taken to avoid such metals and instead go for purer metals like silver, gold or other non-reactive ones.
Maintenance
Plastic beads rarely require maintenance. Jewelry, clothes or any other object having plastic beads on it can be cleaned according to instructions mentioned. Heavier outfits such as sarees, lehengas, and Anarkali should be dry cleaned. Belts, necklaces and other jewelry should be stored in separate boxes to prevent scratches on them which could occur if they are kept with other metal jewelry.
Categories: Attires, Costume Accessories