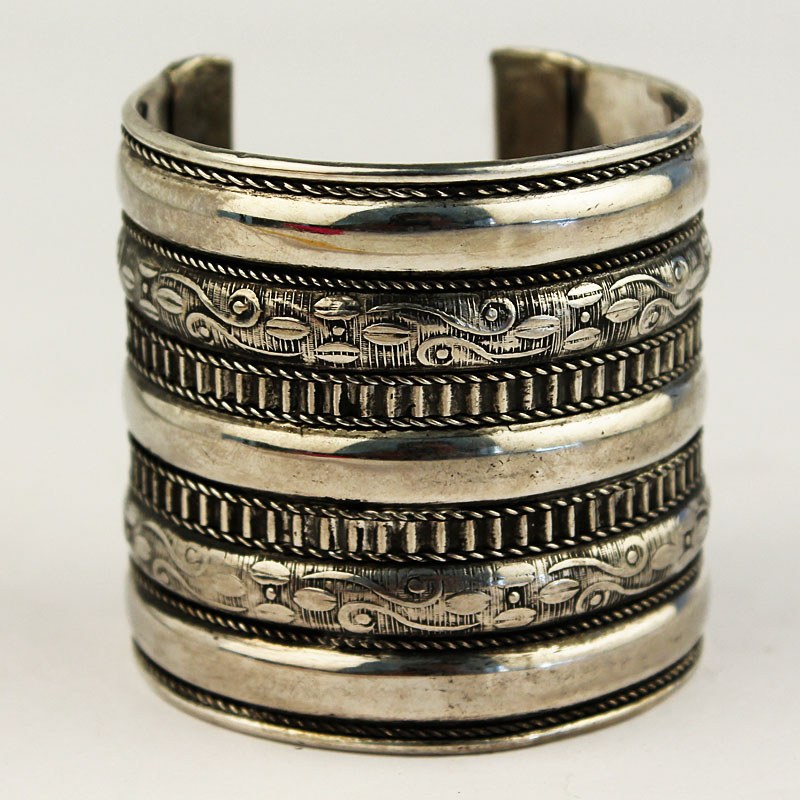 Kada or Bangles
Kada, the Indian bracelet-cum-bangle is an important part of a woman's life. From being a toddler to an older woman, kadas and bangles are an essential accessory of her being. Glittering, in a multitude of colors and with wonderful designs, the tinkling sound of the bangles, have been an essential part of the romance and heritage in Indian ethnic wear. There are a number of film songs in various Indian languages, which speak about the sound of bangles and their charm. Bangles are a symbol of femininity and grace. They are also known as Churi, Chudi, Bangdi, Kangan and Chura to name a few.
Background
The origin of bangles goes back to the discovery of the dancing girl figurine dated 2600 BC. Samples of bangles of the Mauryan Empire and gold bangles from the historic site of Taxila to name a few, were found giving evidence of the existence of the culture of making bangles.
In the beginning, natural materials such as clay, sea shell, wood, bones and stones were used to make the bangles. The shell or wooden piece was polished against a hard surface like stone to give it a circular shape. Later as tools were invented, the use of metals to make bangles began.
Bangles are spherical in shape and derived from the Hindi word 'Bungri' meaning glass. Bangles are made from precious and non-precious materials such as gold, silver, platinum, copper, brass, glass, terracotta, wood, plastic, sea shell, lac and many others. The bangle can be in the form of a solid cylinder or in the case of a kada which can be split open and closed with the help of a cylindrical spring or screw. The work or embellishment on the bangle distinguishes one bangle from the other.
Bangles are associated with rituals such as marriage; in Gujarat and Rajasthan, the bride's mother gifts her a pair of ivory bangles after which the seven pheras are performed. For a ceremony such as the baby shower, the women in South India adorn the mother-to-be with bangles in various colors and a pair of silver ones. Ivory bangles called Chudas are worn by Punjabi brides and these are given by their mother in multiples of four. Tied to these Chudas are dome shaped streamers with silver and gold bells that are considered auspicious.
The Making
Crafting the kada is a skilled art. Stone-set Kadas are often covered with enamel on one side, the method used usually being champlevé (a technique wherein a recess is hollowed out in the surface of gold or silver to take in a mineral), for example, cobalt oxide is used to give a blue color. The goldsmith carves out the design after which the enamel is painted or brushed into the hollows. It is then fixed in place by fire, a very difficult art. Enameling was originally done to protect gold which in its pure state is soft, malleable and wares away easily.
Variety
Kadas are usually wider in diameter than a bangle. They come with adjustable screws so that you could wear it loose as a bangle, or like a cuff. They may be hollow, solid or comprise lac. The ends of kadas traditionally have designs such as two elephant trunks, two parrots etc.
Kadas are made in a variety of designs all over India. Gold is a favorite metal to make kadas. These kadas are available with delicate filigree work in a cuff style with screws for adjusting the size. Semi- precious and precious stones are embellished to give the appearance of Kundan craft of Northern regions. Diamond kadas made with gold and kadas made with a combination of platinum and diamonds are prized pieces. Kadas with Jadau craft from North India, is another favorite. A variety of kadas have golden bells or tassels hanging from them.
A rare jewelry from Varanasi, the gold kada is famed for the floral designs of pink enamel on the inner side while the outer side is adorned with uncut diamonds and the kada ends come together in the shape of two interlaced elephant trunks. An array of precious and semi-precious stones are ornamented on kadas, such as diamonds, emeralds, rubies, topaz, jade and turquoise. Silver is a popular choice among rural women though, for kadas.
Lac kadas are a favorite with youngsters as they come in a multitude of designs and colors. These kadas also have colored glass gems and spirals of base- metal wire amidst wavy stripes of colors. Beads, cowries and colored threads are infused in lac kadas to create brilliant patterns that are typical of tribal areas.
'Thewa', the 18th-century craft from Rajasthan is famous for its depiction of delicate climbing vines, gods and goddesses, dancing peacocks, grazing deer and tales reflecting the culture of the state.
Present Day Scenario
Today, assortments of materials are being used to make kadas. Kadas made in modern designs have minimal embellishments and stone work to suit western wear. A kada is a style statement by itself and are mostly worn with earrings or necklaces that are not too ornate as it detracts the attention from itself. Kadas feature in films with historic settings and are an endorsed by the leading ladies when they represent Indian culture globally. Ethnic wear is the best compliment to the beautiful kada, one of the best ways to adorn a girl's bare arm!
Innovations
The Lac-Brass kada-Bangle set is the specialty of Jaipur. The inner ring of the kada and Bangles are made up of brass and the outer ring consists of semi-precious stones fixed on the lac around the kada- bangle. The Kada has large smoke-white stones and small blood red ones embedded on the red color lac, whereas the bangles have small blood red stones and smoke white color stones. Each bangle has a smoke-white color chain fixed to it.
Lately, kadas have been available in gold plated silver, oxidized silver, rhodium finish or an alloy where semi-precious stones are embellished on it. Materials like lacquer, acrylic, brass, Swarovski crystals and rhinestones are changing the look of the conventional kada. The gold used to make the kada is available in different hues to suit modern tastes.
Personalization
Kadas have exquisite designs or embellishments on them and don't need heavy accessories. They are worn with ethnic wear such as saris, lehengas, salwar and even Western wear. Silver engraved kadas can be teamed with a kurta or shirt in solid colors with denim jeans. Silver or brass kadas in a matte finish complement corporate attire.
Accessorizing
A heavily embellished kada is usually worn with a necklace and earrings that are simple. Kadas can be worn with plain gold bangles and the ones with Meenakari or Jadau work are enhanced by colored glass or metal bangles.
Suitability
Kadas are traditionally worn on special occasions such as festivals, weddings, religious ceremonies or soirees. The kadas available today come in many varieties to suit casual wear as well. Kadas complement Indowesterns too.
Maintenance
Gold kadas are maintained easily by cleaning them with a mild soap solution. The ones embellished with precious stones can be wiped carefully with a soft cloth after wearing them to rid them of sweat or dirt. These can be given to a trusted jeweler to be cleaned if necessary. Lac kadas and bangles can be maintained by avoiding prolonged contact with water. The inner brass ring can be wiped clean with a wet cloth.
References