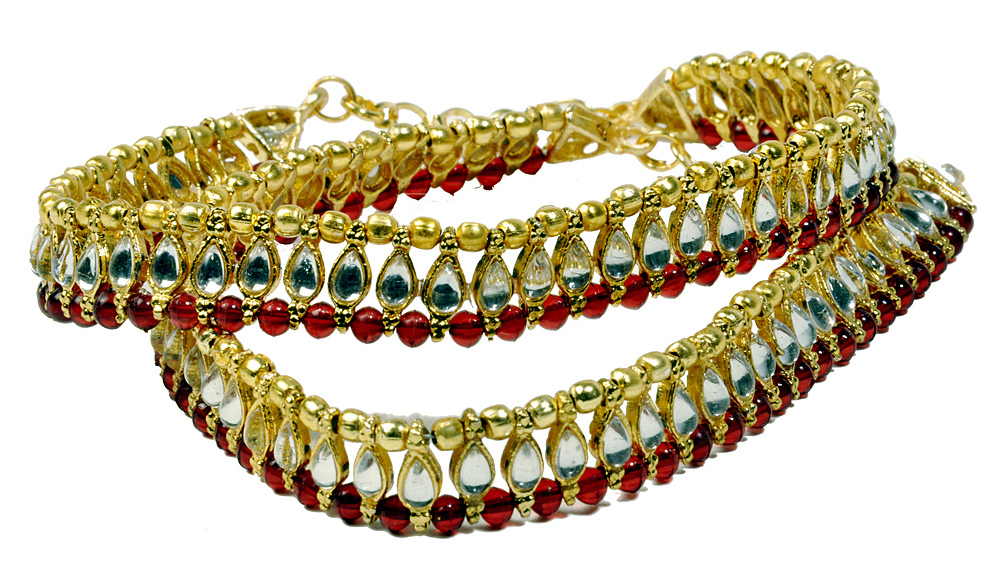 Payal or Anklet
Introduction 
Worn around the ankle, Payal, also known as Anklet, Paijeb and Paizeb, is the modern and compact version of Ghoonghru. In India, Payal or Paijeb was an essential part of a girl's life right from the time of her birth, to wearing it throughout her life. However, today Anklets are more of a symbolic ornament in different parts of the world, and are worn for different reasons.
Therefore, Payal is a form of Ghunghru. However, it must be noted that Ghunghru is synonymous to dance whereas payal is an ornament worn on the feet.
Origin & History
The origin of the anklet dates back to the Mesopotamian era. Anklets originated in the ancient times in Egyptian, Indian and Arab cultures. During those times, women belonging to the royal class wore it as a symbol of their wealth and status.  These were popularly worn as a fashion statement in American culture, once introduced there. In Arab countries on the other hand, where the purdah system was prevalent, anklets were worn by women to let people know about their arrival in the surroundings. Ghoonghru was the basic part of a dancers' ensemble, in several dance forms across these very regions. However, as a practice, it was not considered good for the women from the higher class of society. Hence, Payal or Paizeb was introduced as smaller, lighter and simpler ankle piece.
Source of Inspiration
Payal is a word that is used a lot in poetry to indicate the sound of the coming and going of the girl, her dance and the gaiety of the wearer. Payal was in fact once a compulsory ornament that a married woman had to wear, however, this tradition is slowly dying out.
Style & Variety
Women from Rajasthan wear the heaviest payals made out of silver, which signifies their tribe. Heavy payals are still worn in the rural areas of India, as it is compulsory for women to wear them after marriage. Other varieties include the simple silver pair of payal worn by married women in India, meenakari and Kundan work Paijeb worn by the brides, Golden Payal with tinkerbells at the hook for festivals, and many more.
What was used as an ornament to signify various things in ancient times is today a style statement among the youth. Many Indians wear this piece of jewelry as a simple accessory, just as one wears earrings, bracelets and rings.
Innovations
A slicker and modern form of Payal, Anklets have undergone tremendous changes over centuries. They have traveled across several civilizations and have evolved in look and style. In the past, anklets signified a woman's marital status. Now, it's a fashion accessory that girls wear with their outfits, both Indian and Western. The anklet is no longer an accessory that need be worn on special occasions. In order to suit one's comfort, instead of being made of silver or gold like earlier, now anklets are made of plastic, beads, stones and other materials too. This makes them more wearable as an accessory.
Occasional Dressing
As mentioned earlier, anklets were worn primarily by women as an indicator of their marital status. However, thanks to the constant evolving of this accessory, it is now worn with different outfits. For instance, metal anklets, with stonework are worn for special occasions with ethnic wear in India. Lightweight plastic or beaded anklets are worn with Indo Westerns. In the West, anklets are worn with dresses, frilly skirts and even denims.
Suitability
Anklets can be worn on with almost all kinds of outfits, thanks to the wide variety now available. Thanks to choices in material, like metal, plastic or bead, those with sensitive skin types can wear the kind that suits them best.
Global Influence
Originally a symbolic ornament with Mid-Eastern and South-East Asian roots, the anklet as an accessory has undergone changes in look and form. A merging of each of these original forms has led to the development of the multiple current styles. There have been cultural and regional influences on this jewellery in various regions, including the West. Several countries like U.S, U.K, and Europe have played a major role in popularizing this accessory.
References