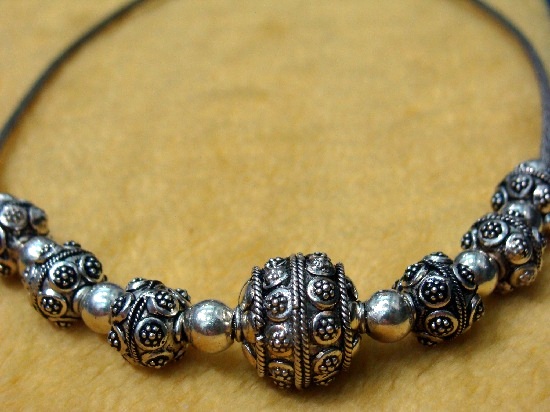 Oxidised Jewelry
Introduction
It is easy to see why oxidized jewelry has gained popularity. Not only does it have a unique look but it is versatile and cost effective in comparison to purer metals like gold and silver. Oxidized metal comes in myriad patterns with stone work, delicate carving and enameling to name a few. These pieces have an old world charm and traditional appeal. Oxidization creates a light and shadow effect in jewelry while making colored stones on them stand out. Oxidized metal offers a fresh and novel look in the world of gold and silver jewelry.
Background
The history of metals dates back to thousands of years.  At first used for utilitarian purposes such as vessels, coins, lamps, candlesticks, body armor, musical instruments and even sextants to name a few, metals such as gold, silver, brass, copper were used to make jewelry in different forms. Oxidization which is a natural occurrence happens when metals combines with oxygen and results in an oxide or an antique finish. The use of silver is high in the making of oxidized jewelry though the composition has other alloys like copper, zinc and occasionally nickel to produce the jewelry in colors such as pink, green, yellow and even white. The price of silver which increased substantially after 2008 necessitated the creation of alloys where the percentage of silver was 20 to 25%.
The process of blackening silver, first tool place around 1100 AD, when the method of refining metals was carried out to separate it from other impurities. Sulfur was used to the molten silver by which it turned black. Gold plating of silver became popular in 1250.
The Making
The process of oxidization has the blending of the two metals to create the alloy. A pure metal like silver is exposed to Sulfur to get the oxidized effect.
Another method of oxidizing jewelry is the use of Silver Black which contains Hydrochloric acid and provides a controlled approach, than compared to the use of Liver of Sulfur. It is hazardous and should be used after reading the safety guidelines.
Oxidized metal is used to make a vast array of objects such as necklaces, earrings, anklets, chains, jewelry boxes, and ornaments for the house.
Variety /Types
Titanium and cobalt chrome also are bio compatible, which is why they have been used in medical devices and implants for a number of years. For people with sensitive skin or those with nickel allergies, modern metals such as Titanium open the door to a new world of jewelry. Tin based alloys are also used to create white metal, where each casting foundry or shop has its own.
Present Day Scenario
There are numerous attractive designs available in oxidized bangles, earrings, pendants, cuff, anklets, necklaces (both long and short styles), nose rings, bracelets, and a whole lot more. The oxidized pendants have glass, stone, semi- precious gems to mimic designs such as Tribal, Mughal, Meenakari, Kundan and  temple to name a few. They are also available in the zodiac signs that are popular among teens and young adults. Gemstones such as Garnet, Amethyst, Peridots, Rubies, Pearls, Emeralds and a superior grade of cubic Zirconia are used in the crafting of oxidized jewelry.
Oxidized beaded jewelry is popular too with specific colored beads contrasted to create a unique look. Necklaces are designed in the traditional designs as well as trendy contemporary patterns that can be worn casually or for parties. Bracelet bangles are extremely popular and are created in tribal designs or with a single stone as a highlight. Wearing a multitude of thin oxidized bangles is also fashionable among teens where the quantity matters.
Earrings come in various kinds such as danglers, hoops, with large stone as a high point, jhumkas and a lot more. Anklet are tasseled with delicate bells, flower petals, rice patterns, dots, beads, multiple chains, kundan designs, Minakari work and even charm anklets.
Jewelry boxes are fashioned in many attractive shapes besides the usual traditional rectangular or square ones such a cart designs, hexagonal and circular ones. Assortments of materials are applied such as aluminum, velvet, wood etc to make these cases. Minakari designs, beads, mirrors, glass are some of the applications on these cases that are partitioned to store necklaces, earrings, anklets etc.
Jewelry boxes with their intricate engraving, whether from the Mughal era or a more modern design are in great demand. An oxidized jewelry box is a coveted article that can be used for gifting.
Innovations
The trend of using oxidized texts or engraved designs on pendants, charm bracelets or bangles made of gold or silver has caught on. The personalized pendant could be in Rose Gold, Sterling silver, White Gold, Yellow Gold and Pink Gold.  Oxidized bowls in different sizes for interior décor or serving make a statement and are a hit for corporate gifting. Other novelties in oxidized designs are watch bracelets, religious icons, pendants in animal designs or shapes, jewelry for astrology with specific gemstones and gold plated oxidized bangle bracelets.
Personalization /Dressing
Oxidized jewelry has caught on in a big way and the antique look which is combined with ethnic wear is considered fashionable. Oxidized pieces are worn in combination with precious jewelry too. Younger age groups prefer the good luck charms, beaded necklaces and rings. This trend has spilled over into bridal fashions too. The practice of stacking rings has made the oxidized look chic. Oxidized gold is considered as a more traditional style. The need to have something that is different is the reason why more and more jewelers are stocking oxidized pieces.
Accessorizing
Festive seasons see a spurt in the demand for oxidized jewelry. These being less expensive and available in an enormous variety, are preferred by women and even men who show off their costumes during such occasions.
Suitability
Oxidized jewelry though gorgeous to look at doesn't suit sensitive skins and can cause rashes or other skin ailments. The metal used makes all the difference as silver and gold is less reactive to the skin.
Maintenance
If the entire surface of the piece is oxidized then any tarnish remover product such as silver polish or paste, shouldn't be used. A polishing cloth specifically made for cleaning jewelry can be used and this can be done gently without stressing too much on the prominently oxidized sections. Cotton swabs are helpful for reaching places with too much oxidization as this way the tarnish remover doesn't remove the oxidization. Steamers or hot water should never come into contact with oxidized pieces.
It is very important to store oxidized jewelry boxes properly when it is not used. The ideal place to store them is cool and away from sunlight. Even indoor light source like florescent lights or light bulbs turn the color of oxidized jewelry over time. If you expect not to wear a certain piece for a long time, put it in an air-tight bag and store it in a drawer.
References