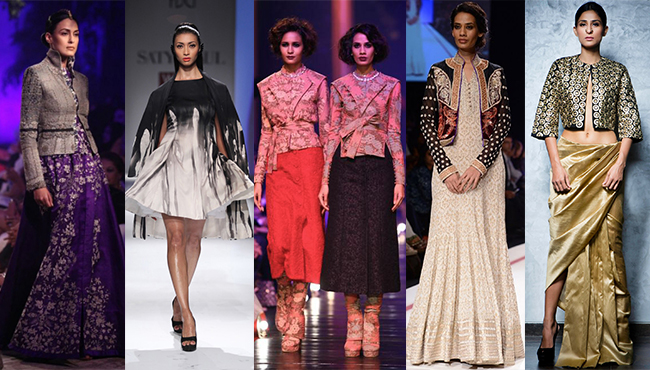 Indian Jackets and Coats
Worn as a necessity in hilly regions since centuries ago, Indian Ethnic Jackets exist in distinct styles influenced by climatic & regional elements.  Stitched in both sleeved and sleeveless silhouettes, these ethnic jackets vary in length, and are worn by both men and women. These have gradually evolved into a fashion statement in the country and abroad, from being an outfit of necessity initially.
History & Origin
The Nehru jacket descends from the North Indian court dress known as Achkan. The same was worn in hilly areas owing to cold weather. Koti or Waskets on the other hand belong to Kashmir, Himachal Pradesh & Uttarakhand, worn as protection from cold. The Sherwani had long been the court dress of the royals of India.
Variety/Types
Also known as Bandhgala and Jodhpuri, the Nehru jacket initially was worn as formal attire. However, the same has undergone modifications by designers and now the Nehru jacket is a globally popular fashion statement. Designed with (full) sleeves or without, the jacket extends to the hip with front-buttoned plackets. Fabrics used include worsted wool, jacquards, heavy weight-silks, and taffetas.
Used as an outermost garment, Koti and Waskets have been worn for years by people in Kashmir, Himachal Pradesh and Uttrakhand, to protect themselves from cold. Generally, Koti worn by women is shorter in length, typically the size of a regular sari blouse. The wasket could have full or half length sleeves depending on the season. On the other hand, men's Waskets/Kotis went down to the hips and were generally sleeveless.  Primarily made from cotton or woolen material, the waskets have buttons on the front for men and a tying thread or thick woolen for closing the front for women.
A slightly modified version of the Nehru jacket is referred to as 'Sherwani', worn tor occasions like weddings or less formal functions, while the Nehru jacket is reserved for more professional events. Sherwanis are a knee or slightly longer jackets worn with a salwar, pajama or dhoti. Sherwanis are slightly longer jackets worn with a salwar, pajama or dhoti. Velvet and Suede are some of the materials used to make Sherwanis.
Another form of Indian Jackets are 'Bandhgalas', a traditional attire of Jodhpur. It is also called the 'prince suit' and is worn with a kurta, trouser and a vest. The coat should be just below the hips like a western one, but not as far down as the Sherwani. The fabric can be silk or any other suiting material. The material is lined at the collar and at the buttons with embroidery. This can be plain, jacquard and of Jamewari material. Raghavendra Rathore is one of the most popular designers to bring the latest innovations to the Bandhgala.
Bandhgalas, Sherwanis, Achkan, Peshawari, Baloochi are some of the styles of Indian suits with some variation in them. Fabrics like jute and linen in darker shades like wine and royal blue or pastels and creams are popular choices.
Present Day Scenario
In the last decade, designers such as Rohit Bal, Meera Muzaffar Ali, and Ashima Leena have contemporized the staple Indian saris by accessorizing them with jackets or coats ornamented with sequins, rangoli patterns and detailed thread-work.
Innovations
Over the years, several varieties and styles of Koti and Waskets have come up. The most popular among these is the Himachal Koti. Sleeveless & waist-lengthed, it mostly features embroidery or woolen designs on the top, which could include flowers, geometric shapes or abstract lines. its length has been increased till hips for women and is used with a slit at the back, making it synonymous with present style Kurta or blouse over Lehenga, skirts or bottoms.
Young designers such as Amalraj Sengupta presented the Indian Jacket at the Lakme Fashion Week, albeit in modern avatars like the crushed jacket with a crinkled look. Abhishek Dutta's trapeze cuts & draped jackets use unconventional materials like leather and crochet to name a few. Colors such as monochromes, canary yellow, earthy brown, electric blue and purple are part of the shade card for these jackets. Thus, Indian jackets have undergone major transformation in the last two decades.
Accessorizing & Suitability

Bandhgalas are worn with well fitted trousers. Mojris or Juttis are worn with the wedding Sherwani. Nehru Jackets can be worn with both formal or casual wear.
Suitability
Bandhgalas are suited for formal occasions whereas Sherwanis can be worn to festivities, receptions and weddings. Nehru Jackets on the other hand can be worn to casual as well as formal events, depending on the kind of embroidery or prints on it. For instance, Waskets in Indian prints are generally teamed with casual attire.
Maintenance
Sherwanis, Achkans or Bandhgalas are required to be dry cleaned and stored away in a plastic cover in a dry place away from sunlight.
References
Categories: Attires, Clothing Styles & Drapes