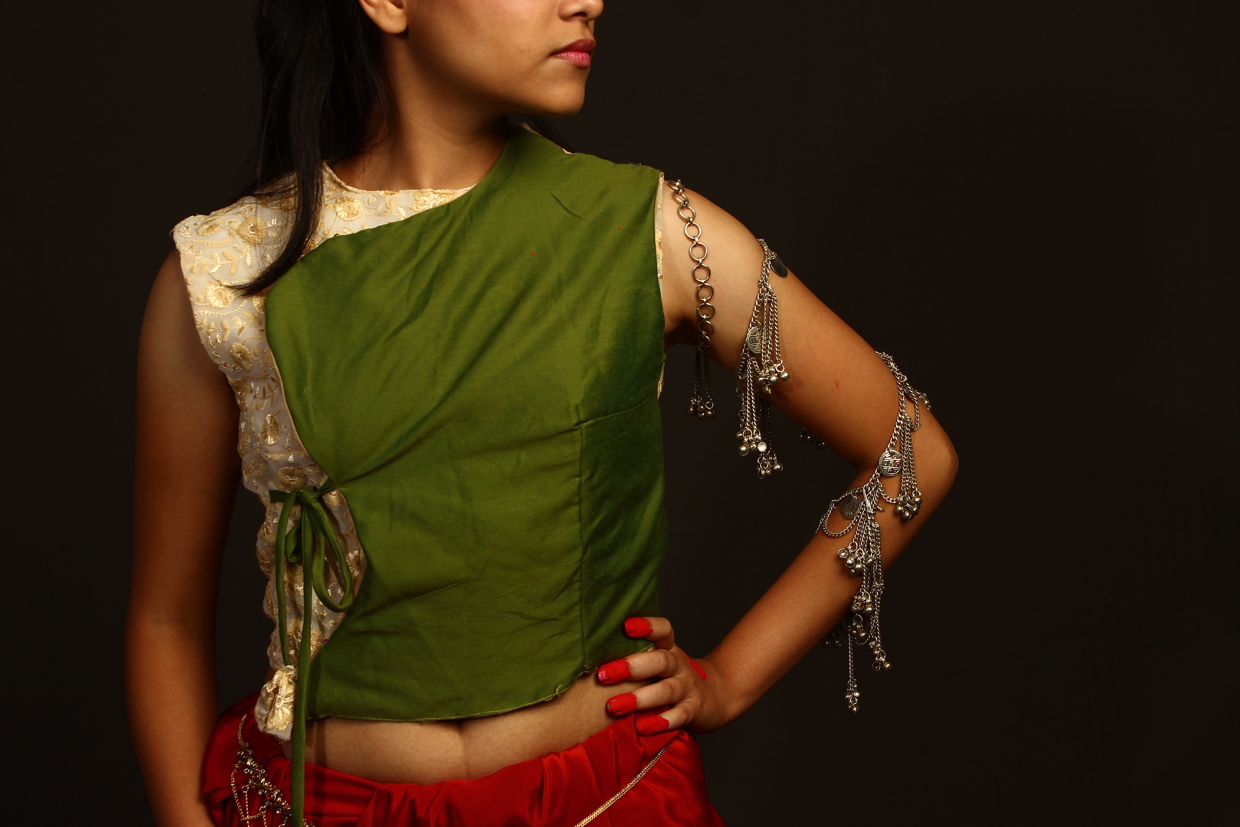 Bagalbandi
A Bagalbandi is a type of clothing style characterized by top wear that is tied on the side. Bagal is the colloquial Hindi term used for 'side of the body' whereas bandhi or bandi means 'to tie'. So, it literally translates to a garment that is tied to the side. This type of clothing style was first associated with men, although now it has become quite common for women to sport a Bagalbandhi.
History and Background
Bagalbandis are quite common as they are not only easy to put on, but are also quite comfortable to wear. As a result, this particular type of clothing style can be found in many parts of the country. The Mughals were the most prominent wearers of this style of clothing and was worn by the rulers as well as the noblemen of the court.
As part of India's indigenous history though, the Angrakha (the most common and popular form of bagalbandi style clothing) was worn by the people from the state of Rajasthan. However, this style of clothing wasn't exclusive to North India as Kavi art from Karnataka shows Dvarapalakas or door keepers wearing this style.
Style and Variety
There are many different type of traditional Indian clothing that makes use of the this style.
These are the Angarakhi, the Sadri, the Fatuhi, the Kurdi and the Nadri.
Angarakhi
The angarakhi is the most common type of clothing featuring the Bagalbandi style. An angrakhi is tied to the right side of the body and generally extend down to the hip although there are longer variations which are worn during weddings and other formal ceremonies.
Sadri
A sadri is a cut-sleeve jacket that is worn over a shirt or a kurta. The garment is worn by men and women alike.
Fatuhi
A fatuhi is a jacket that doesn't have sleeves. It is usually a vest that is lightly padded with cotton wool and is quilted.
Nadri
The Nadri is a type of jacket that was popularized by the Mughal emperor Jehangir and is worn as an outer garment. The emperor himself described it in his memoirs as "a coat they wear over a Qaba. Its length is from the waist down to below the thighs and it has no sleeves. It is fastened with buttons".
Present Day Scenario and Global Influence
While this style of clothing did start off as a garment worn by men, women have accepted it as one of their own.
The style, comfort and the flexibility offered by this style of clothing have made it quite popular with fashion designers who have put their own spin to the style. They are used as tops and jackets to be worn over other clothing.
Some of the most popular kurtas with Rajasthani prints on them are in the Bagalbandi / Angrakhi style, usually with two or more ties. Another modernized version is the Fatuhi, which is coming back into fashion in the urban areas as a jacket for early winters.
Innovations
While traditional Bagalbandi style garments were made of cotton or silk, present day designers prefer to use more modern fibers and materials for their creations. Not just that, but they have also started to incorporate western cuts into the Bagalbandi.
The modern clothing style for women features low necks, corset tops, sleeveless designs and many more. Moreover, one can find variety in the fabric i.e. bagalbandi tops that are also made from materials like velvet, chiffon, georgette and so forth.
Wearing the Attire
Most Bagalbandi style clothing for women is independent of any other top to be worn on the inside. The same holds true for men's bagalbandi top wear.
At the bottom, one can wear a traditional Indian garment such as a Dhoti or a Pajama if you are male or a Churidar salwar if you are female. Modern Bagalbandi style clothes are a lot more flexible and can be worn just like a jacket.
Maintenance
Care and maintenance of this style garment has a lot to do with the material from which the Bagalbandi is made from. Silk, chiffon, georgette and velvet items should not be washed and should be dry cleaned instead. Cotton bagalbandi tops can be washed normally in the washing machine. Woolen bagalbandi jackets should only be washed in cold water and dried in a cool, shaded area.
Facts and Trivia
The Angarakha type of bagalbandi garments literally translates into 'body protector'.
The word 'Sadri' comes from an Urdu word that means 'waistcoat'.
The Nadri was designed by the Mughal emperor Jehangir himself.
Wearing a Bagalbandi style garment used to be a privilege that only people from the higher castes could afford.
References
Categories: Attires