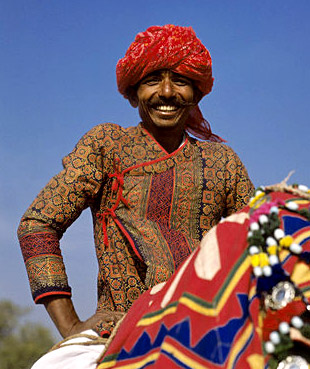 Angrakha
Angrakha is an ethnic top that has an asymmetric opening, knotted or secured by either thread ties or loops. Usually, is worn by both, men and women of all ages. The Angrakha is an extremely versatile garment that has been innovated and integrated with Indian ethnic wear as a style of kurta and can be worn with any type of bottom such as a churridar or a salwar. This type of garment originates from Rajasthan and is a widely popular choice of attire not just in that state but in other parts of the country as well.
Background
Rajasthan, as a state, is extremely hot and dry and, for the most part, comprises deserts and very little shade. As a result, the natives of the state needed a type of clothing that was light, easy to wear and would protect them from the sun. This is how the Angrakha came into being. The garment is usually made of material that can withstand heat and absorb sweat, which typically is cotton.
In terms of ethnic wear, Angrakha is a type of garment that can be worn by both the genders however, the way they are paired with other pieces differentiate them on the bases of gender. For instance, men wearing Angrakha often pair them with turbans and loose pajamas or dhotis while women pair this with long lehenga skirts or Churidar along with a dupatta around their head.
There are two different types of Angrakhas that emerged while taking into consideration their uses. The first, which was meant for daily wear, was the knee length Angrakha while the second, meant for festivals and celebrations, was the frock Angrakha, which is slightly flared and ends at the waist.
Sources of Inspiration
Clothing items such as Angarakhas are inspired by nature and the things most commonly seen in the area where it originates, which in this case are Rajasthan and Gujarat. More often than not, tie and dye methods, known as Bandhini, along with heavily embroidered fabrics that have mirror work on them are most commonly preferred and worn by Rajasthani men and women. The patterns used during the embroidery are usually abstract and include circles, dots and squares. Festive Angarakhas usually have golden gota patti work done on them.
The Making
One of the ways an angrakha is made is by using bandhini. Bandhini is a type of Tie Dye cloth that is created by dyeing a fabric that has been wrapped and tied tightly with pieces of string to create different types of shading and styles of this such as Ekdali, Leheriya, Mothra and Shikara. This fabric is then embroidered with patterns of squares, dots and circles to give it a textural dimension. Similarly, mirror work is used to add to the way the fabric looks. The fabric is then stitched into the angrakha and this can be done both, by hand and by machines.
Style & Variety
Traditionally, there are two types of Angrakhas. These are,
Kamari Angrakha: The Kamari Angrakha ends right at ones waist and is looks quite similar to a frock in the sense that the bottom half of this garment flairs outwards. This type is most commonly worn during a festival or any celebration. Another reason why this type is worn for festivals is that it gives one the freedom to move ones legs while dancing, especially as it is paired with dhotis.
Knee length Angrakha: This type of Angrakha is worn on a daily basis and serves to protect one's body from the heat and the sun. It looks its best when paired with churidars (which are slim fitted pants that have pleats around the waist and gathers at the ankles). However, one can even wear them with pajamas or even salwars.
Any Angrakha top is unique because of its asymmetry, which is highlighted by the piping or appliqué work done especially along the edges. These edges are along the opening, the neck and the sleeve-endings.
Global Appeal
Angrakha kurtas are very popular in women's Indian ethnic wear. However, it is an uncommon garment in a men's wardrobe. Nevertheless, it is a style that is being brought back onto the ramp by Indian designers.
The Angrakha is a garment that has received global acclaim. Various folk costumes around the world, such as Turkey, have also recently shown a lot of Rajasthani influence in their designs. This shows that this attire is making its way to the global runway.
In terms of being depicted in pop culture, this garment has been shown in Game of Throneshe HBO Series inspired by George. R. R. Martin's A Song of Ice and Fire.
Innovations
Due to the asymmetrical nature of the angrakha, it is an extremely interesting piece to work with in the fashion world. Indian designers are known to incorporate the angrakha with different styles of bottoms and accessories to create unique looks for both, men and women. These tops are also not used in daily wear as a cover-all as they are in their traditional form as designers are incorporating western aesthetics such as backless tops, low necks, spaghetti or sleeveless tops, corset tops and so on. The forms of embroidery and work done on them are not just limited to bandhini or mirror work anymore. Moreover, in terms of current fashion trends, designers use a variety of fabrics besides cotton, such as silk, cotton silk, velvet, chiffon and georgette
Wearing the Attire
Traditionally, this attire for women is accessorized with heavy silver jewelry that originates from Rajasthan. These pieces include a head piece that lets small silver coins decorate one's head and forehead, heavy necklaces, thick silver bangles and payal (anklets) on the feet. However, since this outfit has been taken out of the traditional context, it can be worn with a host of Indian jewelry such as kundan pieces and mang tikkas. The footwear is generally determined by the kind of pants being paired with this.
Interesting facts
Angrakha literally translates into the 'body protector'.
Rajput princesses wore elaborate Angrakhas with long inners that were used to layer the outfit and add to the look.
Children often wear waist-length Angrakhas along with dhoti pants that allow them to play freely.
Women of higher ranks, in the olden times, wore patkas with their Angrakhas.
Categories: Attires, Clothing Styles & Drapes