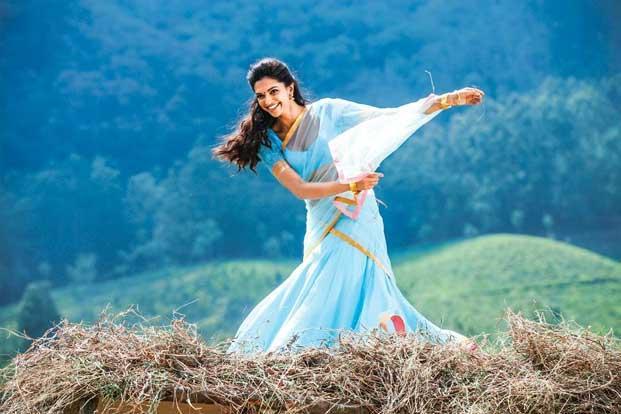 Half Saree
A half saree is a traditional outfit that is extremely prominent in South India. Referred to as Langa Voni in Telugu, Pattu Pavadai Daavani in Tamil and Langa Davani in Kannada, this outfit is worn by women who have crossed puberty and are eligible for marriage. In English, it is also referred to as the Two-piece Saree, or Half Lehenga.
This outfit has three main components that include the skirt, called the Langa, which is tied around the waist with a string. The Voni, a cloth that is usually 2 to 2.5 meters in length, functions in a way similar to the pallu or dupatta and is draped across the choli or blouse which is the third piece.
Origin
This outfit originated as a means to facilitate the transition from childhood to adulthood, as most children wear a less complicated skirt and top. On reaching puberty, women would undergo a celebration or a rite of passage that would mark their eligibility for marriage. Essentially, this is a coming of age ceremony. During this, a woman is gifted a half saree by her maternal grandparents. The outfit is worn during the first half of the ceremony and then she is gifted a proper saree by her paternal grandparents. The saree is then worn during the second half of the ceremony and it is considered to be an extremely symbolic moment that hints at the upcoming adulthood. In some areas, the first half saree is gifted during a child's naming ceremony by the maternal grandparents as well. This, however, is not necessarily prevalent throughout South India and happens only in a few areas.
The Making
Half sarees are manufactured and designed the same way as regular sarees are. Recent innovations in fashion and this particular outfit have led to creations and designs that cross the traditional definition of a half saree. Machines are used to stitch together fabrics and while some embroidery work is undertaken by hand, most is done by the machines themselves to save on time, resources and money.
Unlike most traditional ethnic wear, the half saree or the half lehenga is not limited to certain motifs or patterns. As this garment is usually made of silk (which is considered to be one of the most desirable fabrics in South India) or, at times, cotton, almost any motif or pattern can be used while designing it. Some of the most common design elements include heavy borders and zari work on the sari. At times, the voni, or pallu, is created by using a completely different color to the palette of the saree.
Style & Variety
Like almost everything else, a half saree is available in a variety of styles, ranging from the way the tops are designed to the way the skirts are designed. As this garment has begun to gain immense popularity in the fashion world in India, the components are now designed to Western ideals as well. For instance, while the original top was cut and styled in a way similar to the North Indian kurtis, more and more women prefer cholis that bare the midriff. Similarly, the skirt is also available in a variety of styles such as A-line, peacock cut, mermaid cut, straight cut and so on, appealing to multiple style sensibilities. While these types don't necessarily have their own names, they are referred to on the basis of the cut. For instance: A-line half saree.
Global Appeal
With the widespread preference of the salwar-kameez sets to half sarees, this garment was only worn by the most traditional families. However, recent trends in a fashion show that it is certainly making a comeback, especially after being depicted in popular Bollywood films such as Chennai Express and 2 States. More and more women are opting to don this outfit, especially with western innovations being added to the garment. While the original half saree was meant to be quite plain and simple, the newer versions have a variety of work done on them to make them stand out.
Innovations
Innovations in the half saree include the following:
Work: With fashion trends turning towards this garment, one can now find half sarees with resham or zari work along with mirror work done on them.
Colors: Bolder colors were originally considered inauspicious however, it is not uncommon to find these sarees in black, red and grey these days
Fabric: Originally, half sarees were made only in silk or cotton. However, considering the evolving tastes of the average consumer, these sarees are also available in chiffon, crepe, georgette and nylon.
Wearing Half Saree
Unlike a regular saree, a half saree does not need to be draped, folded and coaxed into creating the right shape and fall. As the half saree is made of three separate components, all one has to do is put them on and drape the voni or dupatta as one likes.
Maintenance
The maintenance of the half saree depends largely on the fabric of the saree. One can maintain the saree by wrapping it in a muslin cloth or soft cotton cloth.
Avoid washing or dry cleaning a sari as much as possible as it may deteriorate the yarns. However, if it must be washed, then a mild soapy solution should be used followed by a cold rinse
Wet saris, whether silk or any other fabric, should not be dried in sunlight as it may lead to fading of colors.
Interesting Facts
The first depiction of a saree in history dates back to 100 BC
Silk weaving is a major art form, which is one of the reasons why silk is such an important fabric for sarees in South India
Half sarees use clashing colors more often
References
Categories: Attires, Clothing Styles & Drapes