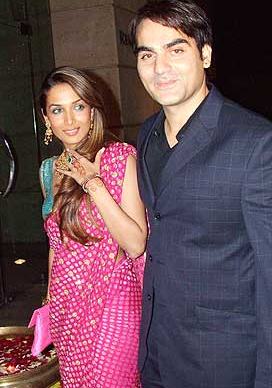 Malaika Arora and Arbaaz Khan Wedding
t is said that 'Marriages are made in heaven.' This stands true for Malaika Arora Khan and Arbaaz Khan. Transcending barriers of caste, religion, region and lifestyles, Malaika and Arbaaz truly redefined the concept of love. Not only did they marry during the peak of their careers, they have proven that inter-religion marriages last, by accepting each others' culture, traditions and heritage. Theirs is a life that inspires couples from all over the world. And even though they keep their lives private, the love between them still shines in the media. The couple, married on December 12th, 1998 have two children and both of them currently enjoy stable celebrity careers.
The Love Story
The affair between Malaika Arora Khan and Arbaaz Khan sounds nothing less than a fairytale. Attraction between them soared high when they first met during the shoot of a coffee commercial. Soon, the couple was spotted at different coffee outlets, laughing and indulging in spontaneous discussions with each other. The coffee dates turned into romantic lunch and dinner dates. Soon, the news spread and the love birds readily agreed that they were, in fact getting married. Malaika Arora, who then gained popularity with her item number, 'Chaiya Chaiya,' decided to tie the knot with actor-producer Arbaaz Khan in a private but lavish ceremony in Maharashtra.
The Wedding
Media speculations regarding the wedding ceremony between Khan-Arora were ripe. People were discussing whether they would opt for Muslim 'Nikaah' ceremony or choose Hindu marriage traditions. But the couple surprised all by choosing to transcend all barriers. They got married at a chapel. The wedding was a reflection of this couple believed that love is the most powerful force than societal norms and regulations. Wedding was held on December 12th, 1998 and saw this adorable couple looking at their best in minimalistic yet sophisticated outfits.
Attires
Not a lot of wedding details were divulged by Khan and Arora. In fact, the media wasn't even informed about the venue of the wedding. But since the couples decided to go the Catholic way for their wedding rituals, they opted for gowns and formal suits as their wedding attires. Malaika Arora Khan opted for Wendell Rodricks, a popular fashion designer for her wedding outfit, while Arbaaz went for a regular, formal suit that showed off his broad physique and gave him the European gentleman's look.
Malaika Arora Khan's wedding outfit was a white gown embellished with beautiful, silver colored sequins. The actress and reality show judge opted for a sweetheart neckline on the gown as it suited her petite frame. Side straps, which were in fashion during those days, gave her a sultry appearance. The gown was fitted to show off her thin and lean body. The actress opted for a small, pearl necklace and matching earrings, adding beauty to her delicate looks and tied her locks in a bun. To complement her ensemble, she chose a net veil with an average train and went with high heeled shoes. Purple colored flowers with green leaves gave a color boost to her minimalistic outfit.
Arbaaz Khan also kept it simple with a black suit that was tailored to accentuate his broad physique. The actor-producer opted for a cream colored tie, which complemented with the bride's dress. A plain shirt was used to keep the outfit minimalistic.
Over the years, media and fans realize that the reason behind a simple wedding between Khan and Arora is reflective of the fact that they like to keep their lives private. It is the loving relationship between them that inspires couples all over the world and shows how one can make a marriage work regardless of all odds!
References
Categories: Bollywood & Beyond, Indian Cinema