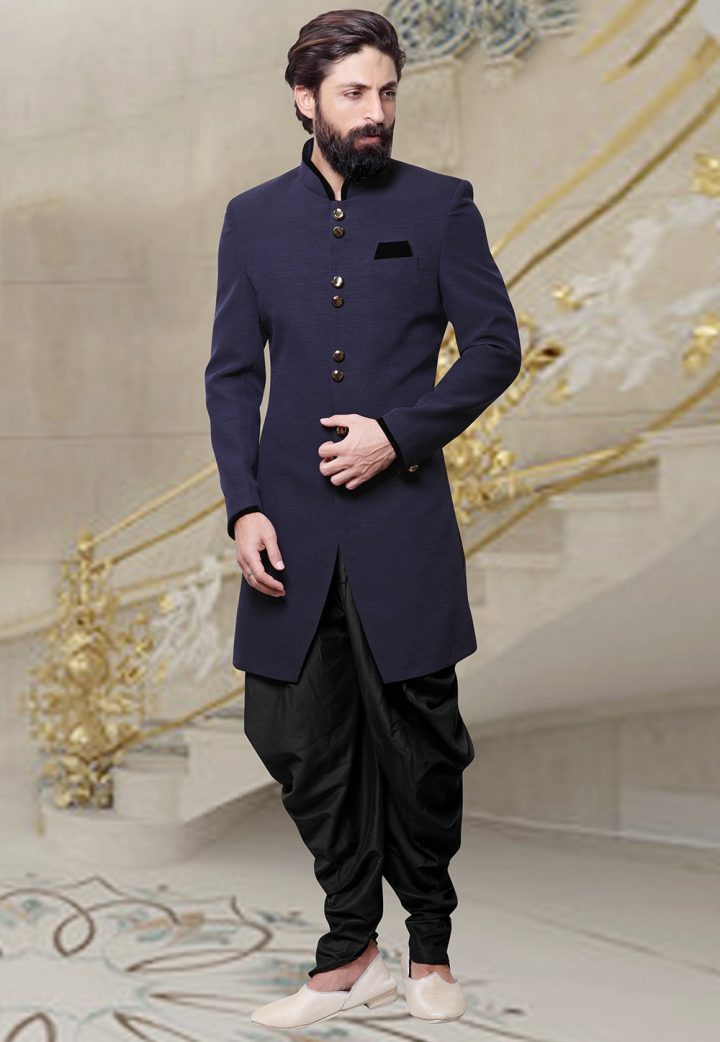 Men's Sherwani
Sherwani is a long coat like attire worn by men, over a Kurta and Churidar, Pajama or Shalwar, quite similar to Achkan or Doublet. A regal clothing inspired by the fascinating stories of the Mughals and nobles of ancient times is a form of clothing which till this day has the same regal effect that has been presented since its creation.
Origin and History
Originally, it was a creative combination of the Shalwar Kameez and the British frock coat. Initially, it was only donned by the Indian royals and noble kings and was their basic attire which showcased wealth and prosperity through the decorative embellishments that adorned the beautiful garment. Somewhere around the late 18th century, it was taken on as a dressing style by various people regardless of their social standing.
It was also a popular form of attire during the Aligarh movement, which took place before Indian independence since several students and teachers wore this attire. Following this, several Indian and Pakistani leaders like Jawaharlal Nehru and Muhammad Ali Jinnah also donned the Sherwani and made it an intrinsic part of their wardrobe.
Style & Variety
A Sherwani is quite similar to the Achkan in its overall look. It is a knee-length garment which is worn over a Kurta and is close fitted. It has several buttons that run down in the front and is worn in collaboration with a Churidar or a Salwar. The look is incomplete without a pair of Juttis (ethnic Indian shoes) which gives the entire ensemble a more regal and sophisticated touch.
It comes in various fabrics and embellishments, major ones are woven in Silk. However, with its global recognition and demand, Sherwani is now designed in cotton, brocade, jacquard too.
The colors range from magnetic corals and reds to mysterious and captivating blacks and dark greens. Even off white or creamy colors with Gold embroidery are now taking over the fashion runways. It has become an essential wedding attire for men, due to its stylish and comforting features.
Innovations
With regal intricacies involved, Sherwani, as an apparel was originally designed only for men. However, the modern women seeking confidence in various attires have found Sherwani, a good pick for regal and bold looks. With its close resemblance with Kurta, women wear Sherwani Coats over their Salwar Kameez or Lehenga to add a pinch of sophistication to their attires.
Wearing the Attire
A Sherwani is an Indian groom's first pick since it exhibits a regal and majestic aura, something that any young man would want to feel on his wedding day. However, it does not have to be limited to weddings alone, and can also make a spectacular style statement for any formal event that would require anyone to dress immaculately.
Accessorizing the Attire
The one major accessory used to enhance the look of the Sherwani is a stole or a scarf that is wrapped around the neck. The most common colors used in stoles are red, Silver or gold. In addition to that, one can even wear a gold chain, or a chunky bracelet to complete the look.
Interesting Facts and Comparisons
Before it reached India, it was worn by the Turkish and Persian nobles.
A dhoti can also be used instead of a Churidar or a pajama.
Reference
Categories: Attires, Clothing Styles & Drapes