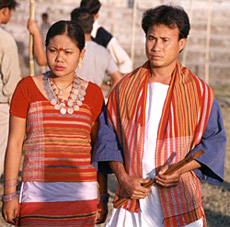 Weddings in Tripura
Tripura has managed to recreate the magic of traditions and culture through the medium of its folklore. The occasions, celebrations and social gatherings which take place in this state conveys a sense of originality coated with extensive layers of traditionalism. The culture of Tripura is mainly inspired by the essence of Bengal. The Bengali population covers a major portion of this state. Hence even the historical eras drew inspirations and were admirers of the Bengali culture.
Weddings are truly a visual delight in Tripura as they are deeply embedded in old age traditions which have maintained their own charm, while new innovations and ideas have given it a new and unique ethnicity of its own kind.
Style and Attire
The marriages which take place in this state solely follow the system of Hamjwk Tubui Kaimani, wherein the bride and the groom have no say or decision in finalizing their weddings. The elder members of the family take over the deciding responsibility and follow the rites and rituals of the marriage ceremonies which is a mandate for the state residents.
The wedding costumes which are donned by the men and women are ethnically woven and embroidered suiting the special occasion. The brides go in for large sized garments which go up to the knees and go across the waist called the Rinai. There involves another shorter piece of cloth which is also worn by the bride known as Risa. This colorful piece of fabric generally defines the upper portion fabric which masks the entire portion of the chest in a very ethnic way.
This upper portion of the garment also passes under the arm regions. Beautifully woven designs, floral patterns and brocaded embroideries define the elegance and beauty of Risa. Jewelry like earrings, necklaces, armlets and bangles that are worn on the wedding days are artistically made of copper, bronze, silver and other pure metals with the most common design being that of a coin. Varied coins and beads are strung together into exotic neck sets as well as delicate and colorful flowers that are chosen as ornaments.
Present Day Scenario
Today's day and age has involved a lot of innovations, transformations and preferences in their dressing tastes and lifestyles. The younger generations of today opt for clothing that is high on comfort and convenience. For instance, young brides with every passing generation prefer to go in for user friendly and comfortable blouses instead of Risa, which is a traditional garment and is considered a must for all wedding occasions in the previous years. Nowadays ethnic sarees and salwar suits are preferred by the youth of today. Fabrics which are blended in silk as well as cotton are now generally chosen by people for their wedding outfits as well as for everyday usage.
References
Categories: Wedding Types, Weddings & Festivals