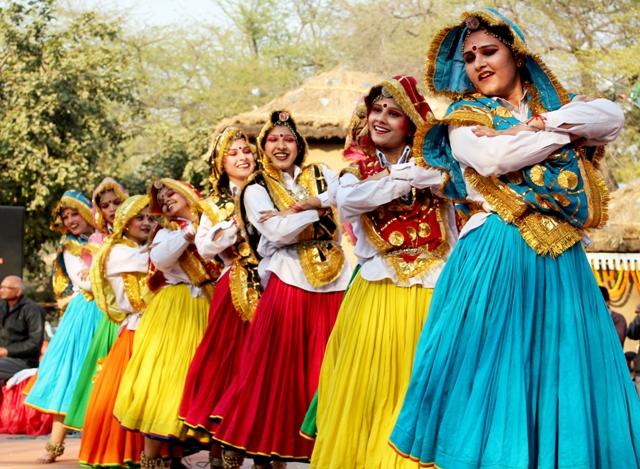 Wedding in Haryana
Weddings in Haryana, like in other parts of the country, are a vibrant mix of traditions and culture that has passed down from generations. Lehenga, Juttis and Turbans are the key fashion picks of the community. People of the state of Haryana practice their ceremonies, festivals and rituals with much pride and the dressing styles reflect the same enthusiasm and simplicity with which they approach life.
Background
The traditional attire can be described as simple and sober, which for men includes turban or pagri, dhoti, shirt and a traditional pair of shoes, known as jutti. One will find nearly all men wearing a blanket or chaddar over their shoulders. A key feature of men's dressing is the headgear or turban; it is sported by certain castes of Haryana like the Jats, Rajputs, Brahmins, Banias and Ahirs.
A similar difference in the style of dressing is seen in the way women dress across communities. Thel, worn by women from the Jat community, is the most easily distinguishable dress of the Haryana state. This dress is comprised of a traditional long shirt, a ghaggri or skirt that falls at ankle-length, and a printed overall that covers the head known as odhni. While the Thel is part of the women's everyday wear, richer designs and vibrant colors of ghaggri are worn during weddings and festivals.
Women belonging to the Ahir community wear a distinct style of lehenga that complements a fitted blouse known as Angia, and an odhni. The odhni worn by Ahir women is different from that worn by Jat women. Historically, Ahir women used to work outside their homes too, and a broader odhni helped cover their upper body. The ahir odhni is most commonly found in colors of yellow and red. A decorative odhni worn during special events like weddings would consist of fringes along the border, supported by a fall on the inner side.
In this regard, there is much similarity between the dresses worn by Ahir women and Rajput women, another prominent community of Haryana. A Rajput woman supports a white odhni with silver colored fringes, and without a fall.
The weddings in Brahmin and Bania communities showcase a strikingly different dressing style. A Sari, instead of a Lehenga, is the traditional dress for brides belonging to these communities. Men usually sport a dhoti, but strong sartorial overlaps are quite commonly observed with nearby states in the north region. Kurta Pyjama and Sherwanis are, therefore, other popular choices for the bridegroom.
Haryana is known for its weaves, be it dhurries, robes or lungis, or shawls.  In fact, the odhini which is a distinctive part of dressing for the women in Haryana has a rich historical significance. Dating as far back as the 15th century, the odhini was a special embroidered cloth called Phulkari or 'flower work'. Phulkari embroidery art form still thrives as an art form in parts of Haryana and Punjab.
Style and Attire
The attires worn by the bride, groom and all family member's, showcases rich colors and designs. While the turban stands out for the groom and all close male relatives, women drape beautiful dupattas over their dresses, which range from ghaggras, lehengas to salwar-kameez and sarees, depending on the community they belong to.
The popularity of the intricately embroidered odhinis or phulkari which are available in magnificent colours is quite popular in certain regions of Haryana. The phulkari worn by the bride on her wedding day is known as Bagh (garden), in which design motifs of pat (thread of floss silk) cover the entire surface of the cloth.
The tilli jutti is a renowned art form of the state and worn with pride by the groom and other men as part of the wedding attire. The colourful jutti is made from locally cured leather and ornamented with delicate silk, metal embroidery designs and beads.
A unique custom of a traditional wedding in Haryana is the Khoria dance, in which women mime the entire wedding ceremony through their dance. They wear skirts with gold work on them and colorful dupattas; the jingle of heavy rustic jewellery adds its own melody as they perform.
Accessories
People of Haryana are quite fond of wearing ornaments. Mostly made of gold and silver, the traditional jewellery worn by women include necklaces (called Kathla in Jat and Mala in Bania communities), borla worn on forehead, various varieties of gold chains, earrings, traditional nose rings known as nath, and heavy weight bangles known as hansil. Jat and Ahir women also sport kari, pati and chhailkara on their legs. While the rich and affluent adorn themselves in gold fineries, silver still remains the ornamental choice for many.
Present day scenarios and innovations
Though women in villages still wear the traditional ghagra dress for weddings, it has transformed into a lehenga for many regions. Even the heavy ornaments worn by women on occasions like weddings have witnessed a change towards more contemporary designs.
Reference
Categories: Wedding Types, Weddings & Festivals