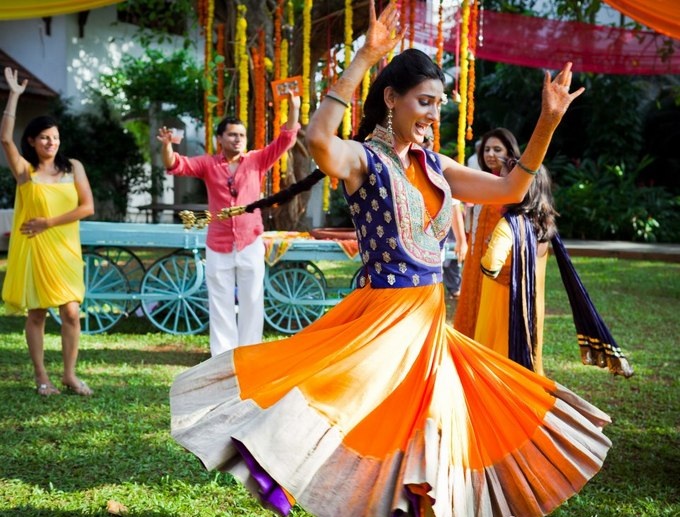 Sangeet
Gone are the days when Hindu weddings were simple, far more traditional and in line with set customs. These days' Indian weddings are celebrated with a lot more pomp and glamor. From tastefully designed banquet halls, ultra modern and technically perfect dance floors, glamorous lighting, exquisite floor and food decoration to what the youngest bridesmaid would wear! Everything is taken care of!
People spend days and months in planning what songs are supposed to be played, to what type of dance is to be performed during the celebration. And this is where we narrow down our focus to the special and most awaited Sangeet ceremony, which is a time of spectacular dance performances, lots of singing and merry-making on behalf of the two people who would unite in the bond of love and marriage.
Background
The most exciting part of a Hindu wedding is the numerous ceremonies that take place right before the wedding day. The Sangeet ceremony takes place right after the Mehendi ceremony and is a time when all the women and men gather in one place and take part in a lot of singing and dancing. Everyone is supposed to participate and that makes it all the more exciting.
Before Indian weddings became more glamorized, the sangeet ceremony was taken more casually. People would usually gather at the bride-to-be's house and dance and sing with one person being in charge of the musical drum instrument called 'dholak'. Women of all ages would gather around and take turns in singing songs and dancing. The songs were mostly wedding songs which were supposed to be well wishes made to the bride for a life that she was about to start. The most interesting part was where one person would tap on the dholak with a spoon to give it the additional ringing sound. Women would dress mostly in anarkali suits or sarees and the ceremony was more of a get together instead of a grand event.
Today, however, special resorts, farm houses or hotels are booked just for this ceremony. Even if people celebrate sangeet at home, they get an interior designer to glamorize the house for the auspicious occasion. Dj's and dancers are hired to perform. Every song is specially picked and choreographers are also called to give the ceremony a more elaborate and formalized appeal. Initially, people celebrated sangeet only in the north, but now it is an event that is celebrated all over the country, as well as countries outside where Indian marriages take place. The entire ceremony is more like a grand stage performance which is followed by an exquisite meal and drinks.
Style and Attire
When it comes to the basic style of dressing during this ceremony, oomph and splendor are the main trends that go hand in hand. Women have taken the simple traditional style of dressing and have made it more of a regal spectacle of traditions imbibed with the modern changing trends. Elaborate lehengas cholis, dupattas, and saris are the most commonly seen attire during the ritual. There are certain themes according to which the women are supposed to dress. It is not just about celebrating, but also about entertaining and showcasing the family's pride and happiness which knows no bounds. Young girls opt for flowy lehengas with elaborate zari or Kundan work. Colors like red, green, pink, purple and yellow are very common and add to the vibrancy of the occasion. The usual theme is always in sync with Bollywood and fun filled Hindi dance songs. However, for some Sangeet events, people hire Ghazal or Qawali singers as well which lends a majestic aura to the ambiance.
Rajasthani dresses are also very common which includes Bandhani saris, chaniya cholis and lehengas. Silver embroidery is favored since the mood of the event is light and fun filled. Men also dress in elaborately designed Sherwanis and Kurtas, and take matching stoles or accessories to spruce up the look.
Women wear all kinds of saris, but the most common one is Cotton since it is easier to manage while dancing and does not cling to one's body.
Global Wear-ability
Some Hindu weddings take place in countries like U.S and U.K, through which this ceremony has become very popular and well known on a global scale. Women across the world have over time adored and loved Indian outfits, and friends who are known to the bride and bridegroom love to participate in this tradition and don ethnic outfits like salwar kurtas, lehenga cholis or saris.
Accessories
Depending on the outfit, one should go for chunky Silver or gold jewelry. The important thing is that the ornaments should match the type of embroidery embellished on the attire. Makeup should be waterproof and minimum since a lot of dancing would lead to plenty sweating.
Maintenance
The best thing about these outfits is that they can be worn for other special occasions as well. The best way to keep these outfits clean and safe would be to send it for dry cleaning if necessary and to keep them in a plastic bag so that they do not get tarnished.
References
Categories: Wedding Rituals, Weddings & Festivals