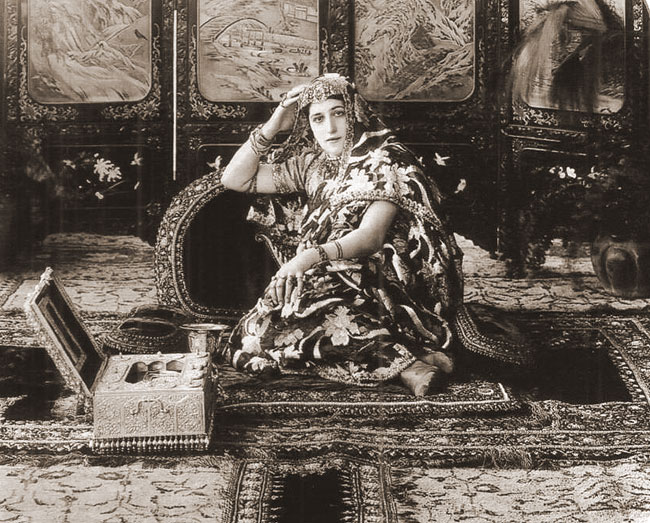 Maharani of Kapurthala
A kind of fairytale that you feel exists only in movies and in novels. The tale of the Maharani of Kapurthala is a kind that invokes an undying curiosity to know more about the Spanish turned Indian queen even when the story comes to an end, and till the very last page. But what is intriguing besides her life which was shaded with different colors, was her royal highnesses' taste for Indian clothes, styles, and glamor that still puts people in complete wonder and awe, and makes the Maharani Of Kapurthala, or Anita Delgado a mystery and an enchantress all at once!
Origin
It is the origin and the making of the maharani which is perhaps the most captivating. Before Anita Delgado (which was her original name) became the maharani of Kapurthala, she was a young Flamenco dancer, who was born on February 8th, 1890. She found her prince charming, and quite literally so at the age of 16. As a young girl, she and her family faced too many hardships, and it was during this time that the young and sprightly Flamenco dancer was noticed by the regal Rajah Jagjit Singh of Kapurthala during his visit to Madrid. According to historical accounts, the maharaja could not take his eyes off of the young maharani to be and fell in love with her.
He had to woo her to great extremes before she agreed to marry him and go to India. Little had she imagined the wealth and prosperity with which she would be surrounded, and she soon came to realize that her fairytale had just begun and was about to become her life. She was christened under the name Prem Kaur when she became the Rajah's 5th wife. She gave birth to one son named Ajit Singh. Maharani of Kapurthala was a queen in every sense and became a part of what defines Indian royalty in spite of her Spanish origin. After living an eventful life of a Maharani she returned to Spain and her last years before her death in 1962 were spent living a regal life of an Indo-Punjabi maharani.
The Making
Some of the Maharani's experiences have been extracted from her personal diaries and memoirs which give us a mesmerizing insight into what she thought of Indian clothing. In one of the passages, she speaks of her bridal dress that was brought to her by her maids on the day of her wedding. The color of the lehenga was pink with gold and silver embroidery. She describes her look as a 'dream', complete with ornate and rich jewelry.
Style and Attire
The Maharani was surrounded by extreme wealth and that showed in her style of saris, or jewelry that she chose to adorn herself with. The sarees that she wore were of dark and rich colors, which ranged between reds, pinks and dark maroons. Gold Zari or brocade embroidery were the common embellishments on all her saris since she loved everything of opulence and grandiose. She also wore long Silk gowns which fell off her shoulder and gave her the Victorian image in an ethnic environment. The way in which she draped her sari was also nothing less than that of a Maharani. She covered her head with the pallu and she let the sari drape around her, which hung like a large piece of flowy Silk fabric.
Her passion was for jewelry, and some of her collected pieces are still spoken of. Some of the breathtaking pieces of jewelry include refined and ornate rubies, emeralds and diamonds. She was extremely fond of emeralds and diamonds and wore heavy necklaces, bracelets and earrings that gave her the ultimate regal persona. Many of these designs were skilfully crafted by the artisans in Punjab, who willingly catered to the Maharani's fine tastes. Most of the time she wore head pieces around her hair as well, which were studded with diamonds and precious stones and that became her trademark.
Present Day Scenario
The royal highness may have bid her farewell to the world, but she left behind fine examples of some of the most exquisite pieces of jewelry. The jewelry that belonged to the maharani was auctioned in London in the year 2007. Popular Hollywood actress Penelope Cruz wanted to do a movie based on the Maharani's story, but one of the royal descendants disagreed and did not want the private life of the maharani to be exposed through cinema or media.
References
Categories: Fashion Cults, Royalty