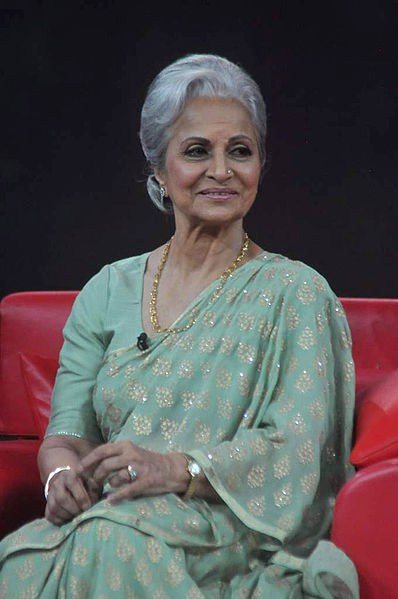 Wahida Rehman
Wahida Rehman is an Indian actress who has appeared in several Hindi films across decades. She is considered to be the most beautiful and talented actresses Bollywood has ever had. For decades, she has mesmerized the world with her beauty, grace, and charm. Even now, after crossing the age of 76, she has carried herself more elegantly and beautifully as ever.
Childhood and Career
She was born to a Muslim family in Thirunelveli, Tamil Nadu (Then British India), now Chengalpattu on 3 February 1938. Her father was a District Commissioner. Despite belonging to a traditional Tamil Muslim family, her parents had always encouraged her to learn Bharatnatyam. A year after when her father passed away in 1948, she appeared in a Telagu movie 'Rojulu Marayi' as a dancing child artiste which was her very first film. The success of the movie was celebrated by throwing a party; it was then when the late Guru Dutt noticed this vivacious beauty and cast her in a movie called CID. Her role as the mysterious woman, Kamini, added a thrill to the film industry. Entrapped by her sheer presence on screen Guru dutt then decided to cast her in his next 5 films. Among which Pyassa (1957), Chaudhavi Ka Chand (1961) and Sahib Biwi aur Ghulam (1962) were acclaimed by all.
After making a stunning debut with Guru Dutt, she then worked for Satyajit Ray in The Expedition (1962) which helped her to rank her position as among the top Bollywood actresses followed by the huge commercial success of Bees Saal Baad (1962) and Kohra (1964). Another missing step of success was fulfilled when she paired with Dev Anand, who was then on the magical state of his stardom and was known for his exemplary work. She did 7 films with him of which 5 were the greatest hits ever. Critically acclaimed, Khamoshi (1974) opposite Rajesh Khanna was the biggest ever hit in her career. Not putting a full stop to her career, she appeared in the more recent Bollywood movies Rang De Basanti (2006) and Delhi 6 (2009).
Stye and Attire
When it comes to styling, Wahida Rehman has always kept it simple. At the age of 76, she is as beautiful and graceful as she was 55 years before. She adds a mark of charm and gracefulness by wearing a simple golden bordered saree draped. She then completes her look by just adding a gold chain and carrying an elegant clutch. Even in her movies, she had been portrayed as the quintessential beauty. She wore light colored Chiffon and Silk saris, and her makeup was always minimal since she possessed natural beauty by leaps and bounds. Light Cotton or Chiffon saris have been her most favored fabrics and have always added to the inherent charm. A string of pearls or a simple gold or silver neck piece always finished the look with sophistication and a touch of class.
Global wearability
Elegantly dressed in blue and sea turquoise sari designed by Shaina NC, she shared the ramp with Juhi Chawala in the 8th Annual 'Caring With Style' Fashion show which is in association with the Cancer Patients Aid Association on 2nd of June 2013. Also to raise vital funds for The Akshaya Patra Foundation UK, the world's largest NGO-run school meal program. Veteran Waheeda Rehman along with Javed Akhtar and Shabana Azmi joined the glittering night of haute couture fashion on 2 March 2013 in London.
Suitability
Saris are undoubtedly the most beautiful and elegant clothing when it comes to a wedding, social events, award functions, family get together's or any other occasion. By adding heavy jewelry with just a plain sari adds the glam quotient to a lady of any age.
Maintenance
Silk/Zari/Banarasi saree need good care to avoid any black patches. Silk saris, especially with golden borders or Zari require high maintenance. They need to get refolded time to time to avoid the fade of color which are caused from creasing. Also one should avoid any kind of spray like water, perfume, or deodorant as that can lead to stains.
References
Categories: Bollywood & Beyond, Indian Cinema