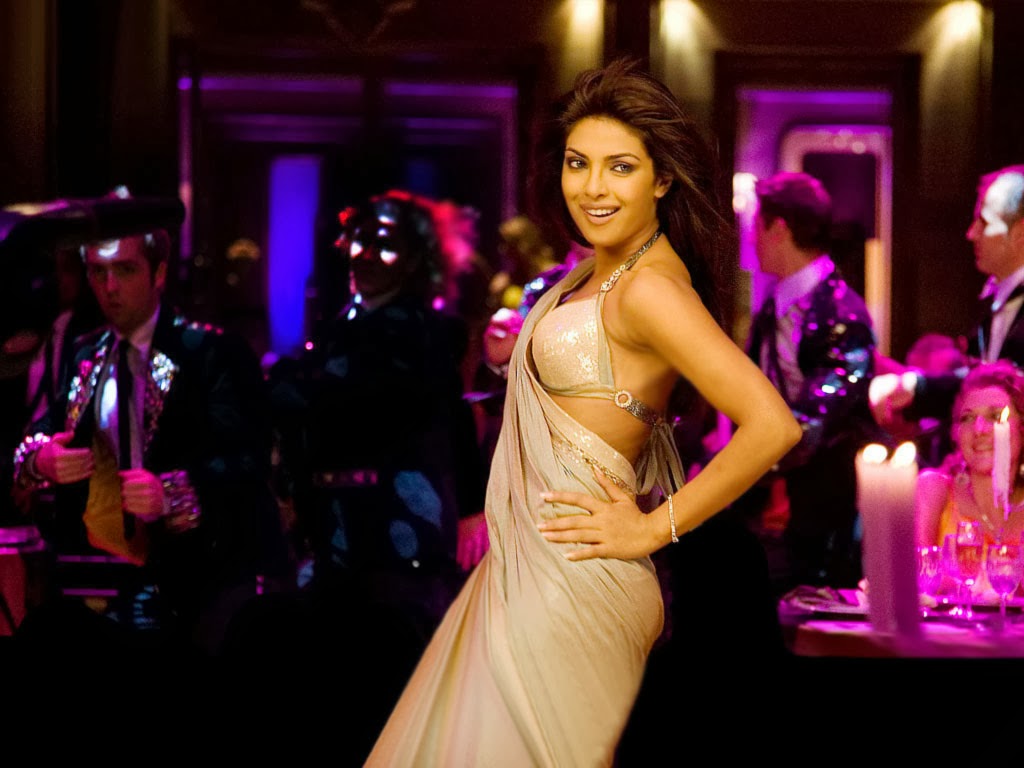 Priyanka Chopra in 'Desi Girl'
What immediately comes to your mind when one says 'Desi Girl'? A girl wearing a ghaghra choli with Sharmila Tagore style eye liner and hair made in the form of a big buff? This has now become a thing of past or say decades ago. The credit of changing the definition of a 'Desi Girl' completely goes to the Piggy Chops of Bollywood, or also known as Priyanka Chopra.
Sung by the Bollywood's versatile singers – Shankar Mahadevan, Vishal and Sunidhi Chauhan, 'Desi Girl' song topped the list. No wedding, no party, no get together is complete without this peppy number. Moreover, this song has enhanced the desi girl image, and has in turn revamped Indian fashion to a large extent.
Background
Bollywood and Indian fashion designers have completely changed the fashion industry and have raised the bar by proposing some of the best attires to create stunning masterpieces which have been on every woman's list at some point or the other. For example, the simple, traditional, versatile and all time favorite pick – Sari, has got a whole new dimension in 'Desi Girl' song which actually makes you realize that how sensational and glamorous one can look with unique color combinations, textured fabric, and draping style. And of course, the blouse, which plays a pivotal role in defining the sensuousness.
The earliest evidence of an Indian blouse was a piece of cloth stretched across the back and the collar bone in the front and from there emerged the backless cholis knotted from the back and the modifications, which keep changing with time. Backless blouses are timeless and are always in fashion. It can make any simple or plain sari looks glamorous and attractive. Similarly is in the case of the 'Desi Girl' song where Priyanka is wearing a spectacular golden/beige color saree with knotted backless blouse designed by Manish Malhotra. Priyanka Chopra through this popular Hindi song set the trend of a sumptuous 'Desi Girl'.
Making a Style Statement
Priyanka Chopra sure knows how to play up fashion and to make it work for her sensational screen presence. She is versatile not only in her acting but also in the dressing style. Her elegant style, boldness, beauty, and confidence have always grabbed the attention. Likewise, in the movie 'Dostana', Chopra has justified the sexy sari look in the 'Desi Girl' song. Her confidence has added a sizzling look to the famous dance number. Not only in reel', life but also in her real life she is truly a diva. By just wearing a simple t-shirt with ripped jeans she has managed to set a trend in Bollywood and outside, and in a similar way when she wears a simple black net sari with a backless or halter neck blouse, it cannot keep the paparazzi at bay for long!
Accessorizing
Just a unique draping of sari is enough to add a style quotient to your look. Or a sexy backless blouse can add wonders to your glam. One can also go for a simple and sleek bracelet. But neck piece is not suggested as the blouse is backless. To complete this traditional yet modern avatar, one can also carry a small clutch.
Suitability
Indian traditional wear is something which is adored by all the fashionistas and designers across the globe. To nail the perfect look at any occasion, a sari is the perfect wear to pick. Stylish draping of a sari gives you a smooth transition from a traditional look to dazzling look. This new look will certainly enhance the beauty and charm of a woman. This kind of a sari is a perfect blend of ethnic and modern and is perfect for weddings, parties or social events.
Maintenance
Celebrating the occasion is by wearing such beautiful and expensive traditional wear is a remarkable feeling in itself, but the main challenge unfolds when it comes to maintenance. Always get the saree dry cleaned. Also, do not steam press the sari because of its delicate fabric.
References
Categories: Bollywood & Beyond, Indian Cinema