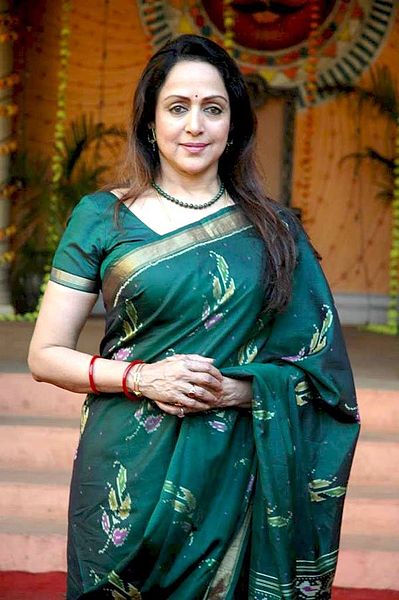 Hema Malini
Hema Malini, the ethereal beauty of Indian cinema, is also known as 'Dream Girl', even today when she is all of 64 years! This southern beauty managed to start various trends during her heydays in the 60s and 70s. Her popular wigs and big-flared bell bots were trends that she promoted throughout her films.
Today, Hema Malini has a very distinct style that she has cultivated over the past few years post her movie Baghban. Her distinctively well-groomed look and gorgeous designer saris, not to forget her classic blouses, have become synonymous with her name. In fact, Hema Malini is perhaps a case of age reversal as she has managed to look ravishing in her sunset years with her slender frame, good looks, glowing skin and her delicate sense of fashion.
She is also quite popular in the endorsement department as she is seen endorsing popular brands ranging from jewelry to cooking oils amongst many others. This fine veteran Indian actress might not be one big fashionista, but she is one amongst the most well-dressed women in India who can give many a run for their money.
Childhood and Career Growth
Hema Malini was born into a conservative Tamil Brahmin family. Before becoming an iconic Hindi film heroine, she was ironically rejected by a South Indian director. Hema Malini debuted into Hindi cinema with a film called 'Sapnon ka Saudagar' which starred no other than the legendary Raj Kapoor in the male lead. Her angelic looks and graceful dance were always admired by her fans and after starring in a movie called 'Dream Girl', Hema Malini was associated with that tag for life!
Hema gave a lot of hit films and her pairing with Dharmendra was the most successful. Reel love culminated into real love and both Hema Malini and Dharmendra finally tied the knot formally. Hema Malini has two daughters – Esha and Ahana Deol, where the former is an actress and both are Indian classical dancers along with Hema Malini, who is also an accomplished Bharatnatyam dancer and she continues to perform on stage along with her daughters. This multifaceted personality has also turned to politics and is a member of the Lok Sabha.
Making a Style Statement
Hema Malini has given a bevy of hits in the 60s, 70s and even in the 80s and some of her characters have become iconic, particularly in the fashionable garments which became a national rage with the women of the country! 'Seeta aur Geeta' is one such movie that started a lot of fashion trends in terms of the bright and funky outfits that were worn by her character, the eyeliner flicks, the beehive wigs and the matching junk jewelry. Hema Malini started off the trend of wearing a long-sleeved blouse with the classic firozi blue saree, which became iconic. Even her bell-bots along with long flowing shirts with a belt to accessorize them were very trendy in those days. Most Indian women vied to get close to the 'Hema Malini look' by copying her eye make-up and dramatic hairstyles!
'Raja Jani' was another movie in which the actress showed the women new fashion trends with her bandanna, short dresses and high strapped gladiator shoes. This image of Hema Malini is something that people have never forgotten and would be archived for generations to come as a very Bohemian and uber stylish iconic look of the 70s. Hema Malini, along with other Bollywood actresses of the 70s brought about a revolution in eyewear with the over-sized funky glares that were extremely popular during that decade.
In fact, Hema Malini's character in one of her latest hit movies, Baghban, started off a new fashion trend of chiffon and Georgette saris, as everyone wanted to have a 'Baghban' sari in their wardrobes!
Hema Malini continues to inspire women in the country with her graceful style even at this age. Her classic Kanjeevarams and chiffon sarees are something that make her style very distinctive. In a poll conducted by the Inter National Institute of Fashion Design (INIFD), with 14 thousand participant voters, Hema Malini and Rahul Gandhi were both selected as 'Political Style Icons of India', which speaks volumes of how she can make a fashion statement with her saris!
Accessorizing
Hema Malini has always elaborated her iconic look with the perfect accessories that have added on to the attire. The platform heels that she wore, accentuated the flare in her bell bottoms; the over-sized sunglasses added more appeal and sensuality as did her bold and dramatic eye makeup. In fact, she brought in an entire revolution to the way the Indian women wore their hair in that era, by introducing exaggerated ponytails and beehive hairstyles.
References
Categories: Bollywood & Beyond, Indian Cinema