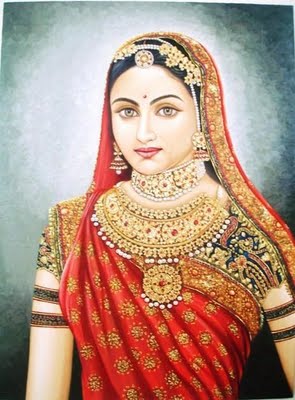 Fashion Cults – Jodha
A historical account which is no less than a fairytale is the story of Jodha, who was the queen of the great Mughal emperor Akbar. What started off as a matrimonial alliance to strengthen the relationship between Hindus and Muslims became a story of love and power that has been showcased in different ways over several years. Movies, stories, documentaries and interesting articles have over time proved the story of love between the Rajput princess and the great Mughal king, so much so that it is hard to not acknowledge the fact that Jodhaa bought much more than just her title to the pages of history. Her timeless beauty, her regal approach in dressing and style has carved a legend of its own.
Origin and History
The costumes worn by Jodha before entering the limelight, traces its roots and emergence way back to the Mughal Period which was truly patronized by the historic legend 'Jodhabai'. These royal costumes were inspired by the Mughal style of clothing which also had innovative slices of the Rajput style of designs and embroideries in it. The fabrics used for the costumes were originally manufactured and woven in Rajasthan. The grandness of these costumes was given the essence of reality by the artisans who intricately wove exquisite styles of embroidery, motifs and embellishments on the finest forms of Silk and Cotton, during the golden era of the Mughal dynasty.
Style
Fabrics like silk, cotton and brocade were stitched along with intricate embroideries of Kundan, crystal stones and Zardozi. Based on historical facts and figures, Jodha wore ornate jewelry and lehengas along with dupattas that had rich colors and heavy borders. Large neck pieces and earrings, and a large nose ring, also called a 'bali' was used to adorn her flawless beauty. She may have married the greatest Mughal ruler, but her roots were deeply embedded in the Rajput culture and style which always showed in her colorful dupattas or her elaborate lehengas. For the most part Jodha always covered her head with the pallu of her dupatta, while on the other hand she only went bare headed when she was in her palace room, or basically indoors. Another symbol of her Rajput roots was her way of adorning herself, which was with a red bindi, which also further showcased her sense of tradition.
Influences over the years
Recently, the biggest block buster in Bollywood, Jodha-Akbar', which was directed and produced by Ashutosh Gowariker saw a resurgence in the timeless classic tale. Jodha which was played by Aishwarya Rai was given the same regal representation as she had been in history books. One of India's most talented fashion designers, Neeta Lulla designed the costumes for both Jodha and Akbar and tastefully designed each outfit, keeping the traditions and historical roots in mind. Heavily embroidered dupattas in light colors of yellow, orange and green, along with flowy lehengas and jewelry that showcased a typical Rajasthani style were all used to portray the queen's elegance and majestic charm.
Such style became a hit with weddings all over India, since every bride wanted to look like Jodha. The regional Rajasthani charm and the vintage style of saris and lehengas came back into fashion and in a huge way!
Innovations
The colored stones which previously studded all royal costumes, especially the Jodha costume, are now innovatively replaced by semi precious stones and shimmering metallic threads of silver and gold. More of block prints and bandhani patterns are weaved into the royal fabrics which have taken fashion onto a different level altogether. Ethnic saris and ghagra cholis are being embroidered with the designs and patterns of the Jodha costume, thus aiming at retaining the originality. Skirts and lehengas are now traditionally woven with the same fabric and textures, thus suiting the changing tastes of the generations.
Occasion Dressing
Bridal ceremonies, traditional pujas and festivals and many such ritualistic and traditional occasions are enhanced by these costumes. The creativity and innovative factors which are now embedded in these costumes enable the wearer to sport these costumes even for non royal occasions that could even mean parties, get-together and evening occasions and so on.
Suitability
The comfort, convenience, and the ease factors etched in these costumes facilitate people to wear these costumes during any season of the year and under any weather condition. These fabrics also come in lighter textures, which provide a feel good factor throughout all seasons.
Global Influences
As these garments not only rank up the glamor quotient, but also protect the skin from heat burns, due to which they prove to be a boon during summers. Thus this quality has made this royal costume travel countries across the globe, gathering oodles of demand and interest.
Accessorizing
Traditional foot wear which are ethnically known as mojaris grabs one slice of the limelight. These mojaris are ethnically sequined and embroidered with golden threads onto the finest fabrics of velvety leather. Besides these, kundan adornments, meenakari jewelry pieces and metallic jewelry plated in brass, gold, ruby, diamonds, jade and silver enhance the entire look. Most of the jewelry that is worn along with the Jodha costumes are traditional heirlooms which are generally handed over by the elder generations onto to their further generations. Colorful glass bangles are also worn by the women other than heavy ornamented bracelets, since that is a typically Rajasthani style.
References
Categories: Fashion Cults, Royalty