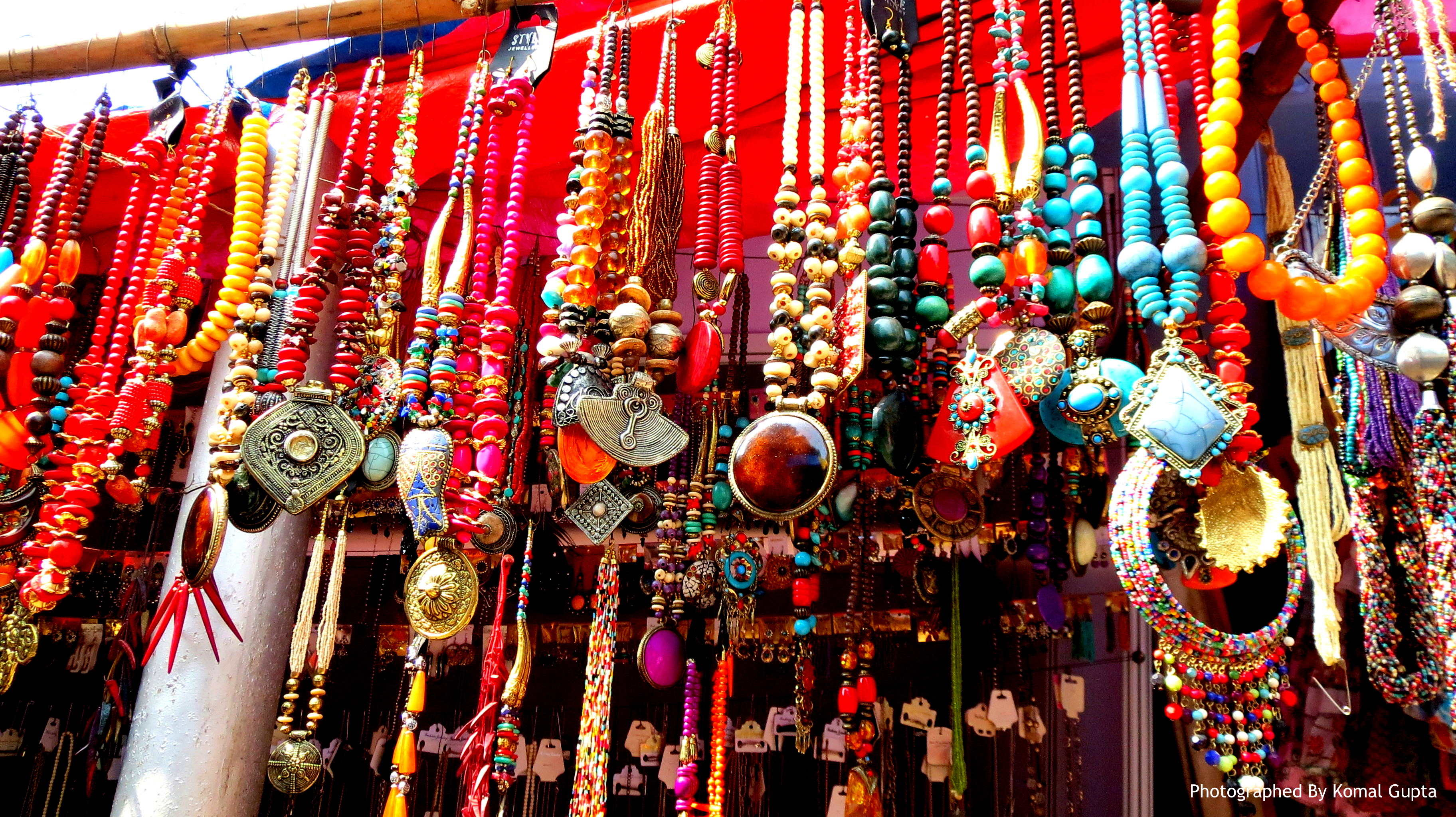 Street Shopping Of Contemporary Accessories
After a long week of work, a shopping day-out with girlfriends, cracking jokes, picking up stuff at giveaway prices brought the much-needed break. From mini jewelry boxes, beaded jewelry, chunky statement necklaces, quirky pendants, terracotta earrings to Meenakari jhumkis, I was merrily dancing with these little fantasies splashing colors. Obsession was to capture as much as I could, and smuggle most of these junkie accessories, which ended up with giant-sized beaded waistbands, neck pieces, and ankle clutches, oh-so-boldly painted in neon hues!
These marvels are strung in beads made of plastic, wood, metal, glass, shells, clay, ceramic and stones, carved to different shapes and sizes – be it geometric, ovular, spherical, cylindrical, triangular. Awakening the contemporary spirits of women, color options break the barriers of limited jewelry shades of gold, silver, and brass, and splash a variety of modern-age shades. Mauve, Beige, Fuchsia, Coral, Radiant Orchid, Turquoise, Crimson, Teal – every hue speaks an attitude.
While you are drained with the stale cult of jewelry, these junkies give you a break from the traditional ornaments to earthly treasures of junk and jewel! Indeed, these junkies have made their way from the fashion runways to high streets, inventing quirky cult for modern women. If you believe in designing your own style statement, the junkyard jewelry will fly you through the oceans.
Team-ups are much cooler than one could imagine. Going minimalistic with your attire is the mantra. Be it the contemporary Indian Cotton Saree drapes, Sanganeri printed Long Skirts and Kurtis, Absolute White or Black Salwar Kameez, earthly cuts of Anarkali in Kalamkari, Madhubani, Kantha or western couture of Sarongs, Dresses, and Crop Tops – the junk jewels are a uni-style wardrobe for you!
Experiment with your look statement – break the rules, rule the world!
Categories: Ethnic Alley, Street Accessories