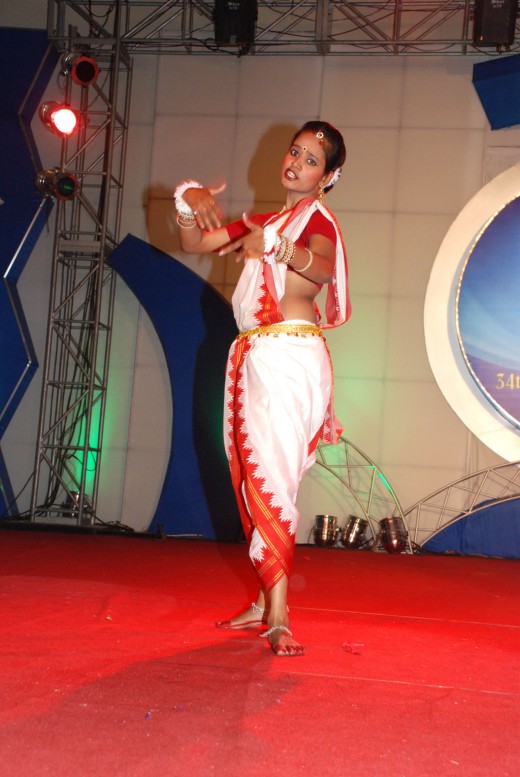 Jharkhand Wedding Fashion
Weddings in Jharkhand are simplistic. But simple doesn't mean that the dresses aren't rich or classy in terms of sophistication. In fact, Jharkhand is known for some of the finest quality of silk in India. The jubilance in dressing is widely seen and people prefer to wear richly detailed, cultured ensembles for the wedding. Traditionally, saris have been used by females and dhoti Kurta or pajama Kurta have been popular with males during the wedding. Vibrant hues used for women's attire beautifully contrast the immaculate white colors in male dressing ensembles. At times, even females prefer white for the wedding, with beautifully blended borders on saris in bright tones like red and green. Silk as a fabric is popularly used and the variety of silk used showcases the family's prosperity and wealth.
Origin
Since time immemorial, saris have been used as a major outfit all over the country. Jharkhand is no exception to yards and yards of clothing. In fact, some of the best saris all over the world are handcrafted and woven in Jharkhand. Popular for its silk varieties, Jharkhand Weddings mostly have brides wearing saris for events like Sangeet, engagement and Wedding. Mostly, color contrasting in shades like green and red, blue and red, blue and pink or orange and blue are popular for engagement ceremonies, but when it comes to wedding, most of the women wear a white sari with a contrasting red border that has been intricately crafted for added richness.
Men on the other hand wear only a single piece of cloth for their wedding. Known as 'Bhagwan, this single piece is like a dhoti and favored by major tribes like Paharis and Santhals. On the other hand, nontribals wear attractive looking Kurtas with embroidery for the wedding.
Varieties in Style and Attire
Undoubtedly, Tussar silk is one of the most popular saris in Jharkhand. The state, which is renowned for its Tussar Silk has designers who weave these beautiful, embroidered saris. Panchi and Parhan is also popular among several tribes, with Parhan serving as the lower garment and Panchi serving as the upper garment.
Since silk saris have their own unique lustrous texture, they are widely popular among brides. Mostly, they don't have much embroideries or borders except on the pallu. The pleats formed by these saris are figure flattering and therefore the bride looks her best on the wedding. Recently, Anjana and Swarnarekha silk has also become popular with brides flaunting themselves in the sleek and sheen of these innovative, yet ethnically designed dresses. Accessories like gold and silver beaded ornaments are used to complement the ensemble. Perfumes and their aromatic presence are never forgotten, especially on wedding day.
The sophistication and magnificence of these weddings in reflected in the pristine and perfect Bhagwan or dhotis, which are used on the wedding day. The present generation may also prefer outfits like Kurta and pajama as they are more comfortable and have more scope for design innovations and use of different styles and techniques.
Present Day Scenario and Innovations
Several innovations have been made in the dressing styles of Jharkhand, but the purity and sanctity of original outfits remain intact. Colors like red and green along with blue, pink and peach have come under limelight with young brides wearing them instead of basic white and red mixtures. Men have also come up with new designs, including Sherwani or heavy Kurtas that feature elaborate detailing and fine embroidery in colors like gold and silver.
Global Wearability
The best thing about saris is that they have a charming, universal appeal. The wear-ability of these outfits is quite high, especially Tussar Silk saris that are preordered 6 months in advance. Large fashion houses have employed different varieties of Jharkhand silk into their Western Designs. The traditional saris have been experimented with Western twists to ensure that they gain more appeal in the market.
Categories: Wedding Types, Weddings & Festivals