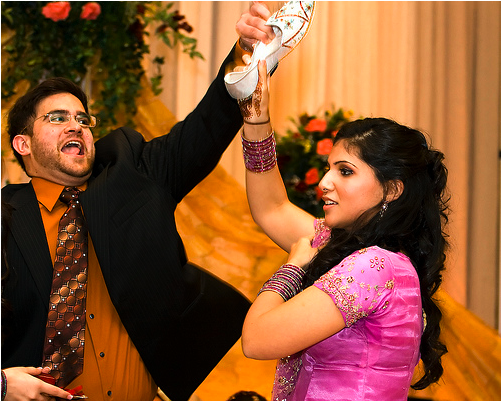 Joota Chori
When we think of the 'joota chori rasam, we immediately imagine  Madhuri Dixit's flawless green and white lehenga and  Salman Khan's boyish charm in the famous song 'Joote lo paise do' from the Bollywood movie 'Hum Aapke Hain Kaun'!  This song has stayed with us for years ever since it became popular and has lent inspiration as well as fascination to Indian weddings which would be incomplete without this tradition or in other words 'rasam'. Mischievous and fun filled are the best ways to describe this ritual which has gone on for years during Indian weddings. This is a time when the bridesmaids and the groom's friends and cousins get a chance to take part in some friendly jest and banter besides putting forth a gorgeous display of their ethnic attires.
The Ritual
'Joota Chupai' or 'Joota Chori' rasam literally means 'hiding shoes'. The bride and the groom are initially asked to remove their shoes before stepping inside the mandap' where the wedding ceremony takes place. During this time, the bride's sisters steal the groom's shoes as a prank and promise to give the shoes back only if they get a handsome fee in return. The inception or the actual origin of this fun-filled tradition is not exactly known, but it has been prevalent for centuries in the larger realm of Indian customs and wedding traditions. Besides getting money, the bride's sister's get 'Kalecharis, which are rings made out of gold, while the bride's cousins get rings made out of silver. Lots of singing, dancing, and merrymaking takes place during the rasam which adds to the overall charm and appeal of this age old tradition.
The groom's brothers and cousins, on the other hand, try their best to find the shoes in order to avoid the fee, but in most cases fail since the bride's sisters are often too smart and clever when it comes to the lively ritual of the 'Joota chori rasam'. When the groom finally gives up on all his light-hearted negotiations and gives into the demands of the bride's sisters, he finally gets his shoes back which are put on his feet by the bride's sisters. In some or most cases, the bride's sisters only steal one shoe and not the entire pair since that gives a more comic effect to the situation. This rasam has become extremely popular in Hindu and Muslim weddings as well and is practised in other Asian countries like Pakistan and Bangladesh.
Traditional Attires
Since the joota chori rasam takes place on the day of the wedding, everyone is dressed immaculately in fine traditional and ethnic wear. Gorgeous looking lehengas, lots of gold and diamond studded jewelry and a vast array of colors seem to be splashed at the wedding venue where this rasam is conducted. The bride's sisters look vibrant in lehenga cholis, anarkali suits and saris which are the three most popular attires worn during this rasam. Neon hues like red, pink, blue, green, orange and purple are popular picks besides fine zari work which looks resplendent. The groom's brothers and cousins usually opt for Sherwanis or kurta pyjamas in classic shades of white, black or beige. These Sherwanis usually come with a hint of zari embroidery or Kundan work. The current trend has seen several women who opt for traditional lehenga cholis and Aanarkali suits which are made of either Chiffon or silk with heavy 'gota' work. In some cases, women like to go for vibrant patterns and designs like Bandhani and Kutch embroidery work which looks lively and appealing as well.
Gold and diamond jewelry is another major attraction that cannot go unnoticed during this rasam, since all the bridesmaids adorn themselves with heavy and chunky accessories. Besides this, mehendi adorned hands and feet also add to the ethnic charm and give off a sprightly appeal to the bridesmaids.
The Groom's Shoes
The one thing that we cannot miss is the groom's jootas, or in other words, shoes. With the passage of time, Indian grooms have become extremely conscious of the footwear they choose to don at their wedding since the shoes become a focal point of attraction due to the 'joota chori rasam'. These days grooms in India like to go for elaborately designed jootas which have a pointed and curled up toe and are easy to slip on. These jootas come in various colors like beige, gold, black, red, green, yellow and orange. They have fine embroidery in silk threads along with certain embellishments such as gemstones, crystals, or pearls. These jootas look fit for a king and since they become the centre of attraction through the' joota chori rasam, it is hard not to notice the traditional splendor they bring about.
Global Appeal
Several Bollywood movies and songs have glorified the 'Joota chori rasam', and have transformed the simple tradition into something that is regarded as a gregarious and lively event. The bride's sisters and cousins along with the groom's brother's take part in a lot of singing and dancing and leave no stone unturned to make this a joyous occasion for all.
References
Categories: Wedding Rituals, Weddings & Festivals