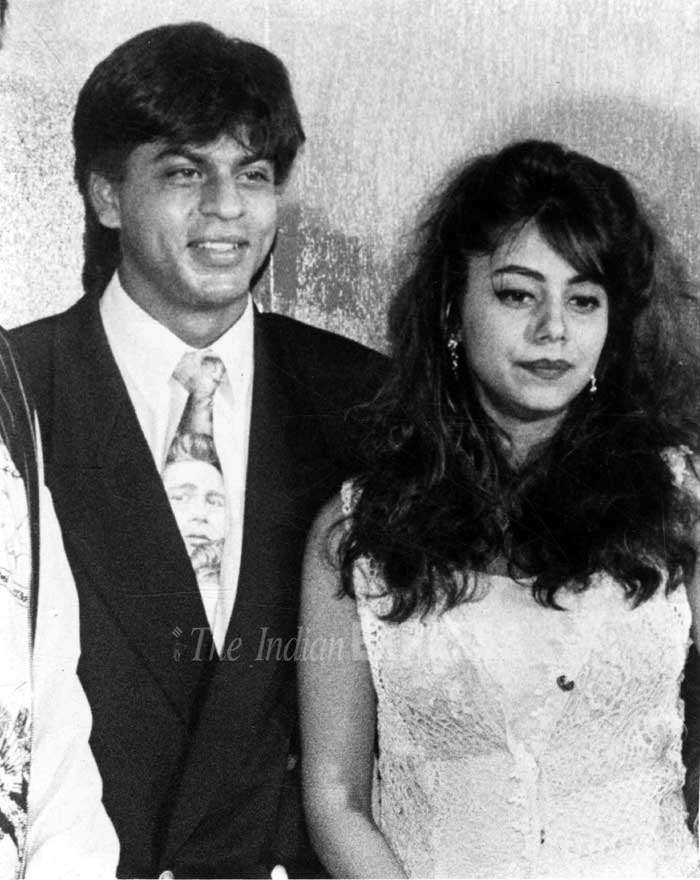 Gauri and Shahrukh Khan Wedding
Their love is not only passionate, full of marital vibrancy but also seemingly impossible in a world full of marital discord, with the King of Romance constantly keeping his wife and family in the foreground. The couple here are the King of Bollywood Shahrukh Khan and his wife Gauri Khan. She is someone whose superstar husband has the whole nation hooked onto him while Gauri has him eating out of the palm of her hand. The gorgeous Gauri Khan is confident, defiant, smug, the unconventional star-wife who broke every rule in the book, who refused to clothe her vivacity in the traditional pallu and walk behind her husband on the toed line. She is television and film Producer and is Closet Interior Decorator and a super mom and is also a Style Icon for women across India.
The Love Story
Their love story is not hidden but it so beautiful that it is never a bad idea to go down that lane. Shahrukh Khan's personal love story can never be complete if one were not to talk about his romance and subsequent marriage with Gauri, the daughter of retired Major Ramesh Chhiba, who had been born a Hindu Brahmin. Shahrukh being a Muslim in India, where religion plays a key role while deciding the destiny of marital alliances, his marrying Gauri whom he had met in 1984 and eventually married in 1991 was indeed a tough task to accomplish. The relationship between the two had been kept under wraps initially, and understandably so because Gauri's parents would not have easily accepted it. Gauri married Shahrukh at the age of 21 when he was nothing but a struggling actor. She took an instant liking for the charming actor and the story of Shahrukh and Gauri's relationship continued to add a new chapter with every passing day, and not all of them were bliss-laden though as is the case with all human relationships. It was when she decided to come to Mumbai to run away from the possessive Shahrukh, that cupid struck and they both realized that they were made for each other.
Stylistics
The marriage came with its own set of problems because of their religious differences. After, solemnizing their marriage legally through a Court Wedding and after the notice period got over, they also got married in keeping with Hindu and Muslim traditions separately. In fact, it was Gauri who insisted that they should have a Muslim wedding too, and the roots of a secular family set-up had been firmly established be them.
The Bride and Groom
The wedding pictures that have become iconic of a Bollywood wedding had both the bride and groom looking absolutely phenomenal. With Gauri dressed in the red lehenga traditional attire and classic gold jewelry look. On the other hand, Shahrukh looked dapper in a black suit and sehra. The Hindu wedding was a traditional North Indian one, with Gauri going all the way with the bouffant and the flower jaimala. However, what really catches ones eye is the beautiful chuda set, it is a set of red and white ivory bangles that are gifted to the bride by her maternal uncle (mama) and aunt (mami). Once the chuda has been worn, the bride's friends and cousins tie kalire to the chuda. These are pieces of umbrella-shaped gold or silver ornaments. These signify good wishes for the bride's new life ahead and are also meant to remind her of her friends and cousins. It is said that the number of leaves on kalire are as many as bride's friends. Seems like Gauri had a lot of friends and it added to the whole look. The couple recently celebrated their twenty-second anniversary and in spite of various rumours surrounding their wedding they are still rock solid strong.
References
Categories: Bollywood & Beyond, Indian Cinema