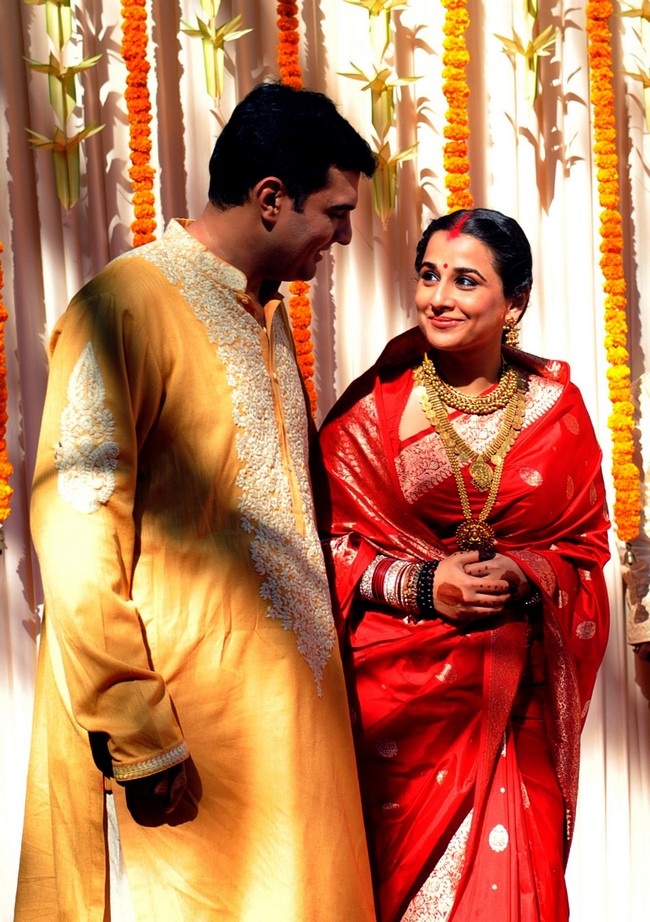 Vidya Balan and Siddharth Roy Wedding
When they walk into the room, the world knows that they aren't any ordinary couple. She has been one of the jurors of Cannes Film Festival, she is known for gracing the red carpet with Hollywood Celebrities such as Nichole Kidman and Steven Spielberg. She is the one who took the country with her acting in Parineeta, The Dirty Picture and Kahaani. Unlike other Bollywood celebrities, she never talked about him saying, "We are just friends." He on the other is one of the biggest producers in Indian Industry. Smart, talented and intelligent, he is the owner of Disney UTV, a popular business person. Not to miss his hilarious acting in Delhi Belly, Bachna Ae Haseeno.
Yes! Its Vidya Balan and Siddharth Roy Kapoor we are talking about. This is the couple that's known for their matured relationship, a couple that everyone wants to be. Both of them are intellectual individuals, who share a nurturing relationship, a relationship that reached its zenith when they tied the knot on December 14th, 2012. This was truly the biggest Bollywood wedding. After all, the 'Ooh La La' girl was getting married!
The Love Story
Even though Siddharth Roy Kapoor and Vidya Balan have been open to the media about their relationship. But they have never discussed about their love story. Vidya Balan mentioned that Siddharth is a shy individual who wishes to keep their love story under wraps. But if speculations are to be believed, then Kapoor and Balan had known each other a long time, even before she started working in films. It was their friendship that turned into love over a period of time.
The Wedding
UTV Head Siddharth Roy Kapoor and sultry actress Vidya Balan got married within a mix of Punjabi and South Indian traditions. Initially, the wedding ceremony was organized in a temple. The rest of wedding rituals were conducted in a well decorated Green Mile Bungalow in Mumbai's Bandra region. The actress is said to have gone under three changes in her costume during the ceremony. Picky Vidya also decided upon her gold jewelry. The wedding, which was held on December 14th, 2012 was a private affair, followed by a grand reception.
Strictly South for Vidya
Vidya Balan, an adherent lover of saris went with 18 saris, each designed by her favorite designer Sabyasachi Mukherjee for wedding and pre-wedding rituals. Of these, two saris were specifically designed for the wedding ceremony. All saris were designed in Madras Silk, Vidya Balan's favorite clothing item with elaborate detailing. These saris were devoid of usual heavy and flashy designs found on Indian Lehengas and wedding dresses because the wedding was to be held in the morning in accordance to Tamil Traditions. Wedding attire was strictly South for Vidya.
Before the wedding ceremony, Vidya wore a yellow colored South Indian style sari in Madras Silk. The sari featured an intricate inlay of Tamil designs and motifs, which accentuated Balan's Indian features. To contrast the bright yellow base of the sari, Vidya went with a red and purple colored border to appear as charismatic as ever. A puffed blouse gave it a refreshing, personalized feel. Fresh floral and gold jewelry was worn.
For the main event, Vidya went with a bright red colored sari, which is popularly worn by South Indian women during marriage ceremonies. The actress looked beautiful on her D-Day with a sari that accentuated her features and curvaceous figure. Golden border and motifs on the sari with elaborate detail on the Pallu gave the sari a very sophisticated appearance.
For accessorizing, Vidya ordered a special team of artisans to create ten customized gold jewels. Each of these jewels were hand crafted and had embellishments with traditional Kerala style motifs. The actress wore the same for her wedding ceremony. Eight of the ten pieces of jewelry were originally worn by her mother. The wedding ring was kept a secret from media.
Husband Siddharth Roy Kapoor decided to go all Punjabi and wore a silk Kurta Pajama for the wedding. His fair complexion and broad shoulders were emphasized by a yellow colored Kurta, which featured white color embroidery on the neck, collar and sleeves. The producer's simple looks were actually quite classy and sophisticated.
Since media wasn't allowed at the event, no one could see whether Kapoor wore turban went with a traditional Punjabi custom. But when the couple came out after the wedding, it was noticed that Kapoor's outfit was a beautiful complement to the red sari that Balan wore. Truly, this was a wedding that transcended cultures, regions and religions, amalgamating the best from North and South India.
References
Categories: Bollywood & Beyond, Indian Cinema