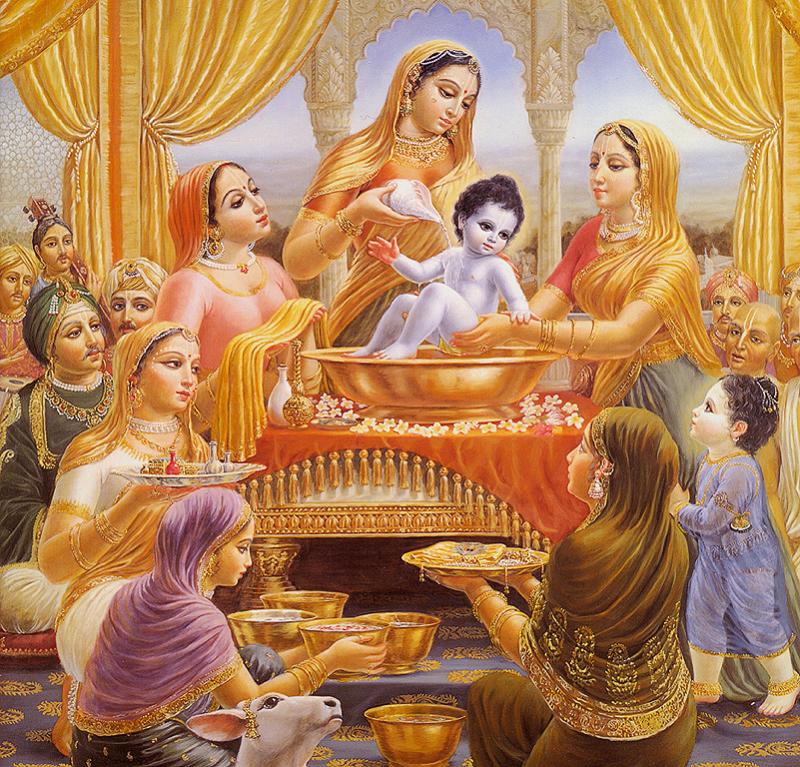 Shri Krishna Janmashtami
The uniqueness of Shri Krishna Janmashtami can be seen in every corner of India. While some celebrate this festival through 'Rasa Leela', a dramatic ratification about the life of Lord Krishna, others celebrate his naughty side as they play 'Dahi Handi'.  Both the customs are popular and are a real life depiction of Krishna Kanhaiya. While celebrations take place all over the country, thousands of devotees offer their prayers in different ways and perform rituals as a token of devotion.
Origin and History
The history of Janmashtami dates back to more than five thousand years ago. Renowned scholars and historians say that it was due to the tremendous dictatorship of King Kansa and other demons that Lord Vishnu decided to take birth on earth in human form.
It is believed that Lord Krishna was born to kill Kansa and other demons in order to free earth from all sources of evil. This legend of the birth of Lord Krishna is recounted on every Janmashtami and the praises of the friend god are sung in almost every temple dedicated to this divine being. Virtuous Hindu's hold this story of his birth very dear to their hearts.
Majestic Merriment on Krishna Janmashtami in Vrindavan
Vrindavan is home to Banke Bihari Temple housing Banke Bihari himself, which is another charming name for Lord Krishna. On the festival of Janmashtami, the aura of this place is filled with huge elaborate preparations including colorful lighting and decorations.
ISKCON (International Society for Krishna Consciousness) temple, dedicated to Krishna, holds a grand celebration on this day. Devotees from all across the country visit this place to be a part of the pious occasion. Apart from the devotional songs and mantras, Rasa Leela is performed by several professional artists of Vrindavan and attracts a huge gathering.
Krishna Janmashtami Celebrations in Mathura
Mathura, positioned in North India, celebrates Janmashtami with sparkling enthusiasm and majesty. It is said that the merriment in Mathura for the carnival of Janmashtami is unmatched when compared to celebrations elsewhere. The city of Mathura adorns a celebratory look, with every being steeped with devotional fervour during this occasion.
Every family in Mathura celebrates Janmashtami by housing a decorated idol of Krishna, long fasts and chanting of Shlokas. Songs and hymns are also sung in the glory of Lord Krishna's birth. Rasa Leela, midnight celebrations, fireworks and Jhulotsav (the cradling ceremony of Lord Krishna) are some of the famous customs of this festival that are practiced by Hindu devotees with great passion.
Dahi Handi on Janmashtami in Maharashtra
An awfully ecstatic ambiance prevails in diverse cities of Maharashtra throughout the festival of Janmashtami. The city of Mumbai acknowledges a lot of enthusiasm among young men and boys who carry out the Dahi Handi ceremony every year. An earthen pot hung 20-30 feet from the floor, with the help of a rope, is broken by a human pyramid.
The juvenile boys don't give up till the time the pot is broken down. Their efforts are rewarded with a prize distribution ceremony afterwards. It is a popular faith among devotees that the broken pieces of the pot, if kept in your house, will help rid of pessimistic energy.
Bollywood Style Janmashtami
When it comes to Janmashtami celebrations, how can one leave behind Bollywood? From Hello Brother's epic 'Handi ki daal par' to OMG's energetic 'Go go go Govinda', these songs reflects the festival of Janmashtami celebration on a huge scale.
The popular custom of Dahi Handi is unveiled on most of the Bollywood movies where we can see top actors dancing on the beats of 'Govinda ala re' and cracking the pots filled with curd and butter.
Janmashtami Celebrations across the World
The irresistible gala of the birth ceremony of Lord Krishna is fêted by masses the world over with great fervour and elation. Especially, at the International Society for Krishna Consciousness (ISKCON) temples, Janmashtami celebrations reach an implausible pinnacle. The devotional mahamantra, "Hare Krishna, Hare Krishna, Krishna Krishna, Hare Hare, Hare Rama Hare Rama, Rama Rama, Hare Hare", trances you to a different sphere of pious devotion to the Lord. The rituals at the ISKCON temples like aarti, bhajans, recitation of holy Gita and several cultural programs mark the celebration of Krishna's birth anniversary.
Also, in United States of America, Nepal, Canada, France, Singapore and several other places, Indian Hindus indulge in grand celebrations on this auspicious day. The day-long merrymaking includes holy bath of Lord Krishna, ceremonious cradling of the Lord, chanting of prayers and mantras to Lord Krishna and splendid feasting.
Know more about Krishna Janmashtami
Krishna was born on the eighth day of the month of Shravan, as the eight Avatar or incarnation of Lord Vishnu.
According to scholars, Krishna was born inside Mathura jail on a dark, windy and rainy night. The doors of the jail opened on their own to release his father, who was jailed by the tyrant ruler Kansa.
Hindu experts believe that the birth of Lord Krishna had a purpose – getting the world rid of evils.
Categories: Festivals