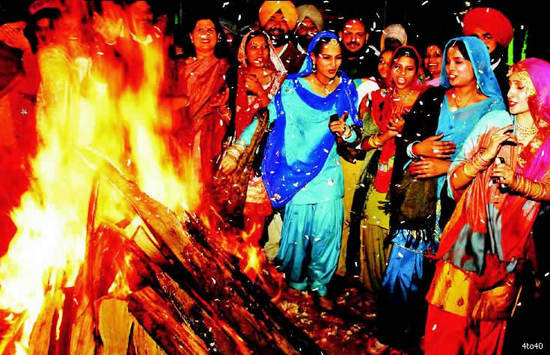 Lohri – The Soils of Punjab and Punjabi Culture
The hearts of Punjab begin to dance to the tunes of happiness and contentment to the fullest during the festival of Lohri in Salwar Kameez and embellished Kurtas. This harvest festival has always been associated to the soils of Punjab and Punjabi culture as a whole. However, today many other states like Jammu, Delhi, Uttrakhand, Himachal Pradesh, Haryana, etc, have adopted this celebration in their cultural lands as well.
Background
This harvest festival is by some, believed to have emerged from the period of Saint Kabir. Whereas some other sections of the society believe its existence to go back during the mythological period of Prahlad. Some legends also consider the origin of this festival to trace back to the Mughal reign of King Akbar. Dulla Bhatti was a central character of all the folk songs of Lohri, as he was the 'Robin hood of the Punjabis' who saved girl victims from the evils of slave trade. He was a descendant of the Bhatti Rajputs. Since time immemorial, Lohri has been a celebration of prosperity for Punjabis and has always signified a turning tide or an even that can be seen as the turning of a new leaf in people's lives and hearts.
Style and Attire
Innovatively embroidered bright colored clothes are donned on this day. Women are mostly dressed in colorful patiala salwar suits along with heavy and chunky gold jewelry. They also wear a traditional 'maang tika' which enhances the look. Men are seen in traditional dhotis and kurtas, along with the traditional pagdi. They also drape a stoll or scarf around their neck which usually matches the color of the turbans or the pyjama. Patiala juttis are worn as well which enhances the traditional Punjabi look. Some women also go for saris which are usually in light fabrics or colors.
During Lohri, kids are seen singing folk songs of the festival as they knock at each door to collect popcorn, peanuts, sesame seeds, jaggery, crystal sugar and gachchak; all these which are considered as auspicious offerings during the festival. At night a bonfire is created which does include the image of the Lohri goddess in some regions. Wood and cow dung are optimally used to kindle the bonfire. After which the Lohri items that were collected, are thrown into the holy fire. Then a small prayer service is conducted, followed by cultural dances of gidda and bhangra which molds with the rhythm of the dhol. This celebration continues till every flame of the bonfire fizzes out. Water and milk are also poured into the fire. This performance is linked as a gesture of thanking the Sun God for its abundant harvest blessings and for its eternal protection. Makki di roti and sarson ka saag, which are traditional Punjabi dishes define the main meal course of the festival night.
Present Day Scenario
Today's idea of celebration has gone through layers of transformations and innovations. The older lot of the society, however, still continues to retain the traditional flame of Lohri. But today's corporate world regards this festival as an opportunity to take out time out of their busy schedules and catch up with their family and friends. Friends and family outings are planned on this day, which serves as a bonding element.
References
Categories: Festivals, Weddings & Festivals