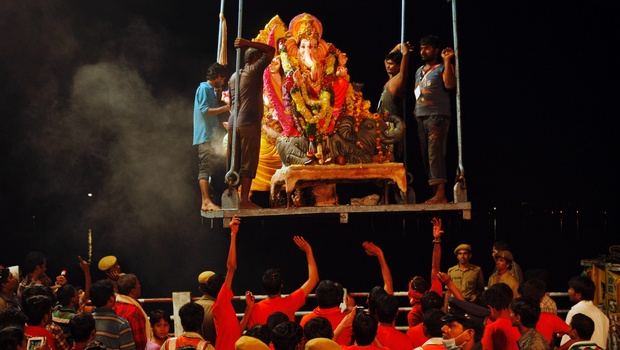 Ganesh Chaturthi
Introduction
Vinayaka Chaturthi, popularly known as Ganesh Chaturthi, is a significant Hindu festival celebrated throughout India with great enthusiasm and participation. This magnificent festival honors the birth of the much adored elephant-headed Hindu God – Ganesha. He is believed to be the symbol of wisdom and prosperity. On this day, devotees worship him for his ability to remove obstacles and bring in good fortune. In addition to this, people bring home colorful and decorated idols of Lord Ganesha. People celebrate this festival by worshiping him in various ways, keeping in mind different family traditions.
Origin and History
The festival of Ganesh Chaturthi commemorates the birth of Lord Ganesha, and was first celebrated in the Maratha region. Historians say that Chatrapati Shivaji, the famous Indian warrior of the Maratha clan, started this festival. It is believed that Lord Ganapati was the family deity of the Peshwas, who are said to have celebrated this festival with a lot of enthusiasm. This seems to be the major reason behind Maharashtra's strong connection with this festival.
Customs and Rituals
Although this festival lasts for ten days, preparations begin two to three months prior to Ganesh Chaturthi. You will see lots of gigantic clay idols, which are carved by experienced craftsmen, depicting Ganapati in various avatars. A Ganesh Mandap or Ganesh Pandal is tinted with flowers and banana leaves. Moreover, people start cleaning their house a few days before the puja. After the cleaning and decking up is over, Ganesha idols are carried inside with their faces covered with a saffron cloth.
On the first day of Ganesh Chaturthi, the idol is installed in the place of worship. Post the installation, all the family members gather around and a traditional puja takes place at an auspicious time. The worshipers sip the sacred water and perform the pranayama and bow to Ganesha. This ritual continues with a Ganapati Aarti and chanting of mantras and hymns.
During the puja, a sweet called 'modak' is offered to the god, along with red colored flowers. After the puja is over, the distribution of sweets offered to Lord Ganesha takes places amongst the devotees. This is commonly known as prasad.
Throughout the ten days of this festival, Ganesha's idol is worshiped with recitations of devotional songs, offering of flowers and modaks. The festival marks its end on Chaturdashi, when the idols of the lord are moved out from homes, temples and pandals. This process is accompanied with a magnificent parade and aloud chants of "Ganapati Bappa Morya". Ganpati's immersion is done with a strong belief that Lord Ganesha would take away all sorrows of the devotees and would come back next year to bless them again.
How India celebrates the festival of Vinayaka?

Mahasrashtra: Though Ganesh Chaturthi is celebrated all across the nation, the loudest and most enthusiastic celebrations can be witnessed in Mumbai and across Maharashtra. Vibrantly tinted idols of lord Ganesha are installed both at homes and in various pandals. The celebration environment becomes very energetic with many cultural and devotional activities are performed by the devotees. The pandals across Mumbai are really attractive and innovative, with thematic representation of current social issues evidently in place. The city of Mumbai witnesses great vigor and fervor during the 'Visarjan' in which the statue of Lord Ganesh is carried by the worshipers to the sea.
Tamil Nadu: People across Tamil Nadu celebrate Vinayak Chaturthi with great religious zeal.  Special pujas are performed in houses, temples and pandals. It is followed by offering 'kozhukattai', a sweet south Indian dish which is believed to be the favorite sweet of the Lord Ganesha. The entire place is decorated with sparkling lights and flowers. After offering prayers, 'kozhakattais' are distributed to people as prasad.
Andhra Pradesh: With a great deal of zest and anticipation, Ganesh Chaturthi is celebrated in the state of Andhra Pradesh. This festival continues for ten days and on Chaturdashi (last day), 'visarjan' of the idol takes place in the Hussain Sagar Lake. Large number of devotees head to the famous Vinayak Temple and offer the deity sweets, flowers and religious hymns. Additionally, a tall Ganesha statue is installed at Khairatabad every year during Ganesh Chaturthi.
Ganesha goes Global
With Indians residing at every corner, Ganesh Chaturthi is celebrated at different parts of the world. In Mauritius, the first day of this festival is declared as a public holiday and is celebrated in temples and houses. On the other hand, Indians residing in US import idols from Mumbai and celebrate this festival with great devotion. When globally celebrated, this festival features an aarti, devotional songs and many cultural activities.
Movie Stars celebrate Ganesh Chaturthi
Ganeshotsav has garnered a special place in the hearts of Bollywood celebrities; which probably explains why, despite their busy schedules, they celebrate this auspicious festival every year with their family and friends. Many Bollywood stars bring Ganpati idols to their house and celebrate this festival with great enthusiasm.
Perfect costumes and accessories for this festival
The festivals in India are beautifully complimented by graceful people in stunning outfits and attractive accessories. Also, the trend of wearing traditional attire amongst many youngsters has incredibly augmented. Let's take a look at some of the latest ethnic wears and accessories which can be gracefully adorned.
Anarkali Suits: These salwar suits are the latest in fashion and are extremely popular among young ladies. Anarkali suits are the perfect blend of ethnicity and modernism at the same time.They look exceptionally gorgeous and royal. One can combine it with a large pair of jhumkas and bangles to create a stunning look. Also, anarkali suits are easy to carry and are an idyllic outfit for any festive occasion.
Sarees: When it comes to Indian festivals, most women prefer sarees in different styles, designs and fabrics. It is a timeless attire which will never go out of fashion. With the availability of a wide variety of attires, finding an appropriate saree for this festival will not be a hard task.
Kurta with churidar: With time, it has been observed that gents are more particular about their outfit. One ethnic outfit preferred by most men is a kurta with churidar. These outfits are convenient to carry and are available in attractive designs and colors. To create a more suave and debonair look, one can compliment this outfit with a Nehru Jacket.
Earrings: When it comes to earrings, the first thing that strikes our mind is to decorate the latest earrings in fashion. For quite some time, half-moon shaped jhumkas have become the new rage among fashion lovers out there. These jhumkas are studded with attractive stones and are certain to make your overall attire look even more elegant. So, dazzle up by wearing a pair of wonderful half-moon shaped jhumkas.
Some Interesting Facts:
There are nearly 108 different names for Lord Ganesha.
It is considered unlucky to look at the moon during Ganesh Chaturthi.
As per Hindu mythology, Ganesha idols with two hands are considered to be taboo.
References:
Categories: Festivals