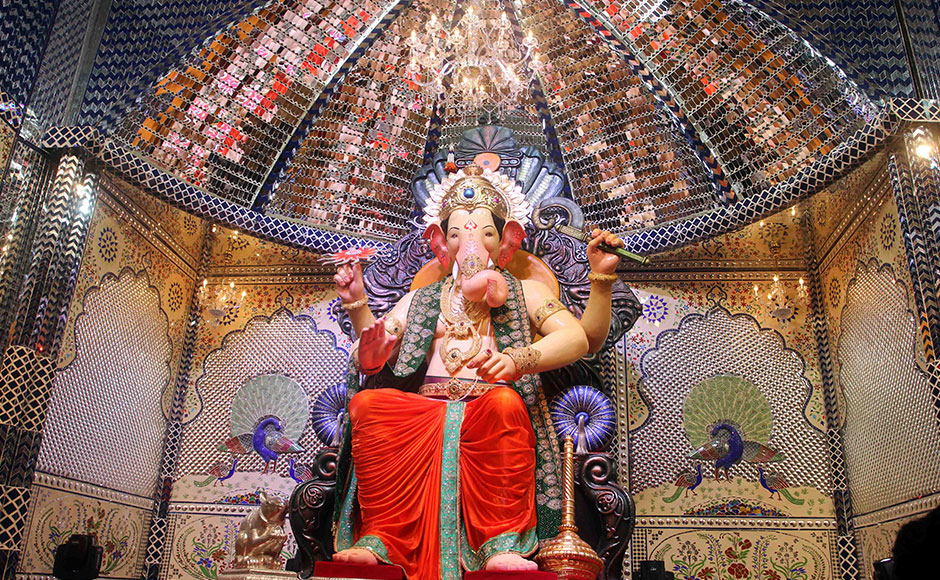 Bollywood Dances to Ganesha's Tunes
Ganesh Chaturthi, commemorated as Lord Ganesha's birthday in the shuklapaksha of the Hindu month of Bhadrapada, is a major festival across the country that is celebrated with great devotion and vigour. On this day, devotees bring idols of Lord Ganesha to their homes and worship them by following the ancient Vedic rituals of pran-pratishtha and shodhashpachara with their families. Looking back into its history, Maharashtra has a special connection with this festival. This can be traced back to the time of Shivaji, the brave king of the Bhonsle-Maratha clan, who initiated Ganesh Chaturthi in his entire state.
Indian cinema is a reflection of the Indian culture- colourful and full of fun. Perhaps, this is the reason why we have so many Bollywood songs that represent the various hues of this festival. Ganesh Chaturthi, being a major festival of most states, has a special status in Bollywood. From the Amitabh Bachchan-starrer Agneepath of the nineties to the dance-movie ABCD of 2013 with fresh faces, all reflect the prominence of this festival and the distinctive way in which it is celebrated. Since Lord Ganesha symbolizes new beginnings, it is often seen that movies take a positive turn after a sequence featuring Ganesha song. Additionally, it adds a lot of drama and excitement to the climax.
Ganesh Chaturthi festival is just around the corner and one gets to hear songs devoted to Lord Ganesha.
Here, we will talk about some of the most popular songs that represent this extravagant festival:
Hey Ganpati Bappa Moriya- Pujarin (1969)
This famous song from the black-and-white film 'Pujarin' is possibly one of the oldest Bollywood odes to Ganpati. Starring Vijay Dutt and Rehana Sultan, the song is picturized with actors playing musical instruments while worshiping a huge Ganesh idol in the foreground. The song became so popular that it is still played every year at Ganesh Chaturthi.
Deva ho deva Ganpati deva- Humse BadKar Kaun (1981)
This classic number from the film 'Humse Badkar Kaun' is one of the most popular Ganpati songs. With the manjeera and dholak, this song is a perfect combination of music and dance. This iconic song was sung by music legends Mohammad Rafi, Asha Bhonsle, Shailendra Singh and Bhupinder. Needless to say, it has a certain charm to it.
Ganpati Bappa Morya – Dard Ka Rishta (1982)
This song has been sung by Hariharan, who has also written its lyrics. RD Burman has given beautiful music to this song. The song is an appeal to Lord Ganesha for mercy and gives hope to a sad soul. The song features Vinod Khanna who prays to the Lord for help and asks him to grant the life of his loved one.
Ganpati Apne Gaon Chale- Agneepath (1990)
Agneepath, starring Amitabh Bachchan and Mithun Chakraborty, is one of the most iconic films of Indian cinema. Directed by Mulkul S. Anand, this action flick has developed a cult-following. One of the film's most iconic features is a song sequence depicting the festival of Ganesh Chaturthi, titled "Ganpati Apne Gaon Chale". This song was sung by Sudesh Bhonsle and Kavita Krishnamurthi and the lyrics were penned by Anand Bakshi while the music was produced by Laxmikant-Pyarelal. When it comes to celebrating Ganesh Chaturthi, this is one of the most popular songs played at pandals.
Ganpati bappa agle baras tu-Aasoo Bane Angaarey (1993)
The ritual of visarjan is carried out with great enthusiasm and zeal. The devotees dance and thank Lord Ganesha for his blessings. Also, they request him to come again the next year. This song from the movie 'Aasoo Bane Angaarey' beautifully depicts the true thoughts of the worshipers at the time of immersion. Due to its mesmerizing lyrics, this song is played every year on this auspicious occasion. Also, the dancing diva herself, Madhuri Dixit, danced brilliantly on this song.
Sindoor Lal Chadayo – Vaastav(1999)
This classic cult movie, written and directed by Mahesh Manjrekar, has Sanjay Dutt as its protagonist. Playing one of Mumbai's biggest gangsters, he wishes to curb his insatiable thirst for power. The movie features a beautiful track on Lord Ganesha. This song was written by Sameer and sung by Ravindra Sathe and it beautifully captures of essence of Ganesh Chaturthi.
https://www.youtube.com/watch?v=CHppWoWgI-o
Shree Ganeshaya Dhimahi-Viruddh…Family Comes First (2005)
Directed by Mahesh Manjrekar, 'Viruddh' is a powerful movie depicting different family values. The movie is about an elderly couple, played by Amitabh Bachchan and Sharmila Tagore, who struggle with life after the death of their only son. 'Viruddh' goes through several twists and turns but one of its most epic sequences involves the Ganesh Aaarti performed by Amitabh and Sharmila. The song actually represents the reunion of this distraught couple in a bid to fight for their late son. Sung by the famous Shankar Mahadevan, this soothing yet empowering song is bound to invoke your emotions.
This remake of the classic movie, 'Don', with Shahrukh Khan essaying the role of Amitabh Bachchan, has been directed by Farhan Akthar. This movie features a famous song titled "Morya Re" depicting Vijay playing a folk instrument to kick off the song. This popular song was created by the magical trio of Shankar-Ehsaan-Loy and shows people dancing ecstatically in the streets and celebrating Ganesh Chaturthi, with SRK dancing in his signature style.
Vignaharta Mangalkarta- My Friend Ganesha (2007)
This lovely song from the children's movie, 'My Friend Ganesha', presents Lord Ganesha as a messiah of kids and teaches them to lead a life of integrity and honesty. The lyrics have been written by Ravi Jain and the song has been sung by Pamela Jain and Roop Kumar Rathod.
https://www.youtube.com/watch?v=sV50qtX8XA0
Shankarji ke damroo –Bal Ganesha (2007)
This wonderful song has been sung by Kailash Kher in his rustic voice. The song adds to the joy of little Ganesha in this animated movie. Children love this song for its simplicity and creativity. This song teaches them about the life of Lord Ganesha in a fun-filled and engaging manner.
Sukhkarta- Atithi Tum Kab Jaoge (2010)
This movie was directed by Ashwini Dhir and stars Ajay Devgan, Paresh Rawal and Konkona Sen Sharma. It portrays Rawal's character as a guest who has conveniently decided to never leave Ajay and Konkona's house. As the movie progresses, however, we get to see similarities between Paresh Rawal's character and Lord Ganesha himself. This apparent incarnation of Lord Ganesha, disguised as a guest or atithi, brings prosperity and happiness to the family and he takes their sorrows as he leaves. This movie features a song by Amit Mishra and portrays the family and their unwelcome guest performing the aarti.
https://www.youtube.com/watch?v=ZeIsW5T56_I
Deva Shree Ganesha- Agneepath(2012)
Directed by Karan Malhotra, this movie is a darker remake of the original 'Agneepath'. The movie portrays Hrithik Roshan seeking vengeance. The movie has an inspiring song devoted to the Lord Ganesha. it has been written by Amitabh Bhattacharya and sung by Ajay Gogavale. During the course of this song when visarjan takes place, Vijay assassinates one of the close associates of his enemy Kaancha Cheena, played by Sanjay Dutt. The song arouses feelings of courage and resilience.
Shambhu Sutaya- ABCD (2013)
One of India's first dance-movies, ABCD was directed by Remo D'Souza and stars the talented Prabhu Deva, Lauren Gottlieb and a few contestants of the dance reality show 'Dance India Dance'. The song opens with the two rival dance crews celebrating Ganesh Chaturthi, a celebration which eventually turns into a dance-off. The song is sung by Shankar Mahadevan and Vishal Dadlani and written by Mayur Purilater.
Ganpati Bappa Morya-Ghar Mein Ram Gali Mein Shyam
This entire 10 days festival is celebrated with beautiful Ganapati Aarti and chanting of mantras and hymns. The song featuring the veteran actor Anupam Kher is mostly played during aartis and it beautifully blends with the festive aura.
https://www.youtube.com/watch?v=vCGSKNGDsXI
References:
Categories: Festivals