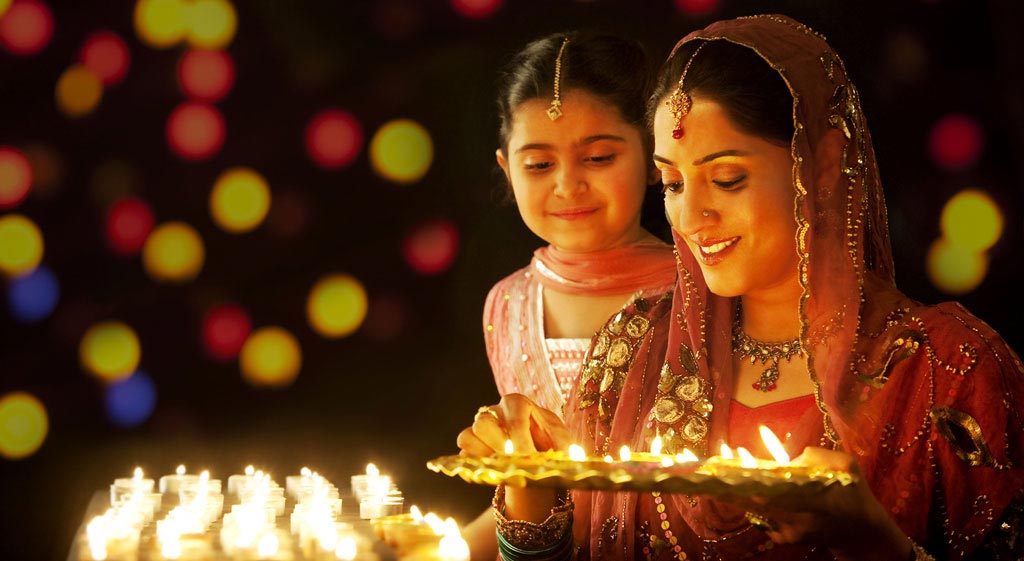 Diwali | The Festival of Lights
Diwali or Deepawali being one of the most important festivals of Hindus, is celebrated with great gusto in the season of autumn every year. This festival of light signifies the victory of virtues over vices. On this day, devotees worship Goddess Laxmi and Lord Ganesha, which is followed by decorating their house by lighting it up with earthen lamps and celebrating by burning crackers. With changing times, this festival has now adapted itself to the modern world and has become a significant festival not just of India but the world.
Origin and History
There are many mythological stories related to the celebration of this festival, the most prominent one is that it marks the homecoming of Lord Rama after fourteen years of exile.
On the other hand, South India celebrates Diwali because on this day Lord Krishna defeated Narkasura, the devil king. Legend has it that Krishna granted Narkasura's last wish that of spending his last day lavishly, with great food, fireworks and lights, and hence it is celebrated in the same manner even today.
ALSO READ
Customs and Rituals
Most of us are unaware of the fact that Diwali is a five-day festival that starts on the day of Dhanteras and ends with Bhai-Duj on the fifth day. All five days are celebrated in a joyful manner where devotees buy new utensils and other household items on the first day itself, followed by decorating their houses with lights and rangoli (traditional Indian decoration) on the second day.
The third day, that of Diwali is most auspicious and has great religious significance. This is the day when people worship Goddess Lakshmi and Lord Ganesha, wear new clothes, and share gifts and sweets. On the next day, devotees bathe deities with milk and honey and offer varieties of delicacies to them. On the fifth and the last day, Bhai Duj is celebrated, which is believed to be the festival of eternal bond between brothers and sisters.
Different Ways of Celebrating
Being one of the most significant festivals of North India, people celebrate this festival with lots of energy. The hopping of puja pandals (fabricated structure in religious ceremonies) of Lakshmi-Ganesh idols is commonly practiced in the evening followed by burning crackers. Places like Haryana and Punjab have huge firework displays celebrating the return of Lord Ram, Sita and Lakshman.
South India has a unique way of celebrating this festival. Unlike North Indians, they celebrate Diwali in the morning itself. The rituals start with an early morning bath and decorating the house with Kolam rangolis (folk art created in homes with colored rice and sand, dry flour, etc.) followed by wearing new clothes and the customary prayers.
In West Bengal and most of the Eastern states of India, the fierce Goddess Kali is worshiped on the night of Diwali. It is also considered as the night of Pitripurush (ancestors). The houses are decorated with alpona (colourful motives) and rosogullas (Bengali sweet) are exchanged between friends and relatives.
Diwali in Maharashtra and some other parts of West India is the day of Narkachaturdashi, where the fireworks symbolize the power of good over evil. The second day is Lakshmi and Ganesh Puja. Earthen idols or idols carved in gold and silver coins are worshiped. Padwa is the third day where extensive shopping and the tilak (colored mark worn over the head) ceremony takes place.
Modern Diwali
With changing times, the style of celebration has also tremendously evolved over the years as it easily adapted itself to the modern world. Commercialization being the major factor behind this, Diwali is no more a segregated festival that is only celebrated by Hindus. When we look back now, we realize that our home-made delicacies are now replaced by chocolates and earthen lamps by fancy lights. But this commercialization has some way or the other exposed this festival to the global world in a new approach while maintaining its true essence.
Global Wear-ability
Global wear-ability for occasion dressing of Deepawali is common. World over, the sale of Chaniya-Cholis (ethnic Indian attire) spikes during Deepawali, when NRIs as well as foreigners crowd Indian designer stores for unique designs on colorful outfits. The sarees have received widespread popularity globally because it is considered to adorn women with grace and elegance.
Celebrating a Greener Diwali
Instead of normal candles and lamps, go for eco-friendly candles. They are not only good for environment but also lends a suave look to your home or work place's decorative ambiance.
There are innumerable varieties of 3-D crackers available in the market which ensure you enjoy this festival without affecting the environment.
In case you are planning to gift something to your loved ones, avoid plastic bags and opt for corn plastics.
Diwali parties are quite significant during these days. Make sure the food is served in bamboo leaves instead of thermocol plates.
Varieties in Styles and Attires
For Women
Deepawali or Diwali is all about myriad of colors, designs, styles and elaborate fashion choices. With a plethora of ethnic and traditional Indian wear available in the market, it is easier to create a bold statement. Let's take a look at some of the best attires that you can try this festive season.
Being the most favorite attire of every Indian women, sarees are the ideal choice for you. With a huge variety of options in the market, you can opt for materials like silk, crepe, chiffon to look debonair and gorgeous. Team it up with midriff baring blouses and half-moon shaped jhumkas (long earrings) to stand out from the crowd.
Famous in Rajasthan and Gujarat, Chaniya Cholis are also a popular choice of Indian women during any occasion. Go for bright colors of Chaniya Cholis with contrasting dupattas. Add inches to your height with high heels and get ready to be the show stopper.
The most common, comfortable yet classy attire of all times, Anarkali suits are just the best choice for the girls. There are innumerable designs of these suits available these days. Pick the one that best suits your body type. Don't forget to pair it up with studded clutch and bangles.
For Men
For men, there is an array of ethnic ensembles to choose from. Embellished kurtas, sherwanis and exquisite shirts are in fashion these days. While South Indian men generally wear dhoti in white color, North Indian men mostly go for a Chikan Kurta or mandarin collared coats, which can be teamed up with either pyjamas or jeans.
References
Categories: Cultural Connections, Festivals