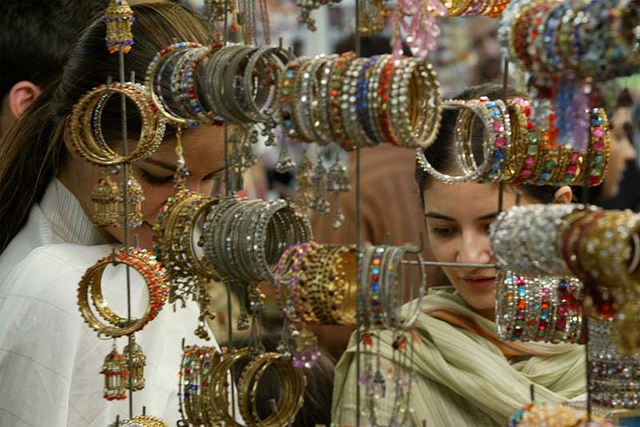 Chand Raat
Chaand Raat or 'The night of the moon' is a festival which marks the end of Ramadan or Ramzan. It is celebrated by the Islamic community across the world, especially in the Indian sub-continent and among those who have emigrated from the sub-continent to other countries. Chaand ki Raat occurs on the eve of Eid and is a prelude to the celebrations of Eid as well. At the celebration, the neighborhood comes together to shop, eat and welcome the month of Shawwal, the first day of which is Eid. One of the highlights of this celebration is a small scale fair that is set up either within the neighborhood or fair grounds which offer clothing, jewelry, henna tattooing, fashion items, games for all as well as arts and crafts.
History
The roots of Chand ki Raat can be traced to the festival of Eid-ul-Fitr or meethi Eid, as it is commonly known. Since the sighting of the moon is very significant to the Islamic religion, Chaand Raat becomes doubly meaningful to the celebrants. It marks the first day of the month of Shawwal by the sighting of the first lunar crescent of this month. Depending on this sighting, Ramadan can either be of 29 days or 30. The exact day of Eid-ul-Fitr is contended until the very last day, as it is solely dependent upon the sighting of Shawwal's first lunar crescent. The excitement at the unexpected sighting of the moon at this Eid is a cause for celebration. It is seen as a reward for one's patience and anticipation during the month of Ramadan. This is why Chaand Raat at Eid-ul-Fitr is more widely recognized and celebrated than at Eid-al-Adha.
Diversity in Celebration
Chaand Raat celebrations in India are more prominent in Northern India than they are in the South. However, states like Andhra Pradesh in the South with a significantly higher population of Muslim men and women also celebrate Chaand Raat with much gusto. The most common form of celebration of this day is at the fair that is set up for all in the community.
Clothing Items
Last minute shopping for Eid-ul-Fitr often happens at the fair. Since Muslim women generally wear salwar kameez, a huge variety in this ethnic attire is available for purchase. In recent times, Anarkali suits have become very popular, especially with the younger demographic. Older women however, also wear equally grand salwar kameez. In keeping with the occasion, the suits that are available for purchase are heavily decorated with exquisite kinds of embroidery in fine fabrics like silk, georgette, brasso, chiffon and others.
Abayas are traditionally supposed to be the outer shirt worn by Muslim women in adherence to the edicts of Prophet Mohammed. They are worn along with Hijabs and Niqabs. However, they are no longer just a religious necessity. In the modern world they are in fact considered statements of style. They now have many forms of heavy embroideries done on them such as cut dana, stonework, sequin work and are also available in a plethora of hues. Chaand Raat is an occasion on which women can purchase fancy, designer hijabs, niqabs and abayas in preparation for Eid.
Kurtas and pajamas for men are also a common feature in the clothing items category at a Chaand Raat fair. Since muslim men usually wear white or off-white kurta-pajamas on festive occasions, the styling done on them differs in terms of embroidery. Specially designed taqiyahs or caps that the men of this community usually wear, are also sold at the fair. Women often use this fair as an opportunity to revamp their husband's wardrobe.
Fashion Items
Make-up items like lipsticks, rouge, gloss, eye-shadows and a number of other fashion items are up for sale at this fair.
Jewelry
Fashionable jewelry items are kept on sale in the Chaand Raat fair such as bangles, necklaces, maang tikkas and earrings. These can be in traditional styles like kundan and polka or in modern translations of the same. However, the fair doesn't necessarily restrict itself to the sale of authentic jewelry in precious metals and stones. Junk jewelry and other fashion accessories are equally common.
Henna Stalls
Henna tattooing is a signature of Islamic celebrations for women. Elaborate patterns are tattooed on women's hands and even feet. Such is the popularity of this art, that women get tattooed right up to their arms.
Global Scenario
Some of the most well-known Chaand Raat festivities are not from the Indian sub-continent as one would expect. The sub-continent's population living in countries like USA and Australia has the most extravagant celebrations on Chaand Raat. The beauty of these celebrations abroad is the fact that they are open to everyone. People from different communities set up shop and take part in the festivities.
The celebration in Australia is known as Chaand Raat Eid Festival or CERF, which is attended by thousands every year. In the States, the biggest celebration takes place in New Jersey and is known as Chaand Raat Mela. Not only do private businesses and individuals set up stalls, but well-known global corporate entities also take part in the program as vendors or sponsors.
Wearing the Attire
The celebration of Chaand Raat holds both religious as well as social significance. The welcoming of the month of Shawwal combined with a feeling of togetherness warrants special clothing and attire in order to accurately reflect the joyousness of the occasion to commence on the following day. However, since the evening of Chaand Raat is meant for shopping and preparing oneself for Eid, men and women usually wear their regular clothes.
Facts and Trivia
Chaand Raat is comparable to Christmas Eve in terms of preparation and anticipation of both festivals.
On this day the celebrants greet each other with 'Chaand Raat Mubarak' i.e. Have a blessed night of the new moon.
Often, religious and political leaders are invited to the Chaand Raat program as special guests.
Chaand Raat festivities from Pakistan, especially Karachi, are televised events.
Chaand Raat is associated with Eid-ul-Fitr rather than Eid-al-Adha because the date of the latter is usually made known 9 days in advance, thus lessening the feeling of anticipation, which is the whole point of Chaand Raat to begin with.
Video
Reference
Categories: Festivals, Weddings & Festivals