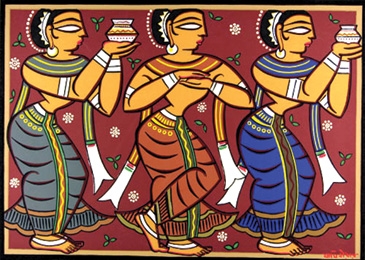 Jamini Roy Paintings
Jamini Roy is a renowned artist in India, known primarily for playing an influential role in bringing modern art to India. Recognizing his expertise in his field, the Indian Government also awarded him the Padma Bhushan award in 1955. Today, not only is his art extremely renowned, they have also been adapted into fashion by being used as motifs and patterns on fabric. Not only an expression of modern art in India, Jamini Roy paintings also brought in a quirkier side to Indian ethnic fashion.
Background
Born and brought up in the Bankura District in West Bengal, Jamini Roy enrolled in the Government College of Art in Kolkata to pursue a diploma in Fine Arts. It was here that he was trained in forms of artwork that were prevalent during the time, such as painting classical nudes as well as stills with oil. It was at this college that Jamini Roy ended up studying under Abanindranath Tagore who is also considered a major influence on modern art in India.
Sources of Inspiration
Jamini Roy drew his inspiration from the Bengali culture and lifestyle. He had three main goals that he wanted to achieve when it came to his artwork. To start with, he wanted to make art a form of entertainment that could be easily accessible to people from all walks of life. He also wanted Indian art to essentially develop its own unique identity. Lastly, he wanted to capture the culture that he saw around him and depict the simple lives of the people he saw. This is why, when it comes to fabrics that have Jamini Roy prints on them, the most recurring motifs or patterns are usually people and cats. He was also influenced by the Kalighat paintings.
Creation
In the earlier half of his career, Jamini Roy used the most traditional means to paint, that is, by using a canvas. However, somewhere in the mid-1930s, he rejected the canvas altogether and began experimenting with a medium such as cloth, mats coated with lime and wood. This is where the idea of painting his work on fabrics was inspired by. The original fabrics are mostly works of art that cannot be worn as the fabric has not been molded into any specific shape that can create an ensemble. However, later, these paintings were used as prints to create sarees and salwar kameez suits.
Contemporary fashion requires the art of printing when creating Jamini Roy printed sarees. Machines designed for this are used to do so. Designers create motifs and patterns and upload them onto a computer system that then proceeds to paint them onto the fabric.
Style and variety
Jamini Roy paintings are predominantly adapted onto fabrics that can be used to create sarees. They have been, on occasion, spotted on salwar kameez suits as well. However, the norm is to have these prints on sarees only.
Present day scenario and global influence
Jamini Roy paintings are renowned all over the world and are in the possession of various art collectors and museums throughout the world. Some of these museums include the Victoria and Albert Museum in London. His work was also exhibited in New York in 1953 as well as in London in 1946, increasing the clientele of the artist.
Presently, there are a lot of prints of his works available in the Indian market. Many of his followers and successors copied most of his paintings with minor changes or alterations (it is unclear whether this was intentional or unintentional) which is why it has become extremely hard to identify original paintings.
In the fashion scenario, Jamini Roy prints are used on sarees. There are no alternations done to the original artwork as this would defeat the purpose entirely.
Innovations
There have been no innovations to the print itself out of respect for the artist and also because most consumers would rather wear an original print as opposed to an altered and more contemporary version of the print. Thus the innovations to the clothing have mainly been restricted to the attire itself. Western aesthetics have been adopted onto the modern saree which is why it is now not uncommon to have strapless, corset tops, backless and spaghetti strapped blouses on the sarees that are as modern as the form of art on the saree.
Moreover, these prints have been pressed onto Indo-Western garments such as tunics as well.
Wearing the attire
Jamini Roy print sarees are considered to be beautiful and mobile works of art which is why the accessories or anything that it is paired with should not overshadow the print itself. Mostly, women in India prefer wearing chunky finger rings along with simple diamond and gold necklaces and earrings. Anything that is not heavy and will not steal focus from the saree, is preferably worn with such sarees.
Sarees are best accompanied by high heeled shoes as they compliment the fall of the saree in ways that flat shoes cannot. They add more elegance to the look and also make women look taller and chicer.
Both, Indian handbags such as cutdana handbags and clutches, and western handbags are acceptable with this form of attire.
Maintenance
Althought the print itself is the main focus of the garment the maintenance of this ensemble depends purely on the fabric it was created on. Silk sarees with Jamini Roy prints are the most common and silk requires a lot of upkeep. To start with, the saree should always be hand washed and never left to dry in the direct sun as the colors of the thread can begin to fade. Silk sarees should be wrapped in a soft muslin cloth in order to preserve them for a longer time.
Interesting facts and comparisons
Jamimi Roy's artwork developed as a form of rebellion against the western traditions of art as he felt that classical nudes and oil did not do justice to his style of painting.
The prints of the artwork have been adapted into various other forms such as cushion covers, bedspreads and even, hilariously, shower curtains.
These printed saris have influenced designers in India to embrace a quirkier approach to fashion.
Video 
Reference
Categories: Motifs & Embroideries