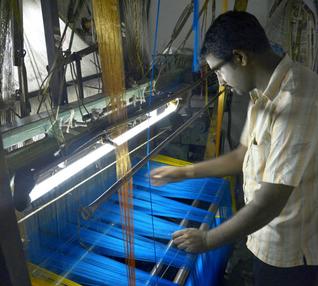 Bangalore Silk
Bangalore Silk is known for its simplicity, purity, and texture of Silk, which is meticulously produced in the silk farms of Bangalore, Karnataka. These farms have existed for several years and have progressed immensely with the passage of time and renovations in the textile industries.
Origin and History
The first silk farms were formed in the 1898 by the honorable Jamsetji Nusserwanji Tata, at a village called Basavanagudi, in the southern part of Bangalore.
During one of his visits in Japan, Tata was impressed with the systemic model of sericulture in Japan. He wanted to simulate the same model in Bangalore and his observations were that the land of Bangalore was favorable for mulberry silkworm cultivation and hence Tata entered into a cordial relationship with the Dewan of Bangalore K.Sheshadri Iyer and the Mustan of Channapatna (renowned silk trading firm) for the rearing of silkworms and production of high-quality silk. This brought in the onset of the silk revolution in Bangalore, which he eventually controlled and supervised directly during the early 20th century.
The Tata Silk Farm was then set up with Japanese professionals coming all the way from Japan to imbibe the much needed scientific knowledge and the intricacies of sericulture. Innovations such as cross breeding, early detection of diseases in silkworms, preserving the cocoons for future use, packaging of the silk thread etc. were introduced. In the initial days, cocoon seeds were being procured by Japan, but as days passed by, the Mysore government, in collaboration with Tata, found enough land for mulberry leaves plantation and producing the input from Bangalore itself rather than buying from outside. Bangalore started to become the hub of silk cultivation and the silk weaved here started gaining huge reputation from people far across the globe.
Style & Attire
Bangalore silk saris have been the first choice for traditional functions like weddings and other ceremonial rituals. The silk embroidery saris are in great demand as the work enhances the already rich texture of the silk. Sometimes small beads, crystals and colored stones are used while decorating these saris. They are also costlier than the traditional Sarees. Gold threads woven across the Silk Saree gives a rich look and is most sought after for weddings.
Influence over the years
The silk saris of Bangalore have undergone a mass transformation over the years. Earlier only dark colored silk saris with gold threads woven at the pallus were in vogue. However, now lots of stylish silk saris are woven to please the younger generation and bring the sari back in fashion.
Double-colored silk saris, reversible saris, printed silks, printed crepe silk saris are all designed with the young women in mind. Women can carry off these saris with ease as they are not too heavy like the traditional ones. Silk saris are even used as a trendy party wear by women today.
Global Influence
There are lots of South Indians settled abroad, who still wear these silk saris for any family function. Silk saris attracts people from across the world for their sheer texture and design. It is also widely worn by foreigners having an Indian style wedding
References
Categories: Textiles