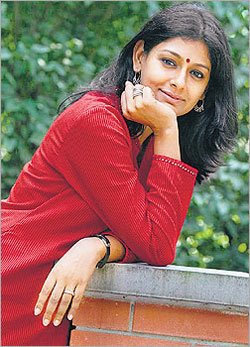 Nandita Das
Synonymous to simplicity is one of Indian cinema's most refined and unblemished actresses, Nandita Das, who is also a director. Completely natural and exuberant is her style statement which has remained the same over the last several years, ever since she made her mark in Indian cinema with her incredible acting skills. She is the fuss-free beauty who believes in convincing people through her work rather than what she portrays in terms of style. But while she remains as natural can be, one cannot help but notice the quality of effortlessness and modesty which truly comes alive with her presence which remains embedded in tradition and Indian culture to the core.
Childhood and Career

Nandita Das was born on 7th November, in the year 1969, in New Delhi. She grew up in a family of intellectuals, her father being a renowned painter named Jatin Das, and mother, Varsha, who was a writer. She pursued a Bachelor's degree in Geography from Miranda House College, and went onto do masters in Social Work as well. She had an inclination towards films and her career started out through a theatre group that she was a prominent part of known as Jana Natya Manch. From then on, she got noticed for her acting skills and starred in several films directed by well-known Indian film director, Deepa Mehta such as 'Fire and 'Earth, in which she starred opposite Amir Khan.
Her first directorial debut, 'Firaaq came out in 2008 and won several international awards and acclaim. Whether it's her choice of movies, or whether it's the one's she's directed, they all have a sober, real life quality to them. Her acting and characterization in the movies that she has done has also been portrayed as a woman that one can easily relate to. Glamor free and understated has been her style from the beginning, be it acting or fashion.
Making a Style statement
Even in a day and age where the bling' factor is highly regarded and where actresses mostly go for whatever is glamorous and trendy, Nandita Das comes through like a breath of fresh air in her simple Cotton or Silk sarees which make an amazing style statement ,and she does it with utmost buoyancy and grace. For some of the biggest red carpet events like the Cannes Film festival, you would always see Nandita Das dressed in either a vibrant handloom Cotton sari, or a more elaborate Silk one which she dons with the traditional Indian style of jewelry. Even if one sees her for an event or an interview, she always wears khadi or Cotton kurtis with Jeans or just a simple sari with little or no jewelry. Her favourite kinds of embellishments are oxidized Silver jewelry or the Copperish gold kind which does not look too ornate or grand.
Some of her favorite colors in saris happen to be dark and rich shades of orange, gray, black, green, and she also does complete justice to deep shades of maroon or red. Her makeup is next to nothing, and the only thing she wears is minimal amount of eyeliner, and her lips are always sans lipstick. The one prominent adornment at times is a red or black bindi which adds to the traditional appeal in her overall attire. She does not flaunt too many designer saris or dresses, and her style is so 'real that one can easily adapt it regardless of their age or social status.
Global wear-ability
Since Nandita Das is a known film personality on a global scale due to her spectacular movies which have fared well across Indian borders, she has also brought a lot of attention to her simple and serene self when it comes to style and dressing. She never makes a negative fashion appearance, and even her saris are the kind that would always be appreciated and admired due to their rich Indian styles and colors.
She mostly wears Cotton clothing, whether it's kurtas or saris, and Cotton as a fabric is loved by all, and in all seasons around the world. At times, the graceful and chic actress also opts for a more eclectic style in which she wears a short kurta with a lehenga and a dupatta draped around her neck, which makes it a beautiful fusion of trends, and something that young women can go for.
Personalization
Accessorizing
Cotton saris or kurtas look best with Silver jewelry, especially the kind that is either oxidized or chunky. Several silver bangles worn on one hand, chunky Silver jhumkas (earrings) and even a simple black or red bindi can give the entire outfit the extra 'traditional' edge. Chappals, or Jutis also add to the Indian ethnic feel of the outfit. Nandita Das makes it all effortless and stylish all at the same time, but the best accessory to don such outfits is the confidence in style that one can never go wrong with!
Suitability
Saris or Kurtas can be worn for any occasion, such as lunch or dinner parties, weddings, religious or social events. One can go for a more elaborately designed kurta or sari if the occasion requires more pomp, but accessorizing simple attire with heavy jewelry can also be a better option if one wants to be stylish yet understated.
Maintenance
Cotton or Khadi are fairly easy fabrics when it comes to maintenance, as they do not need to be sent in for dry cleaning. A machine wash or hand wash is fine, but one would not want to over wash the fabric since that could lead to thread baring and color fading as well.
References
Categories: Bollywood & Beyond, Indian Cinema