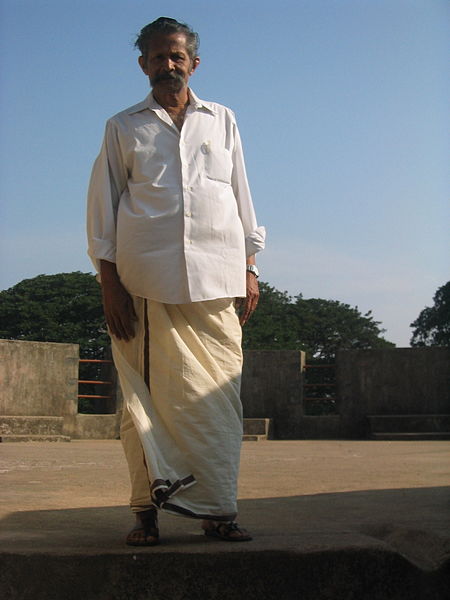 Dhoti
Dhoti is the traditional attire for men across India. It is often misinterpreted with Lungi or Loongi, but is a different attire. The styles and attitude bearing the dhoti changes depending on the state or province. It has marked its presence in various functions and proceedings. It has many regional names in different Indian states like Mundu in Kerala, Dhotar in Maharshtra, Laacha in Punjabi and Mardaani in Uttar Pradesh and Bihar.
Origin & History
It was a word that had originated from the Sanskrit word 'Dhauta. It was also marked as the traditional wear by several leading Indian politicians across the Indian subcontinent.  It was and till this day is considered as part of the traditional attire for several countries like Srilanka, Bangladesh and Maldives. Initially it was worn only with a kurta. The dhoti was also considered to be an attire that commanded respect and dignity.


Style
This garment is basically available in an off white or cream color. The material for this fabric can be either cotton or silk. In most regions of the south, it is mostly made using a gold border. This makes it appear richer and more sophisticated. In most cases 5 yard long strips of cloth are used to make this garment. Approximately five knots are used to wrap this garment in the southern lands. The style of wearing differs in every land. In other parts of India it is mostly worn in a pant style and not the skirt style of the south regions. A part of the dhoti is tucked behind which makes it look like a pant.
Influence over the Years
Over a period of time, people in India have been influenced by the western wear and traditions. A lot of western culture has been imbibed by the people of India. This has made it a wear that is followed mostly at home. People no longer wear it to the office or parties. It has become more like a traditional wear or home regular wear.
That being said, one cannot ignore the fact that it has evolved in its styling as well. Of course, people across India still believe that dhoti, when folded to knee length, shows disrespect. So, they do not fold it up to that length. Also, the various colors in which they are now available are also because of global influence.
Innovation
A lot of innovation has passed the world of dhoti. What was a traditional wear is still dominant in various circles of society, however, several improvisations and westernization has given the world dhoti pants' that have the structure of dhoti combined with western pants. This is a beautiful innovation that is completely unisex in nature. One can see the brilliance of design and tasteful colors combined to bring out the essence of these pants. This innovation has become a solid hit with the people of India, and in particular the younger generation.
Occasion
Normally, they are worn during a festival or to acknowledge the marriage ceremony. In most south Indian weddings, dhoti is an important part of men's wear. Most politicians wear this as it has become their formal wear. Pandits and those adorning the temples wear dhotis as their regular wear. In most rural and urban regions, males enjoy the relaxation that one gets with the dhoti in the comforts of their home.
Suitability
This clothing is suited for almost all seasons. The reason being that they are available in both silk and cotton. The silk varieties are basically embraced in the traditional customs and marriages, while the cotton ones are worn as daily wear.
Global Influence
It has influenced the global culture in many ways. People across the globe are wearing the traditional dhoti in the pant style and have made it a modern day style statement.
Accessorizing
With dhoti, men wear a kurta or shirt when at home. During ceremonies, they carry a cloth called angavasthram to cover their upper body. In case of farmers, a towel acts as an accessory. For dhoti pants, women can pair pearl necklaces or beads adding to the inherent charm of the outfit.
Interesting Facts and Comparisons
They have become colorful in the northern regions of India but have maintained its traditional white color with a colorful border in the Southern regions.
They have turned into dhoti pants with the innovations made on it.
References
Categories: Attires, Clothing Styles & Drapes