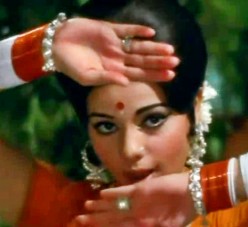 Mumtaz
A young, petite and an effervescent image of a girl dressed in a figure hugging orange sari passes through one's mind when they hear the name Mumtaz, and that one memory has been etched for years in everyone's hearts and minds. Indian cinema's breath of fresh air, Mumtaz brought about a sense of liveliness and childlike innocence while exhibiting a distinct sensuality which has served as an inspiration for many young women and actresses across the globe who always look up to her as a style diva and an actress who did not hesitate to go beyond the fashion norms and make her own distinct style, while sweeping several hearts in the process.
History
Mumtaz was born on 31st July 1947 in Mumbai to parents who were originally from Iran. She worked as a junior performer in several films, to begin with. Much like how all popular actresses had to struggle initially, Mumtaz did not have it all spread out on a bed of roses either. She was offered low budget movies in which she went unnoticed, but what struck a chord of luck for her was her appearance as a vamp in the movie 'Mere Sanam, in which she popularized the song 'Yeh Hai Reshmi Zulfon Ka Andhera'. People may or may not remember the movie, but what they remember till date is Mumtaz's song and her gorgeous face which sizzled on the silver screen and made her a star overnight.
From then on, it was all smooth sailing and Mumtaz became the most sought after and one of the highest paid actresses of her time, as she delivered one hit after the other. But all the glamor did not make her lose her head in the clouds, and even today after all this time she is considered as humble and sober, an actress who in real life is quite simple and unaffected in spite of having great affluence.
Style and Global Appeal
If we miss talking about Mumtaz's style, it would be nothing less than a crime. With that being said, what springs to one's memory is her being dressed in an orange sari swooping around like a butterfly to the tunes of 'Aaj Kal Tere Mere' song from the movie 'Brahmchari', where it was not just the orange sari, but the style in which she draped it, which became a sensation in Indian fashion and set a new benchmark for innovations in the age old traditional attire. The style was so unusual, a kind that Indian actresses had never opted for, but became exceedingly popular when Mumtaz donned it and flaunted it with panache and ease.
The best thing about Mumtaz was her ability to adapt to any role and to make any attire a part of who she was. Whether it was a tight fitting dress with a plunging neckline or a sober and simple sari with a red bindi on the forehead, Mumtaz made it look easy and classy all at once! She was the one actress who exploited the colors of orange, reds and yellows and was mostly seen in such shades. Another song that brings back fond memories of one of Bollywood's fascinating divas is 'Jai Jai shiv Shankar', where she wears yet another orange number, but this time with a unique hair bun, and gold hoop earrings. The blouses that she wore with her sari were always shorter and fit her to the T! Another trademark that was inherent to Mumtaz was her style of makeup. Winged eyeliner and smoky eyes were made popular all because of her and even today several actresses try to imitate this technique in makeup. She always kept the lips neutral and did not overdo the lipstick. Along with elaborate saris, Mumtaz loved wearing heavy chokers around her neck which were studded with diamonds or precious stones. But she always made it look effortless and that is why she was the diva who still makes heads turn wherever she goes.
Making a Style Statement
If we had to pick one thing out of the manifold of style statements that Mumtaz made, it would have to be the sari draping style which found new twists and turns because of her innovative technique. Recently, Priyanka Chopra in one of her song sequences from the movie "Teri Meri Kahani' imitated the Mumtaz sari style, and other young Indian actresses like Deepika Padukone have also tried hair styles and sari styles which have born a close resemblance to the one that Mumtaz had established. 
The Trendsetter
The 'Mumtaz sari' features quite high in the number of searches and that is proof enough to say that this style has always been in vogue. Mumtaz created an indelible impression with her orange stitched sari that it has become an innate part of fashion trends for generations thereafter. Not only has this style been Mumtaz's 'patent' of sorts, but it was also significant as the song channelized the actress's career into mainstream acting in a major way.
Mumtaz brought out a new trend with so much ease and efficacy, which in fact celebrated the feminine form with the tight drape around the body so that it looks like second skin and accentuates the feminine form. The sari is teamed together with a short sleeveless blouse and the short six inches of pallu are gathered tightly and pinned down on the left shoulder with an elegant brooch. Mumtaz accentuated her look with ornaments like a golden 'bajuband', choker, chandelier earring and bangles that were not over the top and complemented her overall orange and gold look.
Suitability
The Mumtaz style drape is something that would look good on women who are not too voluptuous as it highlights the curves. Furthermore, when trying to copy this iconic look, you must try to use softer colors and hues that would do justice to this style of drape such as pink, orange, peach, light blue complete with a silver or gold border for showing the double drape. Light colors in such a drape would not only make you look slimmer but would also add classiness to your look. A lot of modern day heroines have been copying the Mumtaz look such as Priyanka Chopra and Sonam Kapoor. This iconic sari will continue to inspire many people for years to come, as fashion never dies and does get resurrected over the course of time!
Interesting Facts and Comparisons
When Mumtaz turned 65 recently, she openly admitted in an interview that in spite of her stardom she feels lonely at times

She married a well established businessman Mayur Madhvani in 1974, and she has two daughters Tanya and Natasha

She was a cancer patient and battled it brilliantly and was also featured in UniGlobe Entertainment's cancer documentaries along with other International celebrities

The popular sari draping style goes by her name 'Mumtaz sari'

Some of her popular movies include 'Khiliona', 'Mere Sanam', 'Do Raaste', Patthar Ke Sanam', 'Aap Ki Kasam' a

nd Prem Kahani

Unlike some of the other actresses, Mumtaz did not like late night parties, clubs or social events, and to this day she prefers living a quiet and simple life unlike other celebrities.
References
Categories: Bollywood & Beyond, Indian Cinema