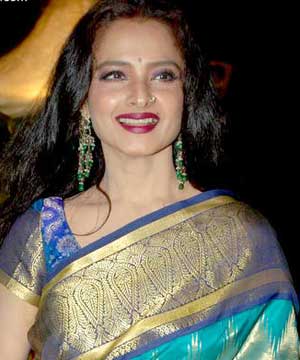 Rekha
Her name is enough to let the sparks fly and for people's thoughts to endlessly flow with adoration and fascination. An epitome of sensuality and beauty, one does not think of the movie Umrao Jaan without thinking of Rekha, since the two are synonymous and have been for over decades when we think of the timeless classic that Bollywood has produced.
But that is just one feather in Rekha's realm of movies. With the passing of each year, Rekha gets more stunning and younger, and still, makes remarkable appearances which leave people in complete awe of the regal aura that surrounds her. What makes her so bewitching? What makes her so surreal, yet so real? It is hard to classify thoughts on Bollywood's most sought after diva, since they are as immeasurable as her magnetic personality and existence. Till date, no one has made a final claim at knowing the ins and outs of her life, but that's just what adds to the mystery and magnificence that surrounds her.
Filmmakers have adored her, photographers have never been able to take enough shots, fashion designers beg her to dress in their exclusive designs and audiences are always left wanting more every time she makes an appearance. Rekha is truly the living legend, a kind that seems irreplaceable and unattainable.
Childhood & Career Growth
The one thing that too many people may not know is Rekha's actual name, and that is Bhanurekha Ganesan who was born on 10th October in the year 1954. Her first steps into films began as a child artist when she appeared in a Telegu movie called Rangula Ratnam. With the tremendous achievements and the plethora of appreciation that Rekha has achieved and continues to do so, it is hard to believe that the starting steps were hard if not emotionally traumatic for her. She was criticized and mocked at for her skin color and weight, since during the 40's and 50's people only admired Indian actresses with lighter skin and petite frames, and there was little or no room for a woman who was voluptuous and dusky. However hard it may have been, Rekha took it all in her stride.
She defied and defined Indian fashion and created a niche for herself, a kind that young actresses find hard to fit into even in the 21st century.
Style & Attire
From pastel shades of pinks, whites and blues in Chiffon saris that she flaunted in her famous movie 'Silisila' to the extravagant gold lehenga and dupatta that forms a halo around her gorgeous face in 'Umrao Jaan', Rekha managed to pull off anything with ease and style, and made every attire seem as if it was meant just for her. The doe eyed expression, and striking red lipstick in Umrao Jaan became her trademark and a style that many women imitated during the late 1980's. Even in her movie Utsav, she is seen wearing elaborate pieces of gold jewelry and crisp cotton saris tied around her, which resemble the pre historic and Vedic times. She also makes for the classic Indian woman in the movie 'Ijaazat', where she wears traditional Cotton saris in vibrant shades of yellow, blue, red and green. The large red bindi and subtle makeup accentuate her classic Indian features and make her the real life Ajanta statue.
The Trendsetter
What Rekha gave to Indian cinema was a face of ethnicity and tradition imbibed with an evergreen sensuality and glamour, the kind that only she could have exhibited to the hilt. She took Indian saris to a different platform altogether as she showcased that saris could also be seen as sensual attires and something that can present glamor along with tradition. Women went to great extremes just to look like Rekha in the kind of saris they wore, or in the kind of makeup they chose.
Red lips, dark eyes and a large red bindi was something that became a part of who Rekha was, on screen as well as off screen. No one dared to pull off a gold Kanjeevaram sari the way she did and even today the cameras can never fail to miss an entrance or an exit made by this perennial beauty as she glides like a goddess dressed in the heaviest and most elaborate silk saris at every award ceremony or event.
Her long wave like black tresses and heavy gold jewelry studded with extraordinary pieces of gems and stones add to Rekha's glamor quotient. One would never spot her under dressed or unkempt. She always makes for a perfect picture and seems to never age with the passage of time.
But if we were to narrow down to one distinct style that Rekha is never seen without, then that would be her love for South Indian Silk saris. The special Silk saris of Tamil Nadu known as Kanjeevaram have done utmost justice to Rekha's inherent grace and elegance. Unlike some of the other actresses of yesteryears, Rekha has always played with bold colors of reds, greens, and golds and has used that to her advantage. What may look loud or gregarious on someone else, always manages to look perfect and classy on Rekha, and that is why she is considered as one of the major style icons of India, even today.
Interesting Facts about Bollywood's Diva
Rekha is very particular about her health and does yoga everyday to maintain her flawless looks

She is often referred to as the 'Madonna or Cher' of Bollywood

Her favorite color happens to be gold, and that is apparent in her large collection of Kanjeevaram saris

Some of her successful films include Silsila, Muqadar Ka Sikandar, Khoobsurat, Umrao Jaan, Khoon Bhari Maang, and Nagin

She is also known for her deep and husky voice

Rekha's actual name is Bhanurekha Ganesan 
References
Categories: Bollywood & Beyond, Indian Cinema