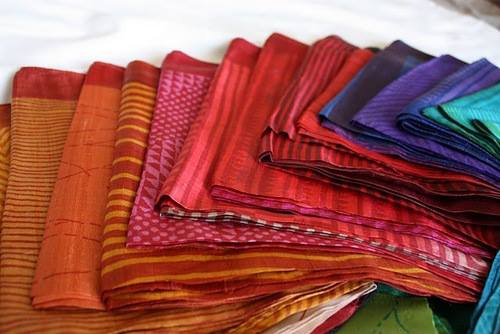 Bhagalpuri Silk
The finest texture of Silk springing out from the essence of nature and known as the 'Queen of all fabrics', Bhagalpuri Silk is very well known for its unique and striking resilience and superior quality. This intrinsic artwork showcases the original essence of Bhagalpur in its purest and flawless form. It is filled with every slice of Indian cultural aspects which are drawn from the intricacies of the natural surroundings and which are symbolic in its own form.
Origin and History
This elegant form of embroidered artwork found its name, fame and recognition from the soil of Bhagalpur which is also popularly referred to as the 'Silk City'. This purest and natural form of embroidered silk fabric traces its existence and emergence way back to the Vedic Age, which is centuries ago. However, the Maurya Age also recognized the magical soul of this artwork which managed to lure and attract majority of the people during that era and this attraction passed onto the later eras which slowly and gradually uplifted the level of recognition and demand of this artwork.
Present Day Scenario
With the passing years, this artwork got entangled into a lot of social and governmental tentacles, which started fading the demand and attraction towards Bhagalpuri Work. After a relatively long period, this artwork came back with a bang and empowered with the zest to make it big once again in the garment work industry.
The government, as well as non-government firms and institutions, took up the initiative to pull up this 'lost' artwork into the forefront of the competitive market and retain its powerful quality and demand across the world. Today, this artwork has managed to rope in numerous skilled weavers and craftsmen, be it any age group.
Sources of Inspiration
These yarns are weaved with silk threads of multi colors which are reared from the Tussar cocoons. They are thus weaved into exotic and symbolic designs and motifs making a Bhagalpuri Saree or any other variant, vibrant and bright in its texture and feel.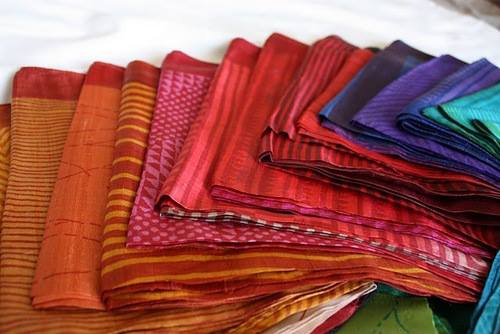 Faces behind the fabric
This artwork industry is considered to be one of the most ancient and traditional compared to the other fabrics and embroidered artworks. Majority of the people found their interest in this industry and began engaging their profession into this field. They began to enhance this artwork by segregating the Silk threads from the Tussar cocoons and implemented the task of spinning on the yarn which weaved the Bhagalpuri work into the fabric. These procedures brought this fabric into the limelight which were appreciated and recognized by the Moghuls as well.
Varieties 
There are many specialties and varieties that enhance and spread out the beauty of this artwork to a greater extent. Varieties like Katia, Giccha, Eri, Mulberry and various varieties of Tussar silk yarn facilitate in giving this fabric a pastoral look and provide an essence of delicateness to its texture. These varieties are known to give the fabric a rich and a royal outlook and retaining the enchanting designs and motifs imprinted in them.
Innovations
Keeping in foot with today's generations, Bhagalpuri work has managed to spread out its wings onto different items besides garments like furnishing materials, table covers, curtains, cushions, bed covers, and table covers.
Occasion Dressing
Suitability
This artwork crediting to its popularity gathered during the traditional era provided the opportunity to be worn during religious ceremonies, formal occasions, celebrations, and traditional get-togethers. However nowadays with the innovative touch, these garments can be worn for every occasion, be it formal or even non-formal as their designs are delicate, intricate and can mold itself into any form of gathering.
Global Wear-ability 
This fabric has managed to capture the hearts and minds of people across the globe. Countries like Paris and London which are considered to be fashion capitals have found their interest in this fabric which has increased the demand for this embroidered fabric.
Maintenance
Initially dry washes are suggested to maintain the richness and brightness of the fabric, after which gentle hand washes can sustain the beauty and longevity of the fabric.
Accessorizing
Pure Gold and Silver jewelry can compliment this fabric, as this artwork is known for its traditional sense. However kundan and Pearl jewelry can also gel well with the look of this fabric.
Chronicles of the future Foretold 
With its growing demand and interest, international ramps and fashion shows have started to include these fabrics for display which has attracted millions of garment manufacturers abroad.
Interesting Facts and Comparisons 
Bangalore and Mysore Silk have always been in competition with this artwork. However, the quality and finesse of this embroidery stand apart.
This embroidery is also eco-friendly in nature and in this silk not many silkworms are killed.
References
Categories: Textiles