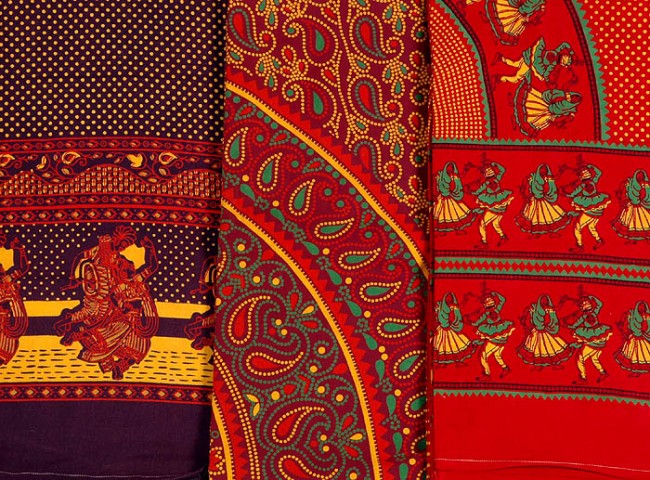 Sanganeri Prints
Sanganeri is a hand-block printing technique originating from Sanganer, a village in the southern part of Jaipur, Rajasthan. This form of textile printing is almost 5 centuries old and till date holds a prominent place in the world of weavers and craftsmen. Other than Sanganer, there are other villages like Bagru, Akola, Barmer, and Jodhpur that are famous for block printing. Delicate patterns and lines with vibrant colored designs are the defining factors for this kind of printing technique.
Origin and History
The Sanganeri printing technique developed between the 16th and 17th century. The constant wars between the Mughals and Marathas caused several craftsmen to migrate from Gujarat to Rajasthan. This craft ultimately found its haven in Sanganer, where it has been thriving ever since. It became one of the major export items for the East India Company, and its trademark was the original dye used for printing designs. This dye soon became a matter of significance in European culture as well.
Sources of Inspiration
Royal patronage and heritage inspired the great cultivation in this form of craft, which has been around for years, and is almost as old as the country itself. Rich traders and royal families have propagated this art and its influence has spread far and wide into the fundamental nature of Indian tradition and culture.
Faces behind the Print
The dyers originally came from Punjab and Sindh and belonged to a community known as the 'chippa' community. The majority of them are Muslims. The most interesting fact is that entire family, including children, get involved in the process. Today, nearly 3000 people are employed in practicing this craft on a professional level.
Varieties
There is a great variety in the types of designs and patterns used in Sanganeri print, which includes all kinds of flower motifs, the main ones being of sunflower, roses and narcissus'. Apart from flowers, designs depicting various gods, fruits and folk scenes are also popular. The curves and patterns majorly depict the cultural flora and fauna of Sanganer.
Present Day Scenario
The simple and creative style of this block printing technique makes it popular amongst all kinds of women across age groups. With technology gaining importance, dyers have started experimenting with unusual color combinations. Overlapping of colors such as like red and pink, or purple and orange is not very uncommon nowadays. This was, however, not possible with the older techniques.
Innovations
Apart from experiments in color combination, there is a great deal of experimentation in designs as well. Such prints could at one point be found only on kurtas or sarees, but now with the modern transformation in fashion and style, block printing can be found on skirts, scarves and dresses as well.
Global Appeal
With this print finding its way on dresses, skirts and scarves, Indian fashion has become popular not just with silks and chiffon, but with light and fun-filled designs like that of the Sanganer print as well. Several designers and international stores have used this pattern to showcase Indian prints.
Wearing Sanganeri
It is lightweight and easy to wear, and is the ideal to beat the summer heat. It is a stylish expression of comfort and creativity imbibed in one.
Maintenance
It is by far the easiest print to maintain. However one would not want to wash it too regularly since the color of the dye can fade with time. Mild hand or machine wash would be ideal for this fabric.
Interesting Facts and Comparisons
Before the dyers start the process, sand and water is sprinkled on the printing table which is then covered with a wet cloth.
This craft is almost 500 years old.
References
Categories: Motifs & Embroideries