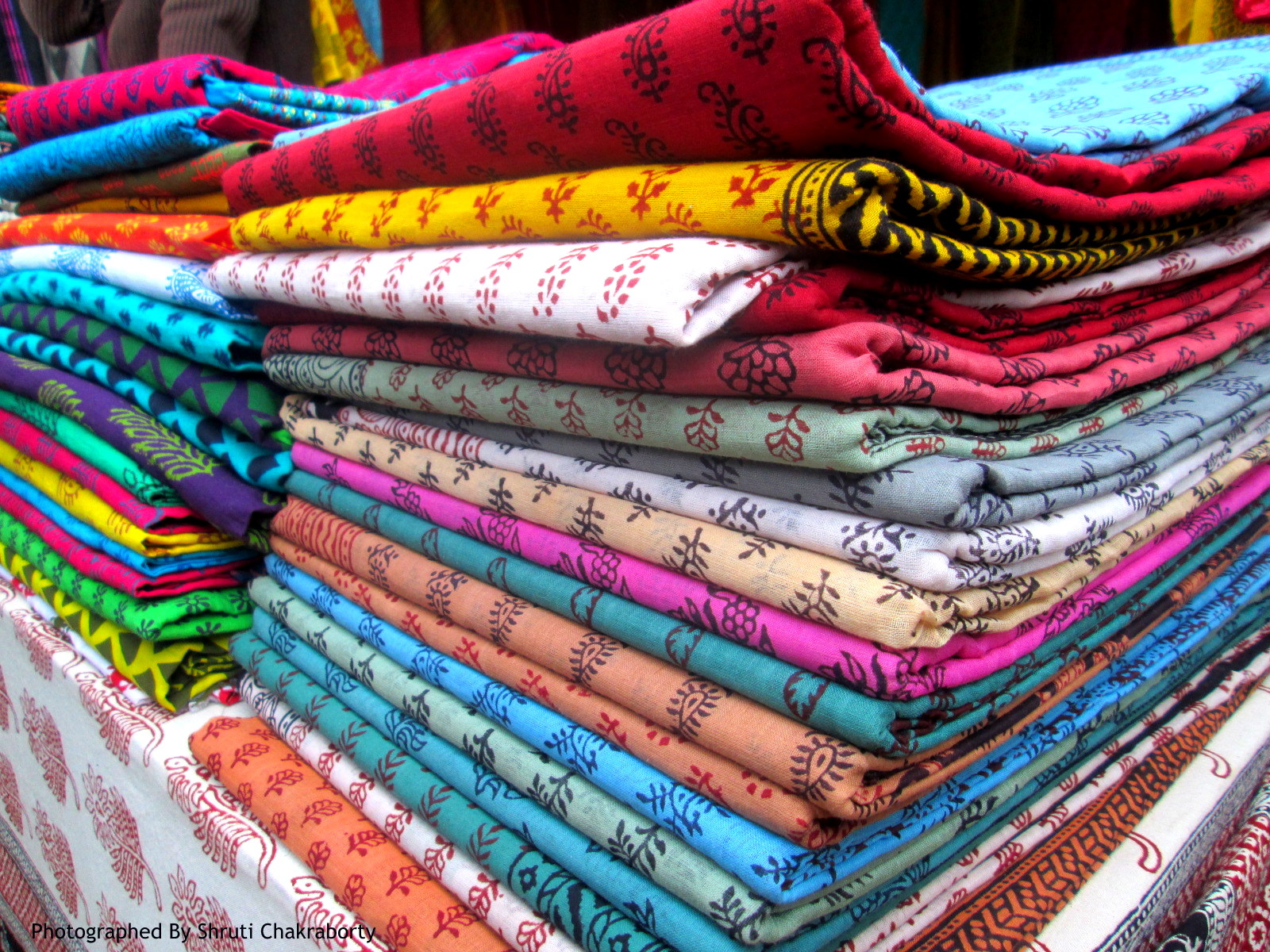 Bagh Print
Bagh print has its roots in Sindh, which is now a part of Pakistan. The art of Bagh printing then moved eastwards to Marwar (Rajasthan) and later to Manavar (Madhya Pradesh) with the migration of the craftsmen.  Over time, the style of Bagh Printing has evolved and attained uniqueness. The present form of Bagh printing actually started in 1962 when the craftsmen migrated from Manavar to the neighboring town of Bagh situated in the Dhar district of Madhya Pradesh and hence Bagh has always been associated with this printing style.
Origin & History
Bagh printing is essentially block printing, which is a technique that has been practiced for several centuries. The earliest evidence of block printing dates back to the time of Alexander the Great, wherein he has specifically mentioned India's 'beautiful printed cotton'. However, there is some evidence that goes onto prove that block printing was also prevalent in the Indus Valley civilization, hence the practice of using printing blocks for textile printing can be dated as far as 3000 BC.
Sources of Inspiration
Bagh printing basically involved blocks that are carved onto motifs that represent flora such as Jasmine, Mushroom, lehariya and so on. There are some prints that were inspired by the jaali work that embellished the Taj Mahal and various other forts. Inspiration is also drawn from the landscapes and geometrical figures. The motifs evoke various moods in the serenity of the prints and that is the catchy element of Bagh prints.
Faces behind the Fabric
Bagh village is the place where Bagh printing is sourced and exclusively conducted. It is basically controlled and operated by five-six Muslim Khatri households of Bagh who are also the proprietors of the manufacturing facilities at Bagh. The artisans who are adept at the craft in these facilities are from various communities such as Teli, Bhillala, Bhil and Rajput. The Bagh prints are basically floral and geometrical patterns and the blocks for Bagh printing are crafted with great skill by block makers that reside in Pethapur, Gujarat.
Present Day Scenario
'Bagh prints'  are an all time favorite in the Indian subcontinent primarily because the material is very comfortable and soft. There is a variety of Bagh printed merchandise that is commonly found such as bed covers, cushion covers, table covers, runners, mats, ladies suits and sarees, kurtis, dupattas, skirts and dresses amongst other things.  A lot of trendy and contemporary prints are now being used by the Bagh printers along with more fabrics apart from Cotton such as Silk, Crepe, and Tassar with fabulous results.  Bagh prints are very fashionable and people are developing a new connect with this beautiful art form which is a part of the rich Indian textile heritage.  Eco-friendly in nature, since Bagh prints make use of vegetable dyes, this art is gaining a lot of recognition worldwide and indigenously too, with the Government taking initiatives in trying to support and reform this craft.
Innovations
Bagh prints have become increasingly popular from its erstwhile status of being nearly forgotten.  Traditionally, this printing style was used for a few products such as lehengas and sarees, whereas now it has innovated and expanded its range to bed covers, dupattas, dress materials, curtains, table cloths and much more. This craft is also gaining recognition as an eco-friendly technique and therefore Bagh printing is making forays into foreign markets by experimenting and evolving to satisfy their global clientele.
Maintenance
Bagh printed fabrics are washed three times before being sent out to the market. Generally color does not leak from the fabric; however, it is advisable to get the fabric dry cleaned the first time. It can be lightly washed later on and is not difficult to maintain.
Global Wearability
Bagh textiles are usually cotton based and very soft. These are an all time wear as they can be used in all seasons and climates. A lot of international attention is being given to Bagh printing due to its eco-friendly production process and Bagh printed merchandise has a huge market abroad.
Accessorizing
Bagh prints are very trendy, particularly because they can give a very nice ethnic twist that exudes simplicity yet sophistication. From scarves, dupattas, and kurtas to patialas and salwar- Bagh prints can be mixed and matched to give a trendy casual look.
Interesting Facts and Comparisons
Bagh is actually the name of a small tribal town located in Dhar, Madhya Pradesh and is the base for Bagh printing.
Before the printing takes place, the fabric is washed and sun-dried.  After drying, the fabric is soaked in a mix of goat droppings and castor oil so that it can make the fabric more absorbent.
Bagh printing is completed after the second process of dyeing in which the fabric is placed in a big copper container of water in which Dhavadi and Alizarin flowers are boiled.
The dyes used in Bagh printing are vegetable based and the main colors are red and black.
References
Categories: Motifs & Embroideries