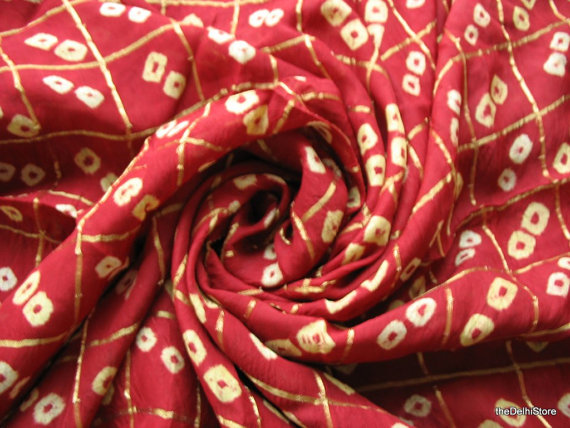 Gharchola or Ghatchola
Gharchola (also known as Ghatchola and Gharcholu) from Gujarat is woven on Cotton or Silk fabric in large checks of using Silk and Zari threads. This is further colored in Bandhani or tie & dye technique. These checkered patterns are filled with small golden motifs of peacocks, lotus, human figures, and floral designs. A typical Gharchola is made in Red color, embellished with yellow and white dots, and is 5.5 metres in length & 46 inches in width. This saree makes a wedding or any other ritual for that matter, a scenic and picturesque occasion.
Symbolism & Inspiration
Gharchola has been a significant outfit in a Hindu wedding, especially in North India.  The name 'Gharchola' means 'Outfit for Home', which symbolizes a newly wedded bride joining her new home. These sareea are the gift from the mother-in-law to the newly-wedded bride, which the bride would change into as soon as she stepped into her new home. This signified that the in-laws have taken the responsibility of the bride. This tradition is still followed with some local variations in many North Indian states.
The Making
The making of a Gharchola is an intricate and a time-consuming process. It starts off with a starched fabric which is fixed to a large wooden frame using nails. After fixing the fabric on the loom it is dyed in various colors, mostly red or green. The fabric is then divided into rows of white tied-dyed squares or woven bands of zari motifs. The weaver needs about a week's time to arrange the looms ready for weaving and go ahead with the designing process. There is a range of design within each compartment ranging from animals, flowers and human figures. It takes about 3 days for a plain body weave. If a check pattern is to be made then it takes about a week. For a double check pattern, it takes 10-12 days to complete the weaving process.
Variety
It is generally available in two varieties depending on the quality of zari used in checks and squares in the sarees. For the people who like a classic touch of gold, the weaver can use a gold thread for the sarees whereas plain zari can be used for someone who likes the understated lighter hues.The most popular variety of these Gharchola sarees comes in a combination of red and white or red and green. Other than these, a Gharchola Saree with 12 squares is known as 'Bar Bagh', while the one with 52 squares is known as 'Bavan Bagh'.
Wearing Gharchola
Coming back to its use in the marriage rituals; In the present day scenario, the bride puts the Gharchola on her head and shoulder for the the seven pheras (the wedding ritual) around the auspicious fire. One end of her Gharchola is tied to the shawl being carried by the groom endorsing the auspicious knot.
Innovations
The Gharchola has a strong ceremonial identity in Gujarat. Weavers are skilled enough to update their design aesthetics and are adapting with the modern times. This has improved the demand for the Gharchola sarees in the market. Today, Gharchola silk sarees can be customized according to the tastes and moods of a person. Aside from the variety of vibrant colors, you can choose from a range of motifs. Designs of peacocks, lotus, human figures, floral patterns are some of the most commonly used ones. Also, Gharchola can be turned into a bright and beautiful scarf. Also, it can be paired with a lehenga as a pallu. It has some intricate work and detailing that can enhance your outfit pretty well.
Maintenance
It is advisable to dry clean a Gharchola for its longevity and keeping it away from direct sunlight. Since it's made of silk with some intricate detailing on it, a little care will go a long way in keeping the fabric in great shape for an extended time.
References
Categories: Motifs & Embroideries