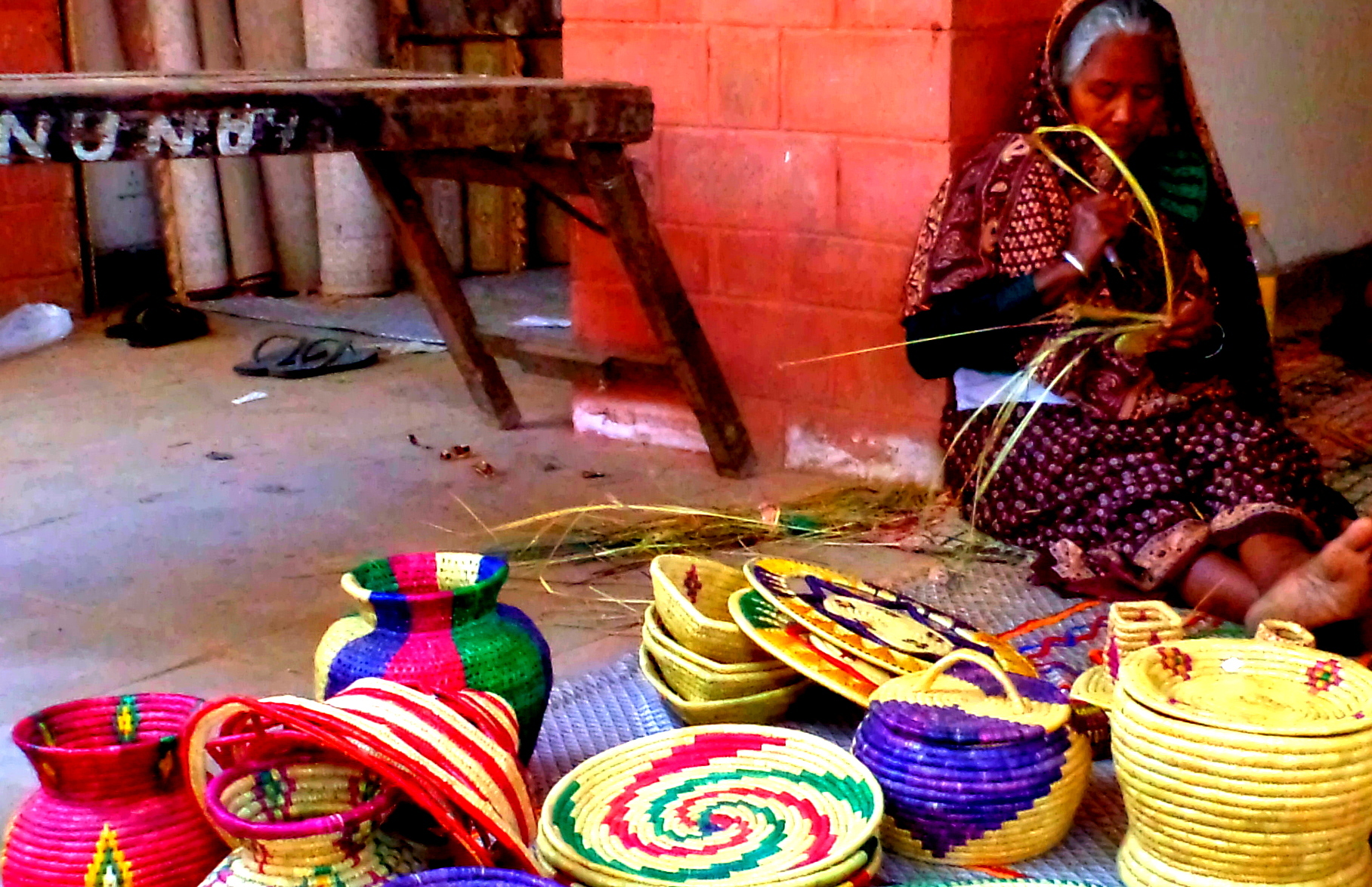 Faces Behind Phases of Indian Art
An old woman's obsession turned into a profession, cane craft is her bread & butter today. Canes chopped in thin strings, painted in varied shades and netted in forms of sieve, basket, pots, tumblers, lamps, etc., I was stunned at the firsthand magic of this Indian craft.
The Puppeteer 
An audacious mustache, bright turban, neon pair of Dhoti-Kurta, Nagras and a persona of stagecraft, the puppeteer had many faces around him. Faces that were decked in Indian makeover, and adapted to story-performing, these puppets are the puppeteer's family. Within a little canopy of Indian décor, his puppets suspended in strings of heard and unheard tales, the puppeteer mixed it well with lyrics, music, and most importantly the life-filled expressions emitting his passion for Indian culture.
Nagada Boys from Haryana 
Witnessing a live act by zealous Nagada boys from Haryana, I went through my feet & eye, locking and popping with hilarity! 'Nagada' is a huge drum shaped like an 'acorn' played by one or more persons. The Nagada boys from Haryana chose eclectic costumes from their ancestral roots toned with turbans in vivid shades. The showstopper of their troupe was a little boy dancing oh-so-gracefully to the thumping drum beats.
Being Langdi Ghodi
Wondering what Langdi Ghodi means? A man snuck inside a horse costume, dressed in Rajasthani attire, hopping with his two feet on the beats of Rajasthani dholak and singing their long-last folklores. These mustard-fixed boys created a whim to dig deeper into the culture of Rajasthan with their performance.
The Timber Queen of Wooden Art 
Gods, creatures of the planet, cultures of the people and whatnot – these wooden frames spoke out tales from every nook. All it takes is a wood log, a sharp slicing knife and a meticulous memory to create a story. The timber-lady showcased her fine craftsmanship by scratching and fine tuning every piece of wood and painting with different strokes of colors for a picture-perfect story.
 The Papier-Mâché'Lady
Recycling is a generic 'talk' that we all voice. However, most of us do not get the opportunity to express our intentions. The old woman with just a few pennies in her pocket, decided to pick up something that was discarded and came to her at no cost. She picked up the left-over papers, soaked them, glued & starched, and shaped them in little cases, embellished and painted with all desires to make it look desirable and hence discovered 'art of papier-mâché', as her business.
Categories: Ethnic Alley, Indian Enigmas