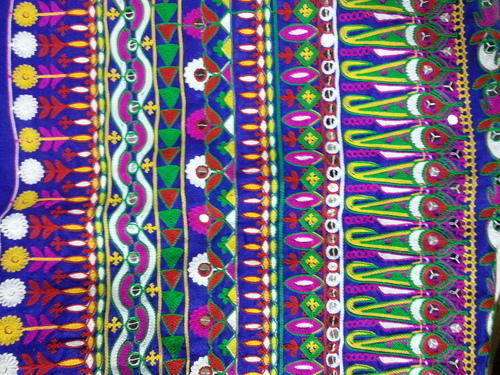 Gamthi Embroidery
Gamthi Embroidery, not to be confused with Gamthi print, is embroidery that is created by using thick, vibrant threads. This form of embroidery originated in Gujarat and is extremely popular in the state as it is considered a cultural reflection of the state. More often than not, this form of embroidery is added on the ghagra choli, which is a well known Gujarati dress and is known for the texture of the embroidery as one can feel the patterns more finely than in the case of any other embroidery. More often than not, abstract forms of embroidery are used in this as opposed to well-known shapes.
Origin
The origin of Gamthi Embroidery can be traced back to Gujarat. The word Gamthi itself is derived from the work 'Gaam' which means village. So the word itself means 'from a village', referring to the fact that this embroidery style originated in the villages of Gujarat. While traces of this style of embroidery have trickled into Rajasthan as well, this is considered mainly a Gujarati form of embroidery. As it originated from the villages, this form of embroidery is considered to be extremely indigenous and true to the nature of the state at it's purest.
Sources of Inspiration
Gamthi Embroidery is mainly abstract pattern that look quite similar to the contemporary Aztec print that is in fashion at the moment. It is characterized by the wide use to bold and vibrant colors that are not necessarily complimentary colors. Gamthi embroidery is often combined with colorful fabrics to add to the vibrancy of the garment, leading to a bright outfit.
Making of Gamthi embroidery
Gamthi embroidery was originally made by hand. Sturdy fabrics are used due to the fact the thread that is used is usually quite thick (this can even be a wool thread, depending on the weather the garment is being designed for). A thicker needle than those used for finer work is used to puncture the fabric and then create interesting patterns and designs. Due to the nature of the thread itself, extremely intricate work cannot be attempted while using this embroidery. This is why most patterns are bold and simplistic as opposed to highly intricate. Bold lines and geometrical shapes along with basic shapes resembling flowers are used as well.
Style and variety
This particular type if embroidery is sold in a variety of products, not just those pertaining to the world of fashion. Most commonly, the chaniya choli from Gujarat is made with Gamthi Embroidery and so are choli vests. In terms of attire, saris are usually not made with this embroidery work as it requires sturdier fabrics to be used and saris are usually made from lighter fabrics because of a specific aesthetic that needs to be achieved. For men, kurtas with Gamthi embroidery done on them are extremely common in Gujarat. These are usually worn to popular and culturally relevant festivals such as Navratri festivals. This form of embroidery is usually not used for wedding attire as wedding garments are meant to be extremely delicate whereas the look this embroidery is meant to give is slightly crude.
Gamthi embroidery is also used on Indian handbags that are made of fabrics. Usually, jhola bags, which are sling bags made of cloth, have this form of embroidery on them. Formal versions of bags such as clutches with a fabric lining on the outside also have Gamthi embroidery work done on them as well as some mirror work to accompany the embroidery and make the bag more chic. Shawls with Gamthi embroidery are used in the winter by men and women both.
In terms of home décor, it is quite common to have bed spreads or sheets with Gamthi embroidery on them as well as cushion covers for the bed or sofas in the living room. Rugs with Gamthi embroidery are not uncommon in the Indian households either.
Present day scenario and global influence
Though this form of embroidery dates back to the medieval ages in India, it still has an extremely significant place in the contemporary world of Indian ethnic wear fashion. It is widely used on semi formal and casual attire and has been seen on the runway almost every season. Globally, fabrics with this form of embroidery are sold in stores that sell 'Indian objects'.
Innovations
With indo-western attire as well as western attire a raging trend in India, this form of embroidery has been adapted to suit the needs of the younger generation as well. The choli vest, which is an Indian vest jacket, more often than not has Gamthi work embroidered on it in order to make it stand out more. This style of garment has been popularized in recent Bollywood films as well.
Fabric belts that are tied with string are also made with Gamthi embroidery on them as well as mirrors in order to make them more appealing and enticing.
Indo western apparel such as long skirts also, at times, have Gamthi embroidery done on them.
Inspired by recent trends, Gamthi embroidery has also taken on more abstract, Aztec shapes as opposed to Indian shapes or patterns.
Wearing the work
When wearing the work when it has been done on Indian ethnic wear, it is best to pair it with the garment that came with it. For instance, a chaniya choli will be best paired with the lehenga skirt that matches it along with the relevant dupatta. Since this form of embroidery usually falls under semi formal or even casual wear, women do not necessarily pair Indian jewelry with it. Instead, they choose to wear beaded jewelry or even street jewelry with it, depending on the occasion it is being worn for.
When wearing the work when it has been done on indo western apparel, it is always better to pair it with a subdued garment that will compliment it as opposed to clash with it and create visuals of too many contrasting patterns and colors. For instance, when wearing a long skirt, it is better to either pair it with a neutral black or white top or a top which matches one of the colors on the threads.
Accessorizing indo-western wear depends solely on one's aesthetic choices. Usually, street jewelry goes better with this look than Indian jewelry.
Maintenance
Since the fabric used for this embroidery is usually extremely sturdy, it is easier to maintain than most other embroideries. These can be machine washed as well as washed by hand.
Interesting Facts
Paisley is the most common pattern used on this type of embroidery
This embroidery has nothing to do with another Indian craft that shares its name – Gamthi print
This embroidery is worn most often during festivals as it is considered semi formal
Reference
Categories: Motifs & Embroideries