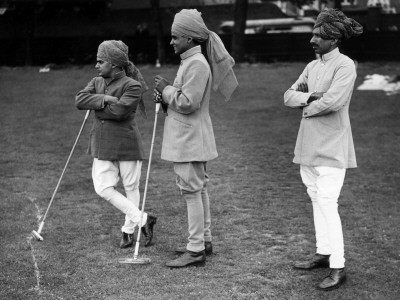 Ethnic Innovation Jodhpuri Pants
Jodhpuri Pants, an ethnic innovation of the traditional Indian riding breeches and churidar pants combined, are one of the most contemporary forms of bottom wear for both men and women. It is named after the city it originated in i.e. Jodhpur and is an innovative take on the silhouette of ethnic Indian pants worn by men. Also inspired by the riding ensemble for equestrian sports as seen in India, these pants have now come to be associated with modern yet ethnic Indian formal wear for both men and women. The silhouette of Jodhpuri pants is flared till the thighs and is snug from the calves onwards. They also usually have gathers at the ankle, which is another point of similarity with the churidar.
Background
The earliest form of the Jodhpuri pants i.e. the Jodhpurs have been around since the late 19th century and were brought into mainstream fashion by Coco Chanel, who was the first woman to wear it. From being known as riding breeches, jodhpurs and consequently jodhpuri pants have slowly come to be known as acceptable formal wear. The maharajas of Rajasthan have been seen wearing Jodhpuri pants to formal occasions and events.
However, it is only after Jodhpuri pants were picked up by fashion designers in India and abroad did their use transcend the community of sportsmen and women and become accessible to fashion conscious men and women the world over. In mainstream fashion, they have only been around since around the 2010s. The have been seen on the ramp in both international circuits as well as national ones. Brought to the world by renowned Indian designers, they were initially intended as menswear. They were once again reinvented and this time round, shown on the ramp by women. They have been stylized in a number of different ways over the years, however, the common thread remains being paired off with a kurta/kurti and stole.
Sources of Inspiration
The exact silhouette of the Jodhpuri pants is similar to riding breeches known as the Jodhpurs, the inspiration for which is the churidar. Churidar pants which were initially worn only by Rajasthani men. This type of bottom wear was flared at the waist up to the knees but was narrow from below the calf all the way till the ankle. These pants were worn by the royalty and nobility while playing equestrian sports because of the freedom of movement they allowed. In fact, these were first popularized in England by Maharaja Pratap Singh who was an avid polo player and was invited to England in 1897.
He is known for having personally administered the alterations to the churidar pants that made them ideal for riding and became the first Jodhpurs that were first tailored in 1890 under his guidance. At the Queen's Diamond Jubilee celebrations in 1897, the Maharaja along with his polo team was not only lauded for their performance in the polo matches but also for their ensembles, in the fashion circles.
The Making
Since jodhpuri pants are largely considered formal wear and are worn by men on occasions such as weddings and engagements, silk is the popular choice of fabric. Silk is not only befitting for the occasion but is also functionally useful in terms of offering crispness to the fabric, enabling the flared portion to retain that silhouette. Although cotton jodhpuri pants are also available, it is not a popular choice for formal wear and neither does it assist in retaining the silhouette of the pants.
Nevertheless, casual jodhpuri pants have also become popular in the last couple of years and hence the use of cotton or cotton blends in their making has picked up.
Style and Variety
Occasion
This ethnic innovation first came about when ethnic Indian formal wear was being showcased on the ramp. This has remained the case, for the most part, as far as menswear is concerned. However, there have been far more reinventions in women's wear. Mass produced jodhpuri pants for women are usually made for casual wear, and can often be spotted on students.
Fabric
Jodhpuri pants are often seen in silk and starched cotton fabrics when created as ethnic Indian formal wear. Besides these materials, cotton blends are also popular for semi-casual jodhpuri pants. However, it is not possible to use lighter fabrics like chiffon or georgette in their making as they are considered flowing fabrics and will not conform to the silhouette of jodhpuri pants, which is the most obvious part of the pants. For informal wear, synthetic fabrics have been used in the making, although not too much. One of the more uncommon yet stylish fabrics in use is denim mixed with cotton.
Patterns and Designs
The patterns and designs on jodhpuri pants largely depend on the sex of the wearer as well as the occasion. While both men's and women's jodhpuri pants are often found in muted tones of beige or reliable ones like black or off-white, women's jodhpuri pants do have a wider range of malleability in both patterns and hues. Indian prints such as buttis, blossoms, plants and animals are among the more popular prints on jodhpuri pants for women. Men's pants on the other hand have toned down embellishments such as buttons, stylish pockets, patchwork at the cuff of the ankles and other such muted tweaks.
Present Day Scenario and Global Influence
The popularity of Jodhpuri pants has risen in such measure that it has been spotted at global events such as award ceremonies and film premiers by globally-known Indian actors and models. Emulating the latest trends set on the ramp, the demand for jodhpuri pants has risen in equal measure off the ramp. Both men and women are recognizing the versatility in jodhpuri pants and their role in enhancing the quintessential Indian look.
Innovations
The silhouette of the jodhpuri pants has been adapted into western formal wear as well. That is to say that the jodhpuri silhouette is now a variant of the formal, office-wear pants in cotton, lycra and terrycot. This has been done in an effort to create a mix of ethnic Indian fashion in Western formal wear for Indian users as well.
Wearing the Attire
For men
Joshpuri pants for men usually come as part of an ensemble consisting of a kurta or jacket and may also include a stole. What one does need to personally do to stylize with these pants is wear them with either jooties or mojaris. Kohlapuri chappals are also a viable alternative with jodhpuri pants.
For women
It is a good idea for women to accessorize Jodhpuri pants with stilettos and high heels that add to the overall shape of the bottom half of the body. For top wear women can choose to wear ethnic Indian garments such as kurtas or kurtis or Indo-Western outfits like spaghetti tops along with chunky jewelry.
Maintenance
Depending on the fabric of the pants, the can either be washed or drycleaned. However, colored/dyed jodhpuri pants should not be dried in the sun, since they can be leached of their color. Ironing them is one of the easiest yet essential ways of maintaining their silhouettes. Cotton jodhpuri pants can also be starched for that added crispness in the cut of the garment.
Facts and Trivia
International designers like John Galliano made use of Jodhpuri pants in one of his collections of modern Indian ensembles.
Among Indian designers Rohit Bal and Manish Malhotra have featured Jodhpuri pants prominently in their collections in the early 2010s.
Jodhpurs are often confused with the English equestrian sports gear i.e. riding breeches.
Categories: Accessories, Ethnic Innovations