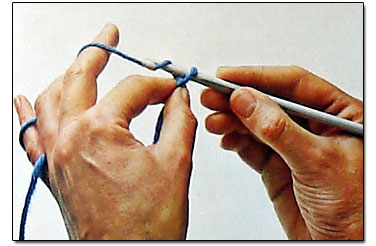 Crochet
Crochet is one of the most popular forms of embroideries used worldwide. This embroidery takes its name from the French word 'Crochet', which means hook. Small hooks, made of a variety of materials including plastic, metal, and wood, are used to create a fabric from yarn or thread. Crochet provides the freedom to spin a range of detailed designs in different styles and materials, which can be used for styling different dress items. Crocheted works also include clothing items like shawls, duppattas, mufflers and many more.
Origin & History
The origin of crochet can be traced back to several civilizations, but this embroidery was popularized in the European countries in the early 19th century. Crochet as a practice of creating fabric from the thread is believed to have been inspired by the process of using these hooks for embroidery on fabrics of different types.
This art form became popular in India with the rise of the British Empire, the use of these embroideries being very prominent in the attire of the influential British families and high-ranking officials. Crochet was used for creating the laces and frills for the women's dresses and also in some of the men's wear. The colors of the threads used to create these laces were generally white or other pale colors. These dresses inspired several creations in India, with the Crochet laces being used in several popular dresses including salwar kameez and sarees.
Sources of inspiration
With Crochet being made popular in Europe, there is a clear influence of European styles in early crocheted garments. The early English, Swedish and French designs mainly showcased broad patterns with wide spread designs for each dress item. This embroidery was popularized across the world as the European influence increased. With the practice of Crochet spreading worldwide, there was an increase in the variety of designs created, with close-knit designs being introduced.
The Making of Crochet
There have been a slew of changes in the materials used for Crochet work in sync with the changes in the fashion and textile industries. In the early days, the most common material used for the making the hook was cork. Along with cork expensive materials such as brass, ivory and silver were used to make these hooks. In today's day and age, the hooks have undergone several advancements in designs and also the materials used. Materials like aluminum, steel, bamboo and plastic are commonly used to make the Crochets. These hooks are also available in a range of sizes varying from 0.4 mm to 19 mm or sometimes more.
The thread used for crocheting is usually available in the form of balls, making it easy to use. A variety of threads can be used for this embroidery including cotton, silk, wool, linen and nylon to name a few. The materials are selected based on the thickness, elasticity, wash-ability, breathability, color, sheen and durability.
Styles and varieties
There are numerous different styles of crocheting that are used today. These include:
Bosnian Crochet– This style is one of the oldest forms of crocheting. It includes slip stitches operated in a backward loop to mark a ridge in the fabric created.
Clothesline Crochet– This style is used to create stiff items like mats and blankets. It involves crochet stitching over a core of different materials like cotton or nylon.
Elf– This crochet style includes using very fine yarns to produce fine weaves.
Floral Crochet– This style involves crocheting flowers. Once crocheted, these flowers are attached or stitched to a piece of garment, adding to the look of the dress.
Global Influence
Crochet is known to have a worldwide presence as this embroidery is used to produce a variety of different clothing items, to accessorize different garments and even for jewelry. In India, this embroidery is predominantly used to enhance the looks of different salwar kameez such as Anarkali suits, pathani salwars and many more. Along with salwar kameez, this embroidery is also used for sarees, providing a distinct look for this renowned Indian garment. Crochet work is also used for borders of these garments in the form of lace.
Innovations
Crochet has undergone a series of innovations and improvement, most notably in the range of materials used for the process. At the beginning, cotton was the only material used for Crochet. With time, silk, wool, nylon and the other materials have been made use of, for the variety of characteristics each possesses. Another advancement that Crochet has witnessed is the use of this craft. Used only as an accessory for high-end dresses in early days, Crochet is increasingly being used for creating garments and dress items including mufflers, shawls, scarves and more. Also, this embroidery is used for blankets and table cloths.
After facing a lull in popularity during some years of the 20th century, the 21st century has seen a revival for the craft of Crochet. Several renowned international designers have made use of this technique for their projects, showcasing the popularity and the elegance of Crochet.
Wearing the attire
Attires made or accessorized with Crochet are popular for their finesse and distinct looks. These attires can be worn for several occasions, formal or informal. Indian attires like sarees, lehengas and salwar kameez embellished with crochet provide a uniquely graceful appearance. With a range of colors, patterns and designs available in these dresses, they can be worn with several accessories like jooties of different makes, earrings of precious and semi-precious stones and oxidized metal as well as many other accessories. The beauty of crochet is such that it looks equally good without any accessory.
 Maintenance
Proper maintenance of crochet garments is very important to keep the grace in the garment intact. Crocheted garments should always be mildly washed, to prevent any damage to the dress. Also one should always keep an eye out for fringes cropping up in the embroidery, which may cause damage to the garment itself.
Interesting Facts
Crocheting is often compared to knitting and while the two are similar on many fronts the basic difference is that crochet uses only one needle compared to knitting's use of two.
There are close to 150 different styles of crocheting.
Crocheting can be carried out on any material including strands of hair, wires and even licorice
There is a range of products that can be made using crochets. This list includes garments, accessories, jewelry, bags, footwear, blankets, rugs, toys and more.
One can find crochet items in a variety of prices ranging from 40$ to 1000$ and maybe even more depending on the product.
Reference Links
Categories: Motifs & Embroideries