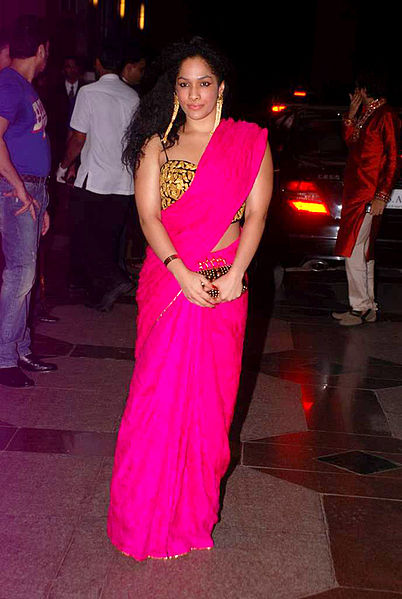 Masaba Gupta
Masaba Gupta is a young fashion designer who graduated from SNDT Mumbai and has created a niche for herself with her quirky sensibilities that have wowed her critics. The meaning of 'Masaba' is 'wildflower' in African language and that is perhaps reflected in her work which is 'wild and revolutionary' in essence. At a young age, Masaba has achieved phenomenal success and has begun to rub shoulders with big names in the Indian fashion circuit.
Her label also by the same name – 'Masaba', which was launched in 2009- has created ripples in the Indian fashion scene as she showcased designed that would be apt for women ranging from 25-50 years of age. From eclectic dhotis and angrakhas, to silk sarees and jumpsuits, she provided fashion that was starkly different and fresh. Masaba consciously avoids bling and works on her pricing and accessibility to make her a brand that can reach out to potential customers. Her creations were a hit with the young girls as Masaba immediately struck a chord with them through her fresh designs, colors and textures.
Masaba, now 24, had debuted in 2010 at the Lakme Fashion Week Spring/Summer in the GenNext category with her first couture collection 'Kattran'. She is perhaps the 'new kid on the block' when it comes to the Indian fashion industry which is filled with stalwarts, however, Masaba has definitely created her mark and has many avid Bollywood celebrities who swear by her creations. Neha Dhupia, Bipasha Basu and Sonam Kapoor are huge fans of Masaba creations, particularly her saris, that have created a frenzy with her enigmatic use of colors and prints.
Masaba's garments are retailed in leading stores across India and are much in vogue as she has a bold and fierce style that is traditional, yet Bohemian and simplistic. She says that she is inspired by her African and Indian roots, and her mother's distinctive style and color choice is another trait that she has inherited. The latest feather to Masaba's cap is that she has been made the Creative Head at the iconic Satya Paul creations.
Career Growth
Masaba Gupta has now found a place amongst the elite list of Indian fashion designers who have shown a lot of promise and innovation. She was a student of Fashion Designing and has tasted success within two years of her debut at the Lakme Fashion Week in 2010. Masaba made a huge impact with her quirky fashion sensibilities which were beautifully feminine and traditional too. Masaba's signature style is basically a lot of color, feminine drape and silhouettes sans bling. She prefers organic fabrics with bright colors and the classical Indian weaves.
After Masaba's success at the Lakme Fashion Week in 2010 that got heads turning and her bagging the "Most Promising Designer" title, the young designer went on to open her flagship store in Mumbai. The following year at LFW 2011, she put up a collection that was based on her African roots (as she is partly African and part Indian) called "Straight from my soil" and was inspired by the Masai tribes of Tanzania.
Masaba's creativity and her appeal have won her a massive fan following because of which she is India's youngest Creative Director which is her new role at Satya Paul. She is all geared up to take this popular brand to the youth with her creative inputs. Her design sensibilities will perhaps see Satya Paul bounce back with youthful prints and fearless colors in order to appeal to the fashionable youth of today.
Masaba had recently debuted for Satya Paul at the LFW 2013, having worked on the new fashion line for the brand for one year. She made 'lipstick' the hero of her couture, as it took center stage. Apart from that she also had 'ink stain' and 'phone booth' patterns in the rest of the attire which were predominantly saris worn with Peter pan collar blouses. Masaba did add that particular 'quirkiness' with her lipstick print vanity kits which were a surprise element. The show kickstarted with Sonam Kapoor donning a Masaba lipstick printed sari and ended with Parineeti who walked the ramp in a bright pink dhoti with a long white Masaba jacket. The name of her collection was 'Postcards from Benaras'.
Trendsetter and Innovations
The USP of brand Masaba is its fiercely bold quality along with traditional roots that contain a beautiful mix of patterns, prints, and colors. Her forte is usually in the sarees which are very functional and 'fuss free'. Masaba has always been enigmatic and at the tender age of 19, this Afro-Indian designer launched her own fashion line which met with resounding success owing to her quirky yet fun elements that she fused in traditional garments.
Masaba creations are very simple, deep-rooted and still eye-catching with the color combinations that seem to pop out. She has become a hot favorite for various Bollywood divas who proudly possess her cow and camera printed saris/garments and flaunt it with élan. She hopes to add her quirky sense of fashion to reposition brand Satya Paul in a way that makes it more youthful and targets the female population below 30 years. Masaba showcased her latest collection for Satya Paul with lipstick prints, ink blot and telephone booth prints as well as abstract designs. She mixed in a varied palette of colors, particularly neon hues.
References
Categories: Fashion Cults, Fashion Designers