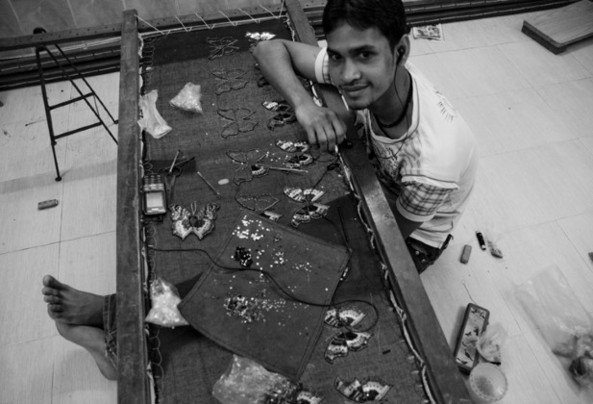 Shahpur Jat Village, Delhi
Shahpur Jat Village is an urban village in South Delhi, located near Hauz Khas within the remnants of the Siri Fort ruins. Literally translated it means 'Royal Town of the Jats'. The narrow cramped lanes are dotted with traditional havelis and trendy fashion boutiques. Shahpur Jat Village is slowly emerging as an alternative to Hauz Khas Village as a Fashion and Design Destination. The affordable rentals and proximity to a number of workshops where dyers and migrant artisans lend their skills make it a designer hotspot.  The village practically thrives with handicraft, weaving, creativity, craft, and many skilled craftsmen. The area is one of the largest production centres of zari embroidery in North India. There are also restaurants and bookshops at Shahpur Jat village that have transformed it into a connoisseur's paradise.
Origin
At present, the demographics of Shahpur Jat village mainly comprise of the Panwar Gotra Jats, who belong to a place in Ujjain, Madhya Pradesh called Dhara Nagri. These Jats migrated to different parts of present-day New Delhi more than 700 years ago.
At present, this historically rich town is now attracting a lot of upscale designers and foreigners who are particularly inclined to move to Shahpur Jat, as it has relatively low rents, an interesting lifestyle and a spacious parking space- despite being close to the posh South Delhi. Apart from that, the town has not lost its old-world charm as it is dotted with many traditional havelis, as well as the ruins of Siri Fort, which was the capital city during the 14th century. Shahpur Jat is fast becoming a fashion hub as it has become the most happening design destination which is now home to multiple boutiques that retail home décor, fashion accessories and trendy attire. Several boutiques are being run by expats who are taking advantage of the relatively low investment and costs, as well as the relatively slow-paced rural lifestyle of the town.
A lot of NGOs are also developing the town into a green belt zone. This new influx of businesses has helped in tapping the local labor and providing them employment by utilizing their craft expertise.
Style
Shahpur Jat is perhaps an example of hybrid Delhi that offers the best of both worlds in the form of a small "urban village" that has perhaps been devoid of the ostentatious city architecture but has still managed to grasp the imagination of the people of Delhi.
If you are a book lover, then Bookwise would evidently be the place to go, where you could read over a coffee in a stylish ambiance. Shahpur Jat's modern history began 900 years ago when the Dagar clan from a village called Indri, now in Haryana, settled here. The soil was rich, the Dagars were robust farmers and soon they became wealthy. More clans came and the settlement began to be known as the wealthy colony of the clans, or Shahpur Jat. Maya is the perfect destination for brides to be as it offers elegant designer wedding trousseau garments. Home Linen has a wide range of Pakistani suits that are extremely popular.
There are shops amongst the dilapidated dwellings that sell exclusive couture and products that range from jewelry to books, hence making it the perfect haunt for Delhi-ites. From the big showrooms like Aakaar to The Shoe Garage, Shahpur Jat has everything to cater to your individual needs with competitive prices, optimal services and good quality products. There are a number of handicraft products that are available at drop-dead cheap prices such as basketry, terracotta, weaves, bed sheets and a whole range of other home accessories and drapes. These boutique karigaars are based in small workshops that can be seen inside single window hovels. In order to cater to a wider International market, the village hosts authentic French boutiques and cafes as well, which take one back into the vintage era.
Shahpur Jat is undoubtedly an intricately laid out not-so-quaint village that has the makings of a modern urban township, along with the old Indian ethnic styles that make it a site worth visiting by all.
References
Categories: Bazaars, Ethnic Hubs