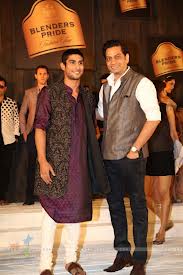 Raghavendra Rathore
Raghavendra Rathore is a very popular Indian fashion designer, entrepreneur and a costume designer and belongs to the royal clan of Jodhpur. He has been instrumental in promoting Indian heritage and culture through his exclusively designed ethnic Indian apparel and is particularly noted for his Brand India image by having exclusive patent rights on Jodhpurs and Bandgala Jackets.
His work is diversified as he is not only a fashion designer but his business spans multimedia, jewelry and interior designs. Rathore has made a mark with his classic tailored cut that has clientele in India and abroad.
Rathore has worked with prestigious fashion houses abroad with his initial work assignment being that of an assistant designer for DKNY and working with Donna Karen and fashion labels like Oscar de la Renta and Bill Blass. Rathore gathered a lot of knowledge in the world of fashion whilst staying in New York. Thereafter, he planned to return to India and start his own brand by the name of 'Rathore Jodhpur' in 1994. He has not looked back since then, as he brought a new revolution in Indian fashion and put it on the international fashion map by bringing out designs that are reflective of his Rajasthani roots – the Jodhpuri, Bandhgala and Achkan which are his strengths.
Origin and History
Raghavendra Rathore was born and brought up in the city of forts and Rajasthani splendour- Jodhpur, which has apparently featured in all of his creations in some way or the other. He is a cousin of Maharaja Gaj Singh of Jodhpur, which makes him a part of the royal clan. He went to the U.S. to complete his graduation and finally went to graduate from the Parsons School of Design in New York, which inspired him to become a fashion designer.
After having gathered a wealth of work experience in this field, Rathore chose to come back to India and showcase the glamor and fashion in Indian textiles and designs through his work. Being heavily influenced by the Rajasthani and Jodhpuri culture and traditions, he came out with his signature Jodhpuri, Bandhgala, Achkans and Jackets which have become synonymous to his brand.
Furthermore, he also got patents for Jodhpuri and Bandhgala, which was a sound accomplishment for India in the world of fashion. Through his designs, Rathore brings across an aesthetic and regal tapestry of the fineries of Rajasthan that are reflective of the heritage and craft of that Indian state. His work has found a lot of appreciation all over the world and he now has retail stores in various cities in India and abroad such as Goa, New Delhi, Mumbai, Greece and Hong Kong.
Raghavendra Rathore had initially started off with men's Indian haute couture, but gradually he went on to internationalize the concept of Indian clothing with his new fashion line under brand Rathore Jodhpur called 'Inde Pret' which offered premium stylish Indian clothing. He has now expanded his portfolio to include other businesses ranging from jewelry designing, kid's wear, consulting, interior designs apart from women and men's wear.
Rathore's collections, when displayed on the runways have always won positive acclaims. Inspired by old world elegance and charm, his attires have a characteristic softness, creativity, and genius color combinations.
He has also launched a fashion label called 'Blue Mantra' for women's Indian wear, that particularly caters to festive and bridal wear, which was his very first, as he had been focused on men's wear for a good 15 years!
Rathore will always be remembered for resurrecting two redundant fashion styles of the era gone by – the bandh gala and Jodhpurs. His designs has made them iconic and fashionable, besides keeping intact the rich heritage of Rajasthan.
He has also worked for many Indian film celebrities and has designed clothes for movies such as Eklavya and has been the designer behind Amitabh Bachchan's look in the first season of KBC.
At present, this revolutionary Avant Garde designer has 30 outlets across India, which speaks in volumes about his popularity in clothing that is aristocratic, sophisticated, and original- the one and only Raghavendra Rathore.
Innovations
Raghavendra Rathore has been the face behind the resurrection of the Bandhgala and the Jodhpur- which has placed India on the world fashion map and has also won him a prestigious clientele. Apart from that, he has now delved into women's traditional Indian couture with his new fashion line 'Blue Mantra' that is inspired by heirloom products.
He has also decided to go beyond the attire by focusing on all the other elements that make the attire complete such as hair accessories, jewelry, sandals and bags.
He has revolutionized the dressing style of Indian men and is well sought after by International clients who seek his unique clothes that display aesthetic, tradition and current fashion trends. Rathore firmly believes that the future fashion trends would have an Indian flavor to it and that is what he wishes to contribute.
References
Categories: Fashion Cults, Fashion Designers